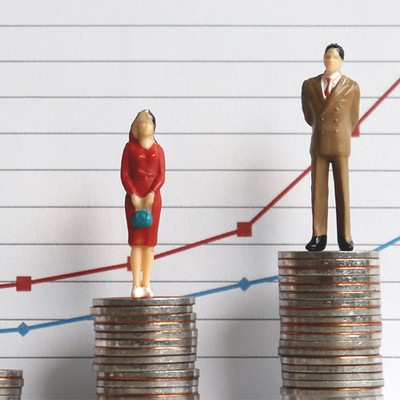 How To Beat The Gender Wealth Gap

The gender pay gap often hits the headlines, but have you heard of the gender wealth gap? Well we've been working with Investec Click & Invest, the online investment experts, to explain all…

CREATED IN PARTNERSHIP WITH CLICK & INVEST
 
Equality and financial independence are intrinsically linked, and as women have prospered professionally, educationally and politically over the last few decades, we've also advanced economically. But still, of the 1,000 richest people in Britain, just 141 are women.
 
Parity of wealth isn't just an issue in the upper echelons, either. According to an Enterprise Investment Scheme Association survey, women across the UK have an average of £43,000 in investable assets, while men have almost 75% more (£75,000).
 
While we know that women are generally paid less than men, this alone doesn't account for such a significant wealth gap. There are numerous factors, but one that we can't overlook is that women aren't choosing the most effective way to grow their wealth.
 
It's not that women are less serious about planning for their future – statistically speaking women are actually more likely to be saving than men are (women opened 11.3 million cash ISAs in the 2017-18 tax year, compared to 10.8 million opened by men). But they're less likely to invest; women opened just 892,000 stocks and shares ISAs in the 2017-18 tax year, while men opened 1.1 million. And over the long term, this can make a huge difference.
 
For example, if you'd saved £20,000 in a cash ISA account at the start of 2003 and the rate kept up with the average, you would have saved almost £28,000 by the end of 2018. If you had invested the same £20,000 in a product that kept up with the FTSE All-Share index, it would be worth almost £66,000. That's almost 2.5 times more in 15 years.[i]
 
Investing isn't for everyone, and it always carries risk. For some financial goals, particularly those that you hope to achieve within the next three years, a cash account is a sensible way to save your money. But if you have money that you're unlikely to need within the next three years, you're prepared to take some risk, and you want the opportunity to grow your money at a faster rate than you'll find from a cash account, investing is something to consider.   
 
Of course, the hardest part is often getting started. A common perception of the world of investing is that it's just for men in suits. But Investec Click & Invest exists to make it accessible for more people. Click & Invest CEO Jane Warren has five tips to help you at the start of your investing journey:
1. Talk To Your Friends
Women should be talking to each other about their finances more. We don't talk about investing or saving, or say 'I'm invested here'. So ask your friends, find out what's working for them and get some advice.
2. Invest With A Service That Makes It Easy
At Click & Invest we understand that often the hardest part is getting started, so we exist to make investing possible for more people. After asking you some initial questions, we'll create your investment portfolio, and we'll manage your investments for you.
3. Get Serious About Growth
Other investment services may only invest your money in funds that track the market. The investment strategies we create at Click & Invest are built to outperform the market and generate wealth for you, while also looking to protect it during market downturns.
4. Understand Investment Risk
Unlike cash savings, investments fluctuate in value over time, and different types could fluctuate by a little or a lot. We'll recommend a strategy for you that takes into account your level of tolerance for these fluctuations (or risk appetite). 
5. Be Patient
We recommend that investing should be for the medium (3-5 years) to long term (5 years and over). This means your money is invested for long enough to ride out any dips in performance.
 
For more investing tips or to open a Click & Invest stocks and shares ISA, visit clickandinvest.com
Remember that with any investment your capital is at risk so you could get back less than you invested. Past performance shouldn't be an indicator for future performance and the tax advantages of ISAs may change in the future and depend on your individual circumstances. This article is not intended to constitute personal advice and no action should be taken, or not taken, on account of information provided.

[i] IW&I (Factset); ONS inflation figures, Bank of England cash interest rates
DISCLAIMER: We endeavour to always credit the correct original source of every image we use. If you think a credit may be incorrect, please contact us at info@sheerluxe.com.