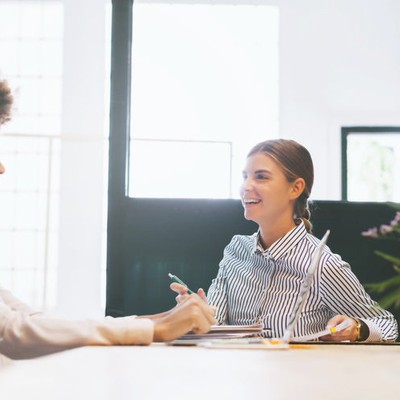 Should You Have A Workplace Cheerleader?

It's common knowledge that men are far more likely to push themselves in the workplace than women, whether it's going for a promotion or taking the lead on a new office project. But could having someone who makes us feel confident in the office be the key to more successful women in the workplace?

This is why we all need a workplace cheerleader. 'A cheerleader is someone who is going to give you confidence by reinforcing all the things that you've achieved and that you're good at, and then amplifying that to the wider workplace,' says Karen Gill MBE, co-founder of everywoman, who coined the term.
The relationship is similar to a mentor, but much less formal. "Cheerleaders come about when people just 'get' each other," Gill explains. "Coming from a place of empathy, understanding and a want for you to succeed – and you can't formalise that."
So why is it so important for us to have one in the workplace? According to analysis from Cranfield University as part of its 20th FTSE 'Women on Boards' report, there's been a sharp drop in the number of women in CEO, CFO and other executive roles – there are now just 30 women in full-time executive roles at FTSE 250 firms, down from 38, and making up just 6.4% of the total.
While many women are ambitious in their careers, they tend to be "naturally more risk averse then men," says business coach Ruth Kudzi. "They feel like they need to act in a certain way, which stops them putting themselves forward for promotions and pay rises."
Women want to be successful, but self-promotion doesn't always come easy – research shows they are often particularly hesitant to advocate for themselves. So, having someone who will shout your praises, or at least encourage you to sing your own is an important tool to succeeding.
"Having a supporter who recognises and celebrates incremental achievements towards a larger goal can highlight progress and a feeling of success, which can be encouraging," says Jess Exton, Behavioural Scientist at ING Bank. "We are naturally influenced by those around us, so being able to celebrate individual and group achievements with others is a motivator for action. This can also reduce inaction if, for example, we are motivated to avoid the prospect of a public failure."
It's also important to have someone to help you stay on track and motivated, adds Ruth. "Having someone that you can turn to when you are having a bad day is a game changer for many women, especially if they are in male dominated professions." Sometimes it's important to be reminded that whilst you can't do something now, doesn't mean that you'll never be able to do it – cheerleaders not only celebrate your achievements, but also help you to recognise your worth. "Having someone who you can share successes with who believes in you has a huge impact on your confidence and will encourage you to get out of your comfort zone."
 
Everywoman says you don't find a cheerleader, but instead you become one. "The concept is based on a pay-it-forward mindset: everyone champions those around them, thereby improving the working landscape for all."
The key is to champion the work of those around you, despite your seniority. But Ruth believes that women in more senior positions who become cheerleaders of others can be beneficial to how those below them progress. "Having a female role model or cheerleader who is more senior can play a key part in encouraging more women to get into management positions. We learn from others, having an example of someone who has been successful and who we feel aligned with can be hugely motivating. I have found that when I excelled it was always when I had someone like this who had my back."
What should we be doing to become to workplace cheerleaders we all want and need? Jess gives her top tips below:
  
1. Provide constructive support: While sometimes all we want is someone to tell us it's all going to be ok, blind support and optimism isn't so useful in the long-run. Think about how you can help others to learn and develop from their experiences. This may involve challenging their assumptions sometimes.
2. Open up dialogs: We aren't usually comfortable discussing certain topics, but if you can share some information you think would be useful, do it.
3. Celebrate the small things: Big goals can be daunting but it helps to break them down into smaller stages that we perceive as more achievable. Each time one is reached, recognise it. Progress is very motivating.
DISCLAIMER: We endeavour to always credit the correct original source of every image we use. If you think a credit may be incorrect, please contact us at info@sheerluxe.com.