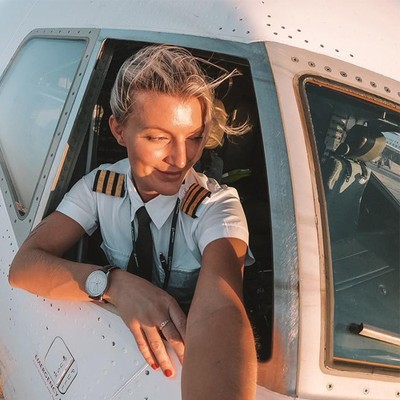 What It's Really Like Being A Female Pilot

For a long time, being a pilot was considered a job for men only. And while the number of female pilots still only sits at around 4.3% in the UK, the figure that is slowly rising.

Maria Pettersson, a Swedish-born, Europe-based pilot who's not only risen through the ranks regardless of her gender, but has also cultivated a prominent social media presence through her work and travels. Here, Maria talks about the process of becoming a pilot, the best and worst parts of her job and her burgeoning social media presence.
I wanted to be a vet when I was young... Until I realised that I couldn't save every animal. Then I wanted to be a pop star, but I'm not very good at singing, so I'm glad I became a pilot.
 
My first job was selling hot dogs… It was at a local car bingo kiosk when I was about 12. Since then I've worked as a teacher, a waitress, crew coordinator and now, obviously, a pilot. As long as you work hard and show interest in what you're doing you'll stand out in any job.
 
I started studying psychology at university but soon realised it wasn't for me… I've taken a course in environmental science and that really interested me – it's a field I'd like to learn more about. In Europe you don't have to have a university degree to start your pilot training, however, that might differ from other parts of the world.
 
I wanted to be a pilot because… I've always loved travel and I wanted to go into a profession that would let me carry on travelling. To become a pilot, you have to do a lot of pilot training. It takes about a year and a half to two years if you do it full-time. I did my training in Sweden. It was very expensive – to get your licenses in Europe costs between €60k – €80k. And that was in 2010 when I did my training, so that price is probably even higher today.
The proudest moment in my career was getting that call… I was so proud when they called me back after my pilot interview and told me that I'd passed. I never had a 'Plan B' career – I don't work with Plan Bs. I set my mind to something and I make sure I do everything I can to get it done.
 
The biggest obstacle in my career came after I finished my pilot training… It was a very difficult time, applying to what felt like every airline in the world without hearing anything back. To keep motivation during those times was hard.
 
A day for me starts at 3.30am… If I'm flying. I wash my face, have a shower and do my morning stretch routine. If time allows, I also like to get 15 minutes of meditation in, but unfortunately, I don't always have time for that. I drink a lot of water and a coffee before I head to the airport. I normally eat some fruit before we head to the airplane, after our morning briefing with the flight attendants. Then I usually have a proper breakfast on the plane once we have reached cruising flight level.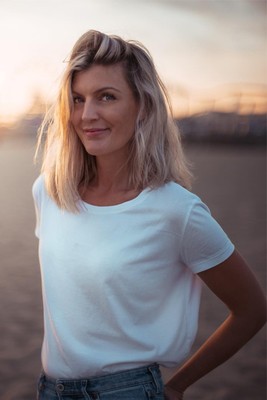 On the plane, there's no room for errors… We learn from mistakes all the time, but I've never made any mistakes on the plane that have affected the safety of the passengers. But, of course, sometimes you don't land as smoothly as you'd like, and you learn from that to do a better job next time. I fly with a different crew all the time. Who you fly with depends on where your base is and how big it is. I'm based in London, and it's rare to fly with the same Captain and flight attendants twice. My regular flight route takes me to Europe and some parts of North Africa, mostly.
I've never faced prejudice as a female pilot… Perhaps surprisingly, I've never felt that I've been treated differently by or to my male colleagues. If anything, it has all been rather positive – most passengers seem happy when they find out there's a female pilot up front. When I was based in Sicily, passengers would stick their head into flight deck and say 'complimente' which means something like 'my compliments to you'.
I love cultivating my own personal on social media… I love sharing my stories, tips and tricks that can hopefully help someone else, whether they're a traveller or wanting to become a pilot. I try to mentor people through my social media. Even if I don't have time to sit down and personally talk with each and every person, I hope that my posts and my blog can mentor and inspire others.
Us female pilots stick together… I know other female pilots through social media and have met plenty in person. I'm not sure there's anything in particular that makes us stick together more than with our male colleagues, but I do like to follow other female pilot Instagram accounts around the world (but I do follow male pilots, too).
 
I have a pretty balanced work/life schedule… On average I work roughly 10 hours a day, but some days are longer or shorter depending on the flight time. I get to see my friends and travel on my 'off' days. I unwind from a day at work with a workout and a nap!
I don't tend to live out of a suitcase… We don't do overlays or night stops with the airline I fly for, so I always get to come home to my own bed at night. That's not the same for every airline, though – if we did do night stopovers , I can imagine that becoming quite hard. Although, I have travelled and backpacked since I was 19 years old, so to be on the go is more normal to me than being stuck in the same spot for too long.
 
The most stressful part of my job is the early start… Especially if the night before, you're lying in bed awake at 7pm and stressing about not being able to fall asleep. The job of a pilot itself is not actually a very stressful job – the autopilots are flying the plane, and we program and monitor the systems to make sure they're doing what we programmed them to do. Aircrafts today are so advanced and well-designed that it allows us to also enjoy the view whilst we're up in the skies.
If I were to give one piece of advice to aspiring female pilots it would be… To always believe in yourself. Pilot training can be tough – it's a lot to learn, but once you get through it, you'll have the best job in the world. Try to enjoy is, especially the flying part of your training. Don't compare yourself to your classmates if they go solo before you do, or if your landings are the best yet – you will get there.
See more from Maria on her Instagram @pilotmaria. 
 
DISCLAIMER: We endeavour to always credit the correct original source of every image we use. If you think a credit may be incorrect, please contact us at info@sheerluxe.com.