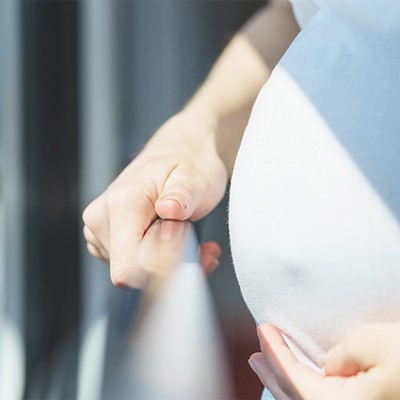 Commuters Are Refusing To Give Their Tube Seats To Heavily Pregnant Women

A shocking new video has revealed how rude some Londoners really are – showing multiple people refusing to give up their tube seats to a heavily pregnant woman. The undercover footage has been further backed up by a new study, revealing that only 60% of commuters believe it's necessary to give up their seat to an expectant mother…

The study, commissioned by Mama Mio Skincare as part of its new #ExpectingChange campaign, found that Brits believe holding a door open for someone is more important than giving up a seat for a pregnant woman. Astonishingly, only 2% of regular commuters said they'd stand for a pregnant woman in her first trimester, with just 11% saying they would during the second, and three in ten believing you don't need to offer a seat until a mother-to-be-is visibly showing. The research also found that a quarter of people haven't given up their seat for a pregnant woman, for fear of offending them.
To test out their findings, Mama Mio sent parenting blogger Anna Whitehouse, aka Mother Pukka, undercover on the Northern Line with a hidden camera. The mother-of-two, who isn't currently pregnant, donned a large fake baby bump – yet the majority of passengers didn't offer her a seat, despite the sweltering summer temperature and, more importantly, the fact she looked heavily pregnant. Just four out of ten passengers offered to give up their seats, while a fifth person agreed to let her sit down after she asked him directly.
Whitehouse revealed the social experiment made her feel like an "encumbrance" on her fellow commuters. "I felt that perhaps I had to make a big deal out of being pregnant, like really put it on, rub the bump and failing that actually asking, which makes you feel very uncomfortable," she said, adding that being able to sit down made a real difference during her pregnancies, especially during the first trimesters when she felt particularly vulnerable.
Mama Mio's Head of Brand, Natalie Cowley, also said she was "particularly shocked" that only 2% of people would offer a seat to a woman in her first trimester, considering many suffer from severe symptoms during this time, including sickness and fatigue.
The NHS concurs, stating that, for most women, nausea (morning sickness) can be at its worst in the first trimester – alongside tiredness – and starts to improve by the time they're around 14 weeks pregnant. And as Mama Mio points out, having to use public transport at any stage of pregnancy can be an uncomfortable, cramped and tiring experience: growing a tiny human is exhausting enough without having to worry about your journey on the tube.
Mama Mio is hoping its #ExpectingChange campaign will raise awareness on behalf of pregnant women – inspiring Brits to have more consideration for fellow commuters and empowering pregnant women to have the courage to ask for a seat, should they want one. The brand is giving out free 'I'm Expecting' pregnancy badges with every online order to help women in every stage of pregnancy get a seat, whenever they need it.
Noting that people are often too engrossed in their phones to be aware of their surroundings, Whitehouse urges anyone who needs a seat on public transport to wear a badge – be it the 'Baby on Board' badge from TFL or Mama Mio – and try to make eye contact with fellow passengers. And if that fails, she said the biggest take away from the experiment was: "Don't suffer in silence – ask for one!"
 
To find out more about the #ExpectingChange campaign, alongside travel tips for pregnant women, visit MioSkincare.co.uk
DISCLAIMER: We endeavour to always credit the correct original source of every image we use. If you think a credit may be incorrect, please contact us at info@sheerluxe.com.