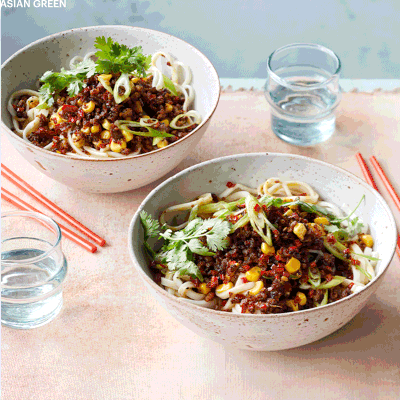 The Cupboard Staple To Cook With: Sweetcorn

Corn on the cob might make you think of summer BBQs, but the vegetable really comes into season at this time of year – and plenty of chefs will tell you there's absolutely nothing wrong with using the tinned version. Rich in nutrients and ready to use, here are seven recipes to try using the store cupboard staple – from sweetcorn and ricotta pancakes to jalapeño cornbread.

Sweetcorn Dan Dan Noodles: Ching-He Huang, Asian Green
Ingredients
1

tsp

of toasted sesame oil
2

garlic cloves, finely chopped
2

.5cm piece of fresh root ginger, grated
3

red chillies, deseeded and finely chopped
200g

of dehydrated minced soy
1

tbsp

of shaoshing rice wine or dry sherry
1

tbsp

of chinkiang black rice vinegar
1

tbsp

of tamari or low-sodium light soy sauce
1

tsp

of ground Sichuan peppercorns
340g

can of sweetcorn, drained
Freshly ground white pepper, to taste
For the chilli topping:

6

tsp

each of chilli oil, toasted sesame oil and tamari or low-sodium light soy sauce
6

small pinches of ground Sichuan peppercorns
3

tbsp

of red chilli, finely diced and deseeded
To serve:

800ml

of very hot vegetable stock
3

tbsp

of spring onions, finely chopped
Small handful of fresh coriander, finely chopped
Method
Step 1
To make the noodles, bring a large pot of water to the boil over a high heat. Add the noodles and stir. Cook for about 4 minutes until al dente. Drain, rinse with cold water, shake out any excess water and transfer them to a bowl. Pour the sesame oil over the noodles and toss well to coat. Set aside until needed.

Step 2
Heat a wok over a high heat until smoking and add the rapeseed oil. Once hot, add the garlic, ginger and chillies and stir-fry for 30 seconds. Add the minced soy and cook, breaking up with a spatula, for 2-3 minutes until browned. Add the rice wine or sherry, dark soy sauce, black rice vinegar, tamari or light soy sauce, tahini and ground peppercorns, and stir well until the minced soy begins to crisp a little. Add the sweetcorn and toss to mix well, cooking for another minute. Season the mix with ground white pepper and remove from the heat.

Step 3
To prepare the chilli topping, mix together the chilli oil, sesame oil, tamari or light soy sauce, ground peppercorns and chillies in a small bowl.

Step 4
To serve, divide the noodles between six deep soup bowls and sprinkle the minced soy topping evenly over each bowl. Pour the hot stock evenly over the noodles, then drizzle over the chilli topping evenly over each bowl. Scatter over the spring onions and coriander and serve immediately.
Seasonal Sweetcorn & Ricotta Fritters With Red Thai Paste: Hannah McCollum, ChicP
Ingredients
250g

of sweetcorn or one large can
1

tsp

of Thai red curry paste
1

large handful of parsley
Method
Step 1
Start by putting all the ingredients in a blender and blend well. You can also do this in a bowl.

Step 2
Heat the oil in a pan and when nice and hot, add a spoonful of the mix to the pan, followed by enough to fill the pan. Cook on either side until nice and brown (usually 3-5 minutes).

Step 3
Delicious served with a homemade parsley dip and a big green salad.

Sweetcorn Patties: Saiphin Moore, Rosa's Thai Café
Ingredients
260g

of canned sweetcorn, drained
1

tbsp

of cornflour, plus extra as required
2

kaffir lime leaves, shredded
Sunflower oil, for deep-frying
Sweet chilli sauce, to serve
Method
Step 1
In a mixing bowl, combine the sweetcorn, salt, pepper, tempura flour, cornflour, measured water and egg. If the mixture is too loose, add a little more cornflour.

Step 2
Stir the lime leaves, if using, into the batter. Fill a heavy-based saucepan or wok with oil to a depth of one-third and set the pan over a medium-high heat, to prepare for deep-frying. When the oil is hot, carefully drop a tablespoonful of the batter at a time into the oil, being careful not to overcrowd the pan. Deep-fry for about 1 minute, then turn over and fry for a further minute, until golden brown and cooked through.

Step 3
Remove with a slotted spoon and drain on kitchen paper. Repeat until the mixture is used up – the mixture will make about 6 patties.

Step 4
Serve the patties with sweet chilli sauce.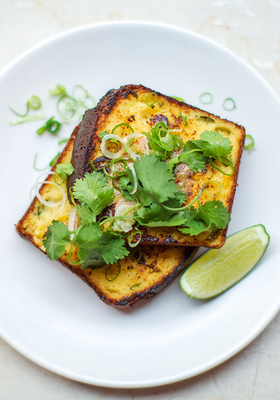 Jalapeno Cornbread: Caravan
Ingredients
For the cornbread:

30

jalapeno peppers, chopped
80g

of strong white bread flour
For the chipotle butter:

½

tsp

of chipotle, minced
½

cup of chopped coriander
Method
Step 1
Step 2
In a medium bowl, mix the milk, eggs, butter, corn, spring onions and jalapeno peppers.

Step 3
In a separate medium bowl, mix the polenta, bread flour, baking powder, caster sugar and salt.

Step 4
Combine the two bowls together and immediately pour into a lined loaf tin and place immediately into the oven. Bake for 30 minutes.

Step 5
Remove from the oven and let cook for 4 minutes before turning the bread out of the tin onto a cooling rack. Once the loaf is cool, trim off the ends of the cornbread, and slice the remainder of the loaf into 10 equal slices. Set aside.

Step 6
To make the chipotle butter, mix all the ingredients together. Serve while the butter is still soft.

Step 7
To serve, heat a dash of oil in a large frying pan on medium-high heat. Carefully place the slices of cornbread in the pan and fry until the bottom is golden brown. Flip the slices and fry again until both sides are golden brown. Repeat this process until all the cornbread slices have been browned.

Step 8
Place the browned cornbread on a plate and top with a generous dollop of the chipotle butter. Garnish with some coriander leaves, wedges of lime, and some sliced spring onions.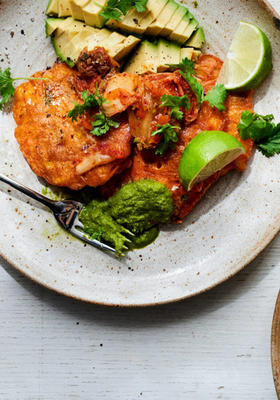 Almond, Kimchi & Coriander Hotcakes: Rude Health
Ingredients
125g

of Rude Health spelt flour or any plain flour
200g

tin of cooked or frozen sweetcorn
1

bunch coriander, leaves picked
Optional:

Coriander drizzle (blitzed coriander, lime juice, dash of oil or water and a pinch of salt)
Method
Step 1
Preheat the oven to 180°C.

Step 2
In a medium-sized bowl, mix the flour, baking powder and salt.
Step 3
Whisk in the almond milk until combined.

Step 4
Mix in the kimchi, sweetcorn and coriander.

Step 5
Heat a pan over a medium heat and add a splash of oil.

Step 6
Once hot, spoon in ¼ of the mix and flatten it down with the back of a wooden spoon.

Step 7
Cook for a couple of minutes until golden then flip over and cook for a further 2 minutes.

Step 8
Finish off in the oven for 5-10 minutes until cooked through.

Step 9
Serve with sliced avocado, coriander drizzle, sriracha, extra kimchi and chopped coriander.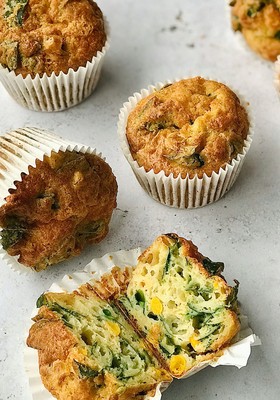 Cheese, Sweetcorn & Spinach Muffins: Easy Peasy Baking
Ingredients
1

tsp

of bicarbonate of soda
150g

of pre-grated cheese
50g

of baby spinach, shredded
100g

of tinned sweetcorn, drained
150g

of unsalted butter, melted
Method
Step 1
Preheat the oven to 180°C.

Step 2
Combine the flour, bicarbonate, cheese, spinach and sweetcorn in the mixing bowl.

Step 3
Add the eggs, melted butter and milk and mix it all together.

Step 4
Divide the batter evenly into the muffin cases.
Step 5
Bake for 20-25 minutes until risen and golden. Serve warm.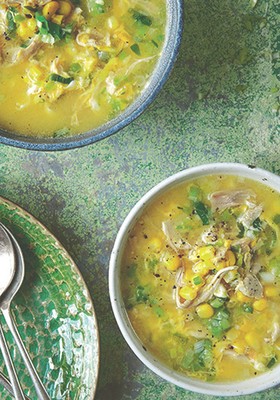 Chicken, Sweetcorn & Egg Soup: Chetna Makan, Chetna's Healthy Indian
Ingredients
4

skinless chicken thighs on the bone
10

spring onions, finely chopped
½

tsp

of freshly ground black pepper
Method
Step 1
Put the chicken into a deep saucepan with the measured water and bring to the boil. Reduce the heat to medium-low, cover the pan with a lid and cook gently for 45 minutes, until the stock is well flavoured.

Step 2
Strain the stock into a jug and set aside. Once the chicken pieces are cool enough to handle, shred the meat into small pieces and set aside.

Step 3
Heat the oil in another deep saucepan over medium heat. Add the spring onions and cook for 2 minutes, until they begin to soften. Stir in the sweetcorn and cook for a further 2 minutes, until it starts to soften.

Step 4
Now pour in the chicken stock, mix in the shredded chicken, increase the heat to high and cook for 1 minute.

Step 5
Using a fork, stir the stock continuously as you slowly drizzle the beaten eggs into it. Keep stirring until all the eggs have been added – this will form threads of egg in the soup.

Step 6
Finally, add the salt, turmeric, pepper and soy sauce and mix well. Serve immediately.

DISCLAIMER: We endeavour to always credit the correct original source of every image we use. If you think a credit may be incorrect, please contact us at info@sheerluxe.com.