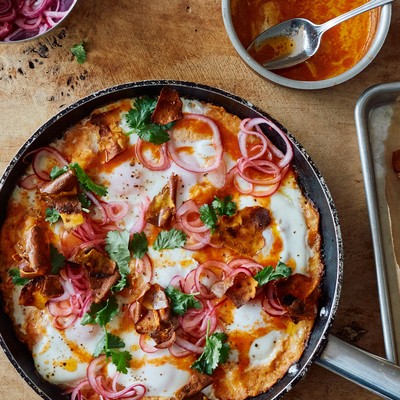 Easy One-Pan Meals To Try This Week

Best-selling author and revered chef Yotam Ottolenghi has sold more than a million cookbooks. His latest release – the first involving his team of behind-the-scenes super chefs at the Ottolenghi Test Kitchen – caters to busy home cooks looking to make the most of what they already have in their kitchen cupboards. Here, Yotam introduces Shelf Love and shares three of its best recipes…

All products on this page have been selected by our editorial team, however we may make commission on some products.
Last year really spawned the idea for an Ottolenghi Test Kitchen cookbook. Compared to all the other books we've done, this one teaches you the skills we've had to learn ourselves over the past year – how to cleverly use what's in your kitchen to put a delicious meal on the table. We see it as the first of many stories the Ottolenghi Test Kitchen has to tell – tales of other timely skills that are yet to reveal themselves, accounts of our food adventures and all the little discoveries we're so desperate to share with our community.
Everyone has that one shelf in the back of their pantry. The one where you'll find a forgotten bag of… Mung beans? Wholemeal flour? Polenta? The beauty is every shelf has something different on it. Some of our favourite pairings at the Test Kitchen have come from a quick brainstorm and a good rummage through our store cupboards: semolina with coconut, black lime with feta, butter beans with preserved lemon. The only limitations in food are the ones we set for ourselves – the rules are meant to be broken, everything works unless proven otherwise. 
To build this book we've broken down our kitchens. We've pulled ingredients apart only to put them back together again – the result being cohesive dishes based on various kitchen finds. A bag of dried chickpeas, repurposed. A kilo of onions, cooked down. Some wonky-looking vegetables, chargrilled. There is a 'this for that' ethos here; the understanding that, in this new world, the need to improvise and roll with the punches, is more crucial than ever.
Feeling inspired? Here are three recipes from Ottolenghi's new book…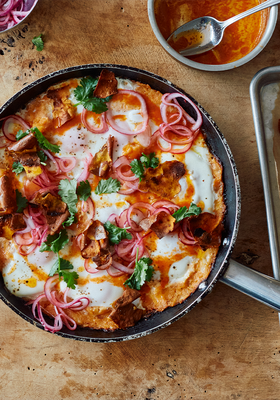 Sweet Potato Shakshuka
A far cry from a classic shakshuka, the added sweet potatoes provide just the right amount of moisture and heft to serve as a base for these eggs. Serve this vibrant dish as a weekend brunch.
Total Time
1 Hour 20 Minutes
plus 20 minutes prep
Ingredients
1kg

of sweet potatoes, skin on and scrubbed clean
1

small red onion, thinly sliced into rounds
150g

of mature cheddar, roughly grated
1

tsp

of cumin seeds, roughly crushed with a pestle and mortar
2

tbsp

of picked fresh coriander leaves, with some stem attached
Method
Step 1
Preheat the oven to 200°C fan. Poke the sweet potatoes all over with a fork (about 8-10 times) and place them on a medium, parchment-lined baking tray. Bake for 45-50 minutes, or until cooked through and softened. Set aside to cool and turn the oven temperature down to 180°C fan.

Step 2
Meanwhile, in a small bowl mix together the onion, 1 tbsp of lemon juice and a pinch of salt and set aside to pickle.

Step 3
Remove the cooked potato skins and tear them into roughly 4cm pieces. Transfer the potato flesh to a large bowl and set aside. Place the skins back on the baking tray and toss with 1 tbsp of oil, ¼ tsp of salt and a good grind of pepper. Bake for 8 minutes, or until nicely coloured and starting to crisp up. Set aside to cool and crisp up further.

Step 4
Use a fork to mash the potato flesh until smooth, then add the cheddar, garlic, cumin, another tablespoon of oil, the remaining tbsp of lemon juice, 1 tsp of salt and a generous grind of pepper, and mix to combine.

Step 5
Put the remaining tbsp of oil into a large frying pan, for which you have a lid, and swirl around to coat the bottom. Spoon the mashed potato mixture into the pan, using your spoon to distribute it evenly. Place on a medium-high heat and leave to cook for about 7 minutes, for the bottom to start to colour. Turn the heat down to medium and use a spoon to make eight wells in the potato mixture, breaking an egg into each. Sprinkle lightly with salt and pepper, cover with the lid and cook for 4-5 minutes, rotating the pan, or until the whites are set and the yolks are still runny.

Step 6
While the eggs are cooking, put the butter and sriracha into a small saucepan on a medium heat and cook until the butter has melted, whisking constantly to emulsify. Remove the mixture from the heat before it starts to bubble – you don't want it to split.

Step 7
When ready, spoon the sriracha butter all over the eggs, then top with a good handful of the crispy potato skins, half the pickled onion and all the picked coriander leaves. Serve right away, with the rest of the potato skins and pickled onion to eat alongside.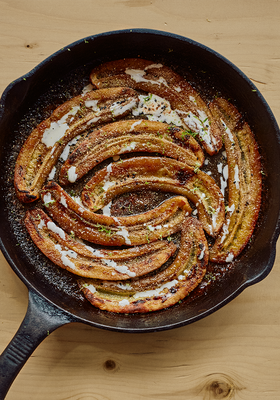 Sticky Miso Bananas
This dessert ticks all our flavour boxes – sweet, salty, tangy and umami – and all our texture boxes – sticky, crunchy and creamy. The bananas you use should have almost completely yellow skin, with only the tiniest bit of brown spotting.
Total Time
30 Minutes
plus 5 minutes prep
Ingredients
70g

of light soft brown sugar
½

tsp

of ground star anise
4

medium bananas (medium ripe), peeled and halved lengthways
1

lime – finely grate the zest to get

1

tsp

and then juice to get

1

.5

tsp
For The Toasted Rice Topping:

1

tbsp

of Thai sticky rice (raw), or jasmine rice
2

tsp

of black sesame seeds
½

tsp

of ground star anise
Method
Step 1
Set the oven to its highest grill setting.

Step 2
Make the topping. Toast the rice in a small frying pan on a medium heat for 12-15 minutes, shaking the pan from time to time, until deeply golden. Blitz in a spice or coffee grinder until fine, then transfer to a small bowl. Return the pan to a medium-high heat and add the sesame seeds. Toast for 1 minute, then stir into the rice bowl along with the star anise. Set aside.

Step 3
Put the butter, sugar, star anise and half the crème fraîche into a large, ovenproof cast-iron pan (or a large sauté pan) on a medium heat. Stir the mixture frequently, until the butter has melted and the sugar has dissolved, then, off the heat, whisk in the miso until smooth. Add the bananas, cut side up, using a spoon to coat the tops with some of the caramel, then transfer to the oven and grill for about 8 minutes (this will vary, depending on your grill, so check them at the 7-minute mark), or until the bananas have softened and are lightly browned.

Step 4
While the bananas are grilling, mix the remaining crème fraîche with the lime juice. When ready, spoon this all over the bananas, then sprinkle with the lime zest and a tablespoon of the rice topping. Serve immediately and directly from the pan, with the extra rice topping alongside.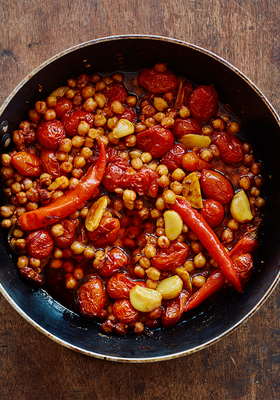 Confit Tandoori Chickpeas
Chickpeas have had their fair share of Instagram fame for many reasons – Alison Roman's chickpea stew anyone? Really, it's the simplicity of the dish which makes it so attractive: throw everything into a pan and pop it into the oven, leaving it to its own
Total Time
1 Hour 20 Minutes
plus 25 minutes prep
Ingredients
2

tins of chickpeas, drained
11

garlic cloves, peeled,

10

left whole and

1

crushed
400g

of datterini or regular cherry tomatoes
3

red chillies, mild or spicy, a slit cut down their length
2

tsp

of cumin seeds, roughly crushed with a pestle and mortar
2

tsp

of coriander seeds, roughly crushed with a pestle and mortar
2

tsp

of red Kashmiri chilli powder
180g

of Greek-style yoghurt
15g

of picked mint leaves
30g

of fresh coriander, roughly chopped

2

-3

limes: juiced to get

1

tbsp

and the rest cut into wedges
Method
Step 1
Preheat the oven to 150°C fan.

Step 2
Put the chickpeas, whole garlic cloves, ginger, tomatoes, chillies, tomato paste, spices, sugar, oil and 1 tsp of salt into a large sauté pan, for which you have a lid, and mix everything together to combine. Cover with the lid, transfer to the oven and cook for 75 minutes, stirring halfway through, until the aromatics have softened and the tomatoes have nicely broken down.

Step 3
Meanwhile, put the yoghurt, mint, fresh coriander, lime juice, crushed garlic and ¼ teaspoon of salt into a food processor and blitz until smooth and the herbs are finely chopped.

Step 4
Serve the chickpeas directly from the pan, with the yoghurt and lime wedges alongside.

All recipes extracted from: Ottolenghi Test Kitchen: Shelf Love by Noor Murad and Yotam Ottolenghi. Buy it here. Ottolenghi Test Kitchen: Shelf Love, £25 | Yotam Ottolenghi Available at Waterstones.com
Extracted from: Ottolenghi Test Kitchen: Shelf Love by Noor Murad and Yotam Ottolenghi. Buy it here.
DISCLAIMER: We endeavour to always credit the correct original source of every image we use. If you think a credit may be incorrect, please contact us at info@sheerluxe.com.