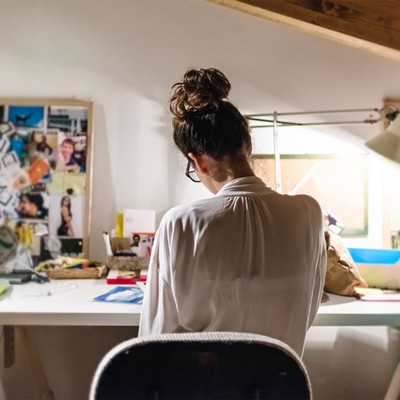 The Essential Career Courses To Book This New Year

Might this year be the year you learn something new? If that's you, meet Udemy. From leadership classes to SEO workshops, graphic design masterclasses and Spanish lessons, it offers an array of courses to broaden your skill set and career prospects for the year ahead…

CREATED IN PARTNERSHIP WITH UDEMY
For many, the pandemic has prompted a re-think when it comes to their careers – and what better time to re-qualify and possibly pursue a new job than January? Enter Udemy, where prospective members can find thousands of different courses – most starting from just £14.99 – including personal training qualifications, nutritional diplomas and even a full MBA. With industry experts and fully accredited institutions on hand to guide students through from start to finish, Udemy is one of the most complete resources out there when it comes to online learning.
Udemy has trained over 46m students globally and offers more than 175,000 best-in-class courses, in 75+ languages, covering marketing, finance, design, self-development, photography, health and fitness and more. Through Udemy, members can learn at their own pace, in their own time. Whether you're looking to upskill in your current role or want to finally take the plunge and apply for a new job in 2022, Udemy is the site to explore.
Keen to kick-start a new career or step up the ladder at work?
Here are some of Udemy's most popular courses – click through each for an SL offer to take advantage of…
The Complete Digital Marketing Course: 12 Courses In 1
With over 20 hours of training, quizzes and practical steps to follow, this is one of the most comprehensive digital marketing courses out there. The class covers SEO, YouTube marketing, Facebook marketing, Google AdWords, Google Analytics and more. The course is hugely interactive with projects, checklists and actionable lectures built into every section to help you learn how to market a business online from scratch across all the major marketing channels.
Visit Udemy.com
iPhone Photography
This online photography course will teach you everything you need to know to become a professional digital photographer – with nothing more than a smartphone. You'll learn all the basics of iPhone photography, as well as plenty of tips and tricks you can use to make your photos stand out. This course gets straight to the point with the most useful and practical information so that you can start taking photos as quickly as possible.
Visit Udemy.com
An Entire MBA in 1 Course 
In this course, members will learn everything they need to know about business, from starting a company to taking it public. The course covers all the important topics you'd learn from getting an MBA from a top school, alongside practical business concepts. This course is taught by an award-winning MBA professor with real-world experience working at Goldman Sachs, as well as in the venture capital, hedge fund and consulting industries.
Visit Udemy.com
Ultimate Google Ads Training
For this Google AdWords course, you should already have a website, landing page or Facebook page you want to send traffic to. Aimed at beginners, this crash course will show you the exact skills and techniques you need to drive consistent and profitable traffic to your website around the clock. Expect over 15 hours of video lectures, access to a student discussion forum, and the ability to ask any questions as you progress through the course. 
Visit Udemy.com
Instagram Marketing: Complete Guide To Instagram Growth
This guide is designed to build your brand and convert your followers into paying, engaged customers. The course will show you how to attract 10,000 real targeted followers to your Instagram account and convert these new followers into long-term, loyal customers who love your business. The course covers all the latest Instagram features and will teach you how to use these functions to grow your account and market your business.
Visit Udemy.com
Graphic Design Masterclass
Do you want to learn all the techniques you need to create designs, logos and branding packages? This masterclass covers typography, colour theory, layout and composition, photo editing and layout, branding and logo design. You'll also learn the basics of Adobe Photoshop, Illustrator and InDesign and will complete projects along the way to hone your skills.
Visit Udemy.com
Social Media Marketing: Complete Certificate Course
Covering everything from Twitter and Facebook to blogging, social media automation and content marketing, this course provides a proactive and practical approach, giving learners a great grounding and skill set to enter the world of social media marketing.
Visit Udemy.com
Career Hacking: World's Bestselling Job Search Course
On the hunt for a new job? This course will teach you how to use innovative career-hacking techniques to present yourself powerfully on LinkedIn and beyond. You'll also be shown how to prepare a keyword-rich, targeted CV that gets results in your job search, interview competently and persuasively while still being yourself, and create career opportunities during your job search using traditional and non-traditional methods.
Visit Udemy.com
The Ultimate Drawing Course: Beginner To Advanced
Ever wanted to learn how to draw? This class will show you how to create art that stands up as professional work. Members will obtain drawing skills, whether for their own projects or to draw for other people, and the course will take you from having little knowledge in drawing to creating advanced art and having a deep understanding of drawing fundamentals. 
Visit Udemy.com
Management Skills: New Manager Training In Essential Skills
This course is suited for new managers and entrepreneurs at the start of their journey. This course is organised around three critical blocks of skills: managing and motivating individuals; leading high performing teams; and engaging people in the continuous improvement of work processes. You'll learn from an instructor who has 45 years of experience training managers and building a culture of teamwork at companies like Honda and Shell Oil.
Visit Udemy.com
How To Work With Interior Design Styles Like A Pro
Always dreamt of becoming an interior designer? Here you'll learn how to understand 18 of the main interior design styles used in today's homes. Members will learn to identify common materials used in each of these styles; choose appropriate colour schemes and patterns; and select appropriate window coverings and flooring; as well as discovering their own interior design style personality along the way.
Visit Udemy.com
Spanish 1-4: Beginner, Elementary, Intermediate & Advanced
This course comprises four courses in one. Users will go from complete beginner to advanced Spanish student across 323 lessons and 109 hours of content. You'll find videos covering vocabulary, pronunciation, grammar and punctuation, which break everything down and cover topics in detail.
Visit Udemy.com
DISCLAIMER: We endeavour to always credit the correct original source of every image we use. If you think a credit may be incorrect, please contact us at info@sheerluxe.com.