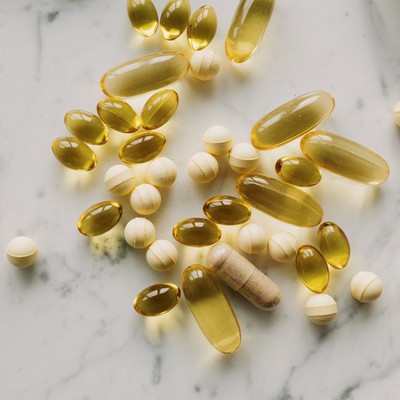 Everything You Need To Know About Omega-3

When it comes to achieving radiant skin, better brain power and happier hormones, fish oil is a wellness essential. But confusion still seems to surround omega oils. From how much should you take to the signs your levels could do with a boost – as well as some simple diet swaps and supplement recommendations – here's what three nutritional pros had to say…

All products on this page have been selected by our editorial team, however we may make commission on some products.
First, Make It A Dietary Staple
Omega-3 is called an essential fatty acid for a reason – it's essential for your body to function. "The body can't make omegas, so you need to keep your levels topped up," Aliza Marogy, founder of Inessa and registered nutritional therapist tells SL. "Omega-3 is found in every cell membrane throughout the body and plays a crucial role in your overall health. A deficiency can increase the risk of a whole spectrum of health conditions." There are three main types of omega-3 fatty acids: EPA and DHA, which mainly come from fish, while ALA is found in some vegetable oils and nuts, flaxseeds and some animal fats. "The classic signs of an omega deficiency include dry hair, skin and nails; low mood and difficulty concentrating; joint stiffness and pain; dry eyes and fatigue," she says.
It Supports Brain Health
The brain is mostly made up of fat – in fact, 60% of the dry weight of the brain is fat, primarily DHA. "Consuming adequate amounts of omega-3 is crucial for brain development, function and maintenance," says Kathryn Danzey, founder of Rejuvenated. "Omega-3s are well-known for their role in brain health. One study found that taking 2.5g of a combined EPA/DHA omega-3 daily helped resist the damaging effects of stress compared to a placebo." Research also shows taking fish oil supplements for six months can sharpen your memory.
Your Skin Will Glow 
"Think of omega-3 like an internal moisturiser," Aliza adds. "It will keep skin soft and supple and regulate oil production. This means omega oils can really help those with inflammatory skin conditions such as acne and eczema, whilst also slowing the visible signs of ageing by improving hydration, boosting elasticity and glow."
It'll Support Muscle Recovery
If you're particularly active and exercise regularly, omega-3 supplementation can help decrease inflammation and supercharge muscle recovery. "If you are an athlete or do a lot of exercise, it's worth taking an omega supplement," says Natasha Draycott, nutritional therapist of NdNutrition. "Overtraining can lead to inflammation, and omegas have been shown in studies to improve muscle recovery time."
Even if you eat your recommended two portions of oily fish per week, it's still worth taking a supplement on top of this.

Hormones Will Get A Helping Hand 
Are you prone to PMS? Omega-3s could help, with research showing taking a supplement could reduce the classic symptoms associated with PMS, such as bloating and breast tenderness. "If you struggle with polycystic ovarian syndrome (PCOS), omega-3s could also help, with studies showing omega-3 can help regulate the menstrual cycle," adds Natasha.
Fish Is The Best Source
Oily fish provides an easy way to get your omega-3 fix. "Salmon is the king of potency," says Kathryn. "Wild salmon contains nearly 300mg of omega-3 per ounce, and anchovies contain 600mg per ounce serving." Aim to eat oily fish at least twice per week to keep omega levels topped up, adds Natasha. "An acronym nutritionists use for omega-rich fish is SMASH – sardines, mackerel, anchovies, salmon and herring. These fish are packed with EPA and DHA, and as a general rule, the smaller the fish, the less mercury and other toxins it will contain."
If You're Vegan, Opt For ALAs
"There are some great plant-based sources of ALA, the third fatty acid, which the body can convert into EPA and DHA," Aliza adds. "However, this conversion results in a much lower dietary intake of the latter, so ideally, those who don't eat oily fish should supplement plant sources of ALA with an algae-based vegan omega-3 supplement. Plant-based sources of omega-3 include flax and chia seeds, avocado and walnuts. Vegan alternatives to fish oil supplements are becoming more widely available. Made from algae, they enable those on a plant-based diet to boost their intake of omega-3s, but you may need to take several capsules per day, as dosing of EPA and DHA in vegan supplements tends to be low."
Look for oil from anchovies, krill and sardines, and avoid cod liver oil, which packs a huge amount of vitamin A, which can be toxic.

Getting Your Daily Dose Is Easier Than You Think
Salmon may be a rich source of omegas, but it's not all about fish. "You could start the day with a bowl of porridge topped with flaxseed, chia and hemp seeds, as well as a handful of walnuts, a combination which is packed with omega-3," says Kathryn. "Scrambled eggs and smoked salmon is also a good option – two eggs provides 114mg of omega-3s while smoked salmon is also a rich source. For lunch, try baked sardines in tomato paste with olives and chopped dill, or smoked trout with stir fried greens. For supper, salmon fish cakes are great, substituting the potatoes with butternut squash to increase the omega-3 content. Grass-fed beef, meanwhile, contains four times more omega-3 than grain-fed animals. Red lentils, dark chocolate, and grass-fed butter are also good sources."
A Supplement Will Keep Levels Topped Up
Even if you eat your recommended two portions of oily fish per week, the experts say it's still worth taking a supplement on top of this. "It's beneficial for the body to have a daily supply of healthy fats, and while it's believed there is a threshold at which you stop seeing benefits, it would be hard to surpass this amount from our daily diet and a supplement," says Kathryn. In the UK, there is no established RDA for intake of omega-3 oils via supplements, though the guideline intake from food provides around 450mg EPA and DHA per day. "However, this is seen as far too low by many researchers," adds Aliza. "If you're struggling with a specific health concern – such as poor mental health or pregnancy – you may need anywhere from 500mg to 3000mg per day. To be safe, aim for an upper limit of 3000mg." When buying a supplement, look for a product that contains omega oils in a ratio of 2:1 DHA to EPA.
Finally, Quality Matters
"The supplements world can be a minefield, particularly when it comes to fish oils, and quality really does matter," says Natasha. "Look for natural fish oils – wild and not farmed – and check what the fish oil has been made from. Try to look for oil from anchovies, krill and sardines, and avoid cod liver oil, which packs a huge amount of vitamin A, which can be toxic when taken in excess." Kathryn recommends keeping an eye out for an International Fish Oil Standards (IFOS) label, too. "A five-star rating shows the fish oil is of the highest purity and contains the lowest levels of harmful contaminants. It also guarantees the amount of omega-3 that each capsule contains." Plus, make sure you compare with like-for-like. "Does the dose on the bottle say 1000mg but the small print says this is only when taking three capsules per day? If so, that may not suit you from a convenience perspective, and can make the product seem cheaper than it is. When comparing costs, compare the number of doses per bottle – not the quantity of pills – as this can be misleading," adds Aliza. "Inessa's Omega-3 contains 1,200mg of fish per capsule, of which 360mg is DHA and 480mg is EPA, which is a great daily dose for those who are in good general health."
Give your omega levels a boost with these supplements…
And stock your cupboards with these expert-approved buys…
Eat Natural Bars: "Rich in naturally occurring omega-3, these bars are packed with mixed seeds, almonds and peanuts." – Kathryn 
Groovy Food Omega Cool Oil: "This is a great product to keep in your cupboard – it contains flax, hemp, evening primrose and pumpkin seed oils." – Kathryn 
The Heart Of Nature Super Seed Loaf: "A powerful source of nutrients, this loaf is high in magnesium and fibre as well as omega-3."
Itsu Seaweed Thins: "Seaweed is an important source of omega-3 for those on a vegetarian or vegan diet." – Natasha 
Linwoods Milled Flaxseed: "Containing sunflower, pumpkin and chia seeds, this nutrient-rich combination can be sprinkled onto cereals, porridge and yoghurt." – Kathryn 
M&S Luxury Granola: "The perfect way to start the day, this granola is brimming with chopped nuts and seeds, and is made without added sugar." – Kathryn 
Munchy Seeds Mega Omega: "A delicious savoury snack made with seven types of omega-rich seeds, sprinkle onto salads and soup." – Kathryn 
Nine Bars: "At least 50% of these bars are seeds, meaning they're an easy way to boost your omega intake. They're also high in fibre and are a good source of protein." – Kathryn 
RAW Health Chia Seeds: "Combine chia seeds with ground flaxseed to make an omega-rich porridge." – Natasha 
RAW Health Flax Pumpkin Crackers: "Flax is a fantastic source of omega oils, and these delicious crackers are a great way to up your intake." – Natasha 
Udo's Choice Ultimate Oil Blend: "Made with flaxseed, sunflower, sesame seed, coconut, evening primrose and oat bran germ oils, this is packed with goodness. Use to make salad dressing." – Kathryn 
Shop the products below...
For more information visit Rejuvenated.com, InessaWellness.com and NDNutrition.co.uk
DISCLAIMER: Features published by SheerLuxe are not intended to treat, diagnose, cure or prevent any disease. Always seek the advice of your GP or another qualified healthcare provider for any questions you have regarding a medical condition, and before undertaking any diet, exercise or other health-related programme.
DISCLAIMER: We endeavour to always credit the correct original source of every image we use. If you think a credit may be incorrect, please contact us at info@sheerluxe.com.