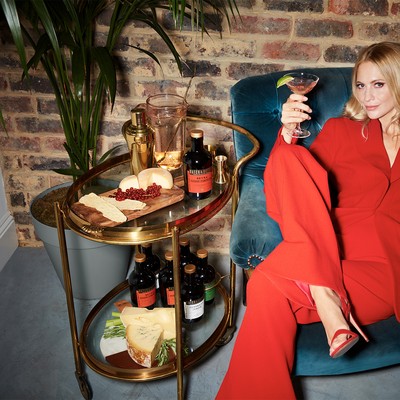 A Festive Catch-Up With… Poppy Delevingne

This Christmas looks like it's going be another one where at-home entertaining comes into its own – and if Poppy Delevingne has anything to say about it, that means family, plenty of festive cocktails, good food and great fashion. Here, she tells us more about what a typical Christmas looks like in the Delevingne household…

So Poppy, what do your Christmas plans look like this year?
Well, I'm going to try and be as positive as possible – I'm planning on heading to the country to spend it with my whole family. It's not often we're all able to get together – my siblings, parents, husband, nieces and nephews. The only thing on the agenda is really hunkering down, eating lots of delicious food and just enjoying being together. There's usually lots of silliness in my family – they're a party on their own. For example, my sister Cara started this tradition a couple of years ago when she bought us all animal onesies – which we pretty much live in during the week between Christmas and New Year. I always get a rubbish animal, like a racoon or badger or something…
 
Who normally takes responsibility for the food?
It's a group effort – in fact, that's another tradition. Everyone has to bring something, and we're all given a specific job. This year, I'm in charge of the cheese. I've gone for a truffled brie which I hope will go down well, but I'm also bringing and endless supply of Batch & Bottle cocktails with me – specifically the rhubarb cosmopolitans. At the end of the day, I'm just grateful to be able to be with the people I love, even if we're just at home. We're pretty good at making our own fun!
 
Speaking of Batch & Bottle – tell us a bit more about the brand…
The concept of pre-made cocktails just really spoke to me. I'm a big at-home entertainer and it's like having your own bartender on tap. There's zero faff involved – all you need is a beautiful glass and some ice (although it seems the right – and festive – thing to do to add a garnish) and that's it. When your friends or family walk through the door and it all feels a bit manic, this makes getting an impressive cocktail in people's hands so simple. It gets the night off to a great start. The Reyka Vodka Rhubarb Cosmopolitan really speaks to my Sex & The City obsession – as does the Glenfiddich Scotch Manhattan – but I also love the Hendrick's Gin Martini. It's hard to choose just one favourite!
 
How do you get ready for a Christmas get together?
I love entertaining at home – nothing brings me more joy. This year, I've ordered some beautiful wreaths and garlands from FLOWERBX to decorate with and as long as you have soft lighting, an abundance of candles and good music, you're all set. Add some personal touches if you can – one year I asked artist Annabelle King to draw caricatures of our guests ahead of time. We'd rented a big house and I stuck their portraits on everyone's door, so they knew where they'd be sleeping.   
 
Are you a dress-up or dress-down kind of girl on Christmas Day? 
Well, the onesies certainly come out after lunch, but I think my dad would have something to say about it if I rocked up to Christmas lunch in it. I do like to make a little bit of effort – even more so on Christmas Eve. I've discovered this dress brand Taller Marmo. It makes the most fabulous feathered one-shoulder mini dresses. I'll probably be slinking round in one of those this year. I also love cashmere tracksuits by Madeleine Thompson. I bought a grey one with navy stars on it the other day…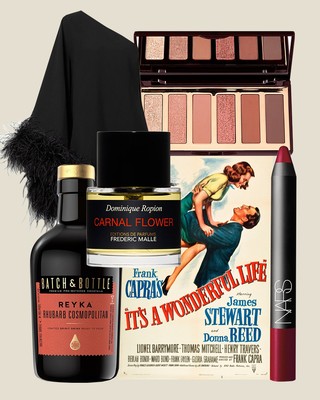 We need to focus more on helping each other, doing right by the planet and being kind to one another.

And what about beauty – do you have any failsafe products at this time of year?
You can't beat a NARS red lip and Charlotte Tilbury makes some of the best festive beauty every year. Her eyeshadow palettes are unrivalled. Pat McGrath is another name to know for glam and glitter and I love Gucci Westman's dewy face sticks – the shade 'Biscuit' is so good for warming up the skin and making it look like you've had a bit of sun. You can probably tell I'm quite the beauty junkie…
 
What about fragrances – any new discoveries?
Right now, I'm wearing Frédéric Malle Carnal Flower. It's such a good day-to-night scent and lasts for hours. It's an investment, but so worth it in my opinion.
 
Any good last-minute Christmas present ideas?
Honestly, I think my husband left the house about five minutes ago to go and buy my Christmas present! I would say a Jo Malone three-wick candle is such a no-brainer. The best scents are Pomegranate Noir or Lime Basil & Mandarin. The cream box and black ribbon is iconic. Also, Madeleine Thompson just collaborated with Leith Clark on a line of beautiful jumpers, complete with peter pan collars and ribbons. It also makes some incredible hats – the bubble gum pink one has my name all over it. For something more affordable and fun – or maybe for friends – W.A. Green sells some really kitsch baubles. There's a Karl Lagerfeld one I love…
 
Are you planning to watch any good Christmas movies or TV?
Anyone who hasn't watched Succession yet needs to get on board. My favourite character is Roman – he's just such a little weirdo, I think we'd get on quite well. I'm also really enjoying Dopesick on Now. The acting is brilliant. But really, I want to delve back into the classics this Christmas: Home Alone, It's A Wonderful Life, Father of the Bride and National Lampoon. If you're struggling, go onto Rotten Tomatoes and look up the top ten films in whatever category you're interested in. It's such a good hack to find something you're guaranteed to enjoy.
 
Do you have plans for New Year's Eve?
I'm trying to keep everything as low-key as possible this year, so I'll probably just be at home with my family. I hate the disappointment of having to cancel events at the last minute – which tends to be a bit of risk at the moment – so it's family, food and chilling at home. Sounds good to me.
 
Are you making any resolutions for 2022?
Quite a practical resolution for next year is finally getting my driver's licence! It's a bit embarrassing to admit this, but I'm 35 and haven't got it yet. My family always makes fun of me, so I'd like to get that sorted out once and for all. I've learnt so much in 2021 that I'd like to take with me into 2022. I'd love to be able to look forward to a world that doesn't revolve around Covid-19. We need to focus more on helping each other, doing right by the planet and being kind to one another. The world will return to normal – it has to – and if we have cocktails and lots of laughter in the meantime, then everything will be okay. 
 
Follow @PoppyDelevigne on Instagram and visit BatchAndBottleCocktails.com.
DISCLAIMER: We endeavour to always credit the correct original source of every image we use. If you think a credit may be incorrect, please contact us at info@sheerluxe.com.