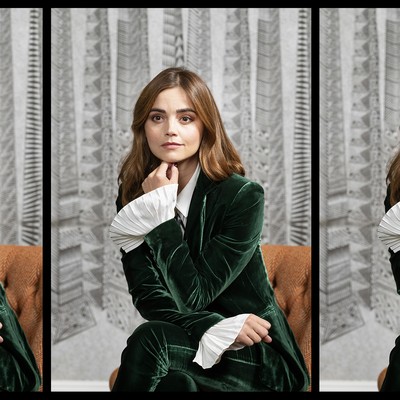 A Festive Coffee With… Jenna Coleman

Best known for Victoria, The Cry and The Serpent, British actress Jenna Coleman's star continues to rise. Having taken part in the Boots Christmas advert this year, we sat down with her to chat festive traditions, beauty favourites and what's next in 2022…

Hi Jenna – tell us about your Christmas plans this year…
Christmas is a time I always spend with my family – they're from Blackpool so I normally go back up there, and we have lots of people round throughout the festive period. I tend to spend Christmas Eve with just my mum and dad, wrapping presents and drinking Bailey's. It's become a bit of a tradition. Then, on Christmas morning – I don't really know if this counts as tradition per se – but one of us is usually forced to phone my brother and tell him to hurry up to come round and help. My mum is the one who cooks Christmas lunch, but my dad and I help out – dad is on the turkey and I'm on side dishes. 
 
What are you most looking forward to about the break?
I'm looking forward to slowing down a bit again. Since we were let out of lockdown earlier this year a lot of people have picked things up again and the world has felt very fast quite quickly. My parents live right by the seaside so I'm looking forward to family walks and watching movies. I also spend a lot of time with my grandma at Christmas. I'm really hoping it'll all go ahead as planned.
 
Are you a dress up or dress down kind of girl on Christmas Day?
I'm literally packing as we speak and this year, I've got an amazing Simone Rocha dress I want to wear on the big day. I love her aesthetic – it's so festive. And lots of velvet accessories – hair bows and sparkly flats always feel very traditional and tie every look together. We've all learnt to be more comfortable at home when we're entertaining haven't we? As well as making a real event out of even the simplest of suppers at home, date nights, drinks with friends. I think that's something that's here to stay.
 
Tell us a bit more about the Boots Christmas ad you're involved with…
It was pitched to me like a storybook and the fairy-tale or modern-day Mary Poppins vibe really appealed to me. Tom Hooper [Les Misérables] was also attached to it as the director and so he talked me through a couple of ideas for it, including the core message of 'Bags of Joy' and the real meaning of Christmas being about the gift of giving. We wanted to tell that story in a magical, eccentric and very British way. The end result is a sort-of miniature short film.
 
For anyone doing last-minute Christmas shopping, what presents would you recommend? 
That's definitely me. Honestly, if you're really stuck for ideas, nothing beats a Boots voucher. That way, your loved ones can use to buy all sorts of treats and you're essentially saying to them, "Enjoy, it's on me." I'm very last minute this year, so sorry to anyone that gets an email voucher! But, in all seriousness, there are so many good products available from Boots.com.
 
Speaking of – what are some of your beauty faves at this time of year?
It's got to be a red lip hasn't it? Chanel make some of my favourite reds. I also love Tom Ford Eye Quads – anything in warm, brown or chocolatey tones or textures gets my vote. I'm a big fan of a classic smokey eye. As for my skin, Laura Mercier makes the best base products out there. Her camouflage concealer palette is a staple in my make-up bag. I find when I use it I don't need nearly as much foundation – I just dab it in the areas I need it and it makes all the difference. We used it a lot on the set of Victoria – people might be surprised to hear the make-up wasn't that heavy, plus this really looks like your natural skin.
 
And what about your hair – any favourite products?
I'm actually the laziest person with my hair. I always use Kérastase shampoo and conditioner and let it air dry. I then use the Dyson Air Wrap through the roots of my hair just to give it a little lift. It's better because you're not using lots of harsh heat all over your hair and causing damage. I went through a period of recovery with my hair after The Cry, when I dyed it blonde, and a hairdresser recommended the Kérastase Resistance Masque Force Architecte Hair Mask to me – if you use it regularly it's wonderful at protecting it.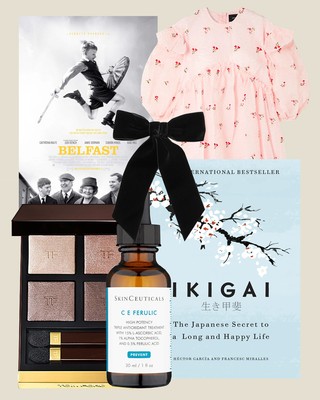 We've all learnt how unpredictable life can be – there's no point getting too stressed out about it.

This time of year can be really stressful – any self-care tips you'd like to share?
Honestly, this is so simple – and free – but I've recently started taking hot-cold showers in the morning. You take your normal shower at your normal temperature and then blast yourself with cold water at the end. It makes you feel so fresh and healthy – it's so good for your lymphatic system and it really shows up in your skin. Also, it gives me such a clear head to be able to tackle the day. It's very easy to feel lethargic and down at this time of year, but this is a great remedy – trust me. 
 
What's your relationship with exercise like right now? 
During the pandemic I really got into The Class with Taryn Toomey. I love it – it's a combination of meditation, cardio and body conditioning. You feel amazing afterwards. It's one of the only workouts that I think makes such an effort to combine mental and physical health into one. 
 
Any tips for looking less tired when you're running on empty?
I love icing my face in the morning – those ice globes that are everywhere right now are so good. I'm also religious about using vitamin C on my face – SkinCeuticals makes an excellent serum – and taking it in supplement form to fight off any bugs or colds. I also love Biologique Recherche skincare, although it's definitely an investment. 
 
Do you have plans for NYE? 
New Year's is a funny one isn't it – I don't think I've ever really cracked it. You sort of feel like you're missing out by not going out, but then sometimes you just wish you were at home. I never want to wake up on New Year's Day with a hangover. I want to feel ready to take on the next 12 months. If you do want to dress up a bit – even if it's just at home – it's a bit more of an opportunity to be experimental, isn't it? If I'm feeling brave, I like to go for a 60s eye. Recently, a friend of mine used a kohl liner to mimic the appearance of actual lash hairs underneath her waterline. It was very Twiggy – maybe I'll steal that look this year. 
 
Are you making any resolutions for 2022?
I'm trying to be better at not being late. I'm also a bit of a bag lady – dragging round lots of things all at once and over-booking my diary. I'm one of those people who jams everything in and loses things all the time. I actually read this phenomenal book recently – Ikigai: The Japanese Secret to a Long and Happy Life. The message is that it's not actually that healthy or good for you to multi-task. You're better off focusing on one thing at a time. I'm going to try to embrace that philosophy a bit more next year. A morning ritual is also something I'd really like to cultivate. 
 
Are you planning to watch any good TV over the Christmas break?
I've yet to watch the last episode of Succession, so I'm excited about that. And Landscapers with Olivia Colman and David Thewlis. I've heard it's brilliant. A Very British Scandal comes out soon and I can't recommend Belfast enough. It was such a beautiful film. Oh! And Spencer – I haven't managed to see that yet – and Wes Anderson's The French Dispatch. I really want to catch up on what I've missed at the National Theatre, too. They've put a load more of its plays on its streaming service, NT Live, including Antony & Cleopatra with Ralph Fiennes. If we can go to the theatre, I'm desperate to see Cabaret with Jessie Buckley and Eddie Redmayne. 
 
Finally, what are some of the main reflections you're taking with you from the past year?
To roll with the punches. We've all learnt how unpredictable life can be – there's no point getting too stressed out about it. You have to know how to adapt. The last two years have been a real baptism of fire in that respect. You can't hold on – be prepared to embrace the change. Next year, I'm looking forward to The Sandman coming out and Klokkenluider, which is Flemmish for whistle-blower. Both of those will be out early next year.
Follow @Jenna_Coleman_ on Instagram and visit Boots.com.
 
Watch The Boots Christmas Advert Below…
DISCLAIMER: We endeavour to always credit the correct original source of every image we use. If you think a credit may be incorrect, please contact us at info@sheerluxe.com.