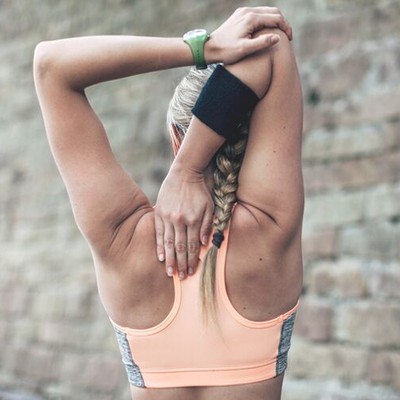 The Easiest Ways To Tone Up Your Back

The quest for a sculpted back is increasing in popularity with many fitness pros saying it's become one of their client's biggest requests. While you can't get rid of back fat there are clever ways to tighten and tone this often neglected area. We spoke to Simone, Founder of Body by Simone and a celebrity trainer to get the heads up on the best workout for building a sculpted back.

If You Don't Already, Start Training With Weights 
Back fat is a tough one to target and many women are insecure about it since it's often visible in dresses and over the top of bras. Focusing your efforts on several areas can help you shift those stubborn fat pockets. I recommend trying a plank weight drag. Think of a downward dog position, then place a weight in front of you and drag it side to side, alternating arms for three sets of eight. Contrary to popular belief, weights assist with fat loss, they don't bulk you up. This is because they help to keep your metabolism elevated post workout, therefore burning higher amounts of calories.  
Up Your Cardio  
Focus on upping the amount of cardio you do during your workout. Back fat occurs as a result of increased body fat overall, and to burn that, increasing the duration of the cardio you do, as well as the intensity, will make a huge difference. Keep elevating your heart rate as it's key to burning the maximum number of calories. In short, if you're not sweating, you need to work harder. At Body by Simone we offer an ABC (arms, back and core) class which targets the biceps, triceps, shoulders, back and core by using light weights and resistance bands – you need to be doing this regularly to see big results, whether that's in a class, or practicing regular moves in your living room with bands.  
Keep It Up Every Single Day 
As well as incorporating the plank weight drag into your routine (to target back fat), I also recommend intense cardio for 20 to 30 minutes nearly every day. It's the only way you'll start to see results. Try dancing too if you want to make it fun, it's a great form of cardio that people often forget, and it works the entire body at an intense level – a great way to get your fitness quota daily.  
Put The Sugars And Fats Down 
An obvious point but it bears repeating. Dedication to a healthy diet will reduce fat fast. I recommend eating a protein-heavy diet with eggs, chicken and greens – I see best results from this. Avoid sugars and increase your intake of vegetables and good fats, such as oily fish, avocado and nuts. And re-hydrate – you can never drink enough water.
Visit BodyBySimone.com
DISCLAIMER: We endeavour to always credit the correct original source of every image we use. If you think a credit may be incorrect, please contact us at info@sheerluxe.com.