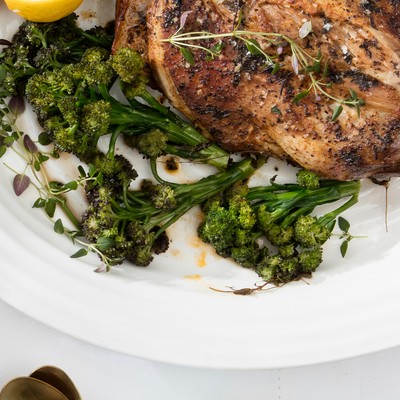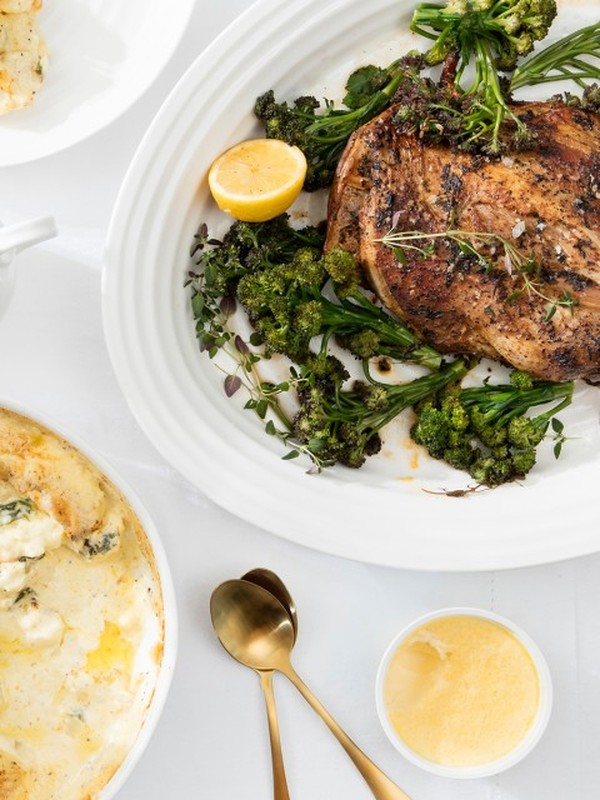 18 Alternative Easter Lunch Ideas

If you fancy serving something a little different this Easter, we've asked nine chefs for their modern updates on the classic roast lamb – and some sweet ideas too. From lamb neck ragù and spiced shepherd's pie to cheese and thyme hot cross buns, here's all the fresh inspiration you need.

By Heather Steele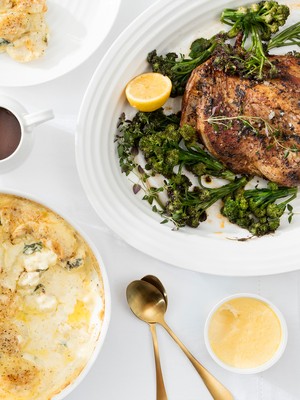 Emilia, Sofia & Nina Strazzanti
Strazzanti
"In the Strazzanti household, we all get together on Easter Sunday to celebrate new beginnings while cooking and eating the same dish every year: our Nonno Forte's pasta with Sicilian-style slow-roasted lamb and potatoes for seconds. We slow-cook a whole leg of lamb with potatoes, tomatoes and fresh rosemary from the garden until the meat of the lamb just starts to fall off the bone. We serve the lamb cooking juices with spaghetti for our starter. For the secondi, the lamb itself is served with cooked fondant-like potatoes that have absorbed all the lamb juices, and a salad dressed in a tart lemon and extra-virgin olive oil dressing. We mop up all the best bits with Italian-style bread, this is called 'fare la scarpetta'. This is home on a plate."
Visit Strazzanti.co
Emily Scott
Emily Scott Food at Watergate Bay
"I love to make slow-roasted lamb shoulder with paprika, garlic and thyme, served with gratin of dauphinois with wild garlic and Rodda's Cornish clotted cream. I prepare the lamb with garlic, paprika, lemon and thyme the night before, which marinates the lamb and gives it a delicious flavour. Lamb shoulder has more fat, which in turn gives more flavour, but a leg of lamb works perfectly well too. I love to serve the lamb to the table; it makes a wonderful centrepiece to carve in front of everyone. Gratin of dauphinois is all that is comforting: layers of potato interleaved with clotted cream, a hint of wild garlic and nutmeg. A dish that does nothing more than bring you together with people you love. For me, wild garlic is an essential springtime ingredient foraged from woodlands. It has a subtle fragrance and works in pesto, risottos, pasta and in a delicious dauphinois. Spinach would make a perfect replacement if you're unable to find it."
Visit EmilyScottFood.co.uk
Jemima Jones & Lucy Carr-Ellison
Wild By Tart 
"We go weak at the knees for a ragù. It's probably the first thing we order in an Italian restaurant, followed perhaps by a vongole or a spicy crab linguini. Recreating a version for Easter with lamb is a real treat. We use lamb neck as it is so tender and it's inexpensive which always helps. This dish almost feels quite summery as we make it with basil chimichurri – ragùs aren't just for cold, dark nights in. We serve it with cheesy polenta which is nice for a change, but it's equally delicious with pasta if the thought of standing there whisking up polenta fills you with dread."
Visit WildByTart.com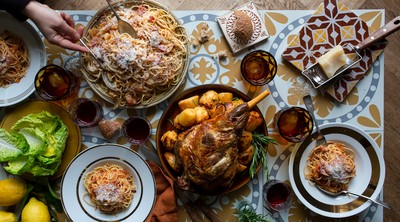 Roberta d'Elia
Pasta Evangelists
"If you come from a religious family like mine, Easter is perhaps the most important seasonal moment in the diary. I come from Puglia, in the south of Italy, where many of the culinary traditions are linked to the period of Spanish domination. In my province of Foggia, lunch always begins with benedetto, a rich antipasto made with local ingredients such as capocollo (a traditional Italian and Corsican pork cold cut) or soppressata (a dry salami), a bed of oranges seasoned with local olive oil, fresh ricotta and hard-boiled egg, which acts as a symbol of rebirth and resurrection. We always end the Easter meal with scarcella, a traditional dessert which symbolises the liberation from original sin. This shortcrust biscuit is made with humble ingredients accessible to all (simply flour, oil and eggs) and is typically shaped like an Easter dove, although these days you will also find it in the shape of bunnies, baskets and hearts."
Visit PastaEvangelists.com
"A good alternative to an Easter roast is a slow-cooked lamb güveç using shoulder steaks, cooked until rich and sticky with aubergines, tomatoes, peppers, spices, olives and Turkish pepper paste. One of my favourite things about a roast lamb is the leftovers – and the same goes for lamb shoulder, whole roast duck or a rib of beef. I like to make a crispy lamb salad with a hot 'n' sour dressing or a loaded toastie with lamb, feta, onion pickle and dukkah."
Visit Oklava.co.uk
Lindsay Radcliffe
@LindsaysFeast
"For something different, try making these Port Salut cheese and thyme hot cross buns. In the bowl of a freestanding mixer, whisk together flour, salt and sugar. Add olive oil and yeast and whisk again. Make a well and add the water, beaten egg, thyme and cheese. Bring together with a knife and then knead using the dough hook for 6-8 minutes until the dough is smooth and elastic. Turn the dough out onto a floured surface and shape into a ball. Place in a lightly oiled bowl, cover with a tea towel and leave to prove for about two hours until it's doubled in size. Next, turn it out onto a lightly floured surface and cut into six equal sized pieces. Roll each piece into a ball and place on a baking sheet lined with grease proof paper. Cover with a tea towel and leave to rise for a further hour. Preheat the oven to 200ºC. To make the cross topping, put the flour in a small bowl and add water 1 tablespoon at a time to create a thick paste. It needs to be thick enough to hold its shape, but smooth enough to be piped. Once the dough balls have risen, spoon the flour paste into a piping bag and draw a cross onto each ball. Bake the buns in the preheated oven for 25 minutes, until golden brown. Tap the bottom of a bun and if it sounds hollow then they're ready. Melt apricot jam with 1 teaspoon of water in a small saucepan, then brush each bun with the glaze."
Follow @LindsaysFeast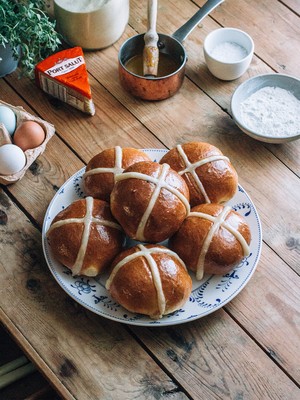 ---
And If You Don't Fancy Spending Ages In The Kitchen…
These meal kits and baking sets have everything you need for an easy yet delicious Easter weekend.
DISCLAIMER: We endeavour to always credit the correct original source of every image we use. If you think a credit may be incorrect, please contact us at info@sheerluxe.com.