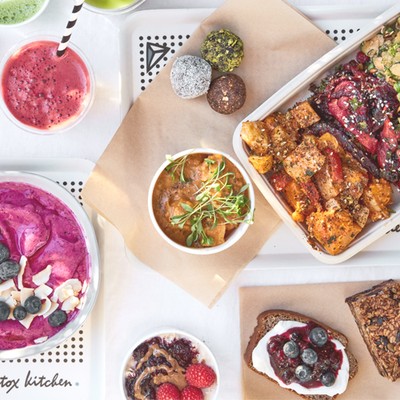 5 Weeknight Meal Ideas From Detox Kitchen

January is a great time for self-reflection and setting new intentions. So we asked A-list favourite Detox Kitchen to reveal the team's five top tips for incorporating wellness into your lifestyle, alongside five supercharged, yet easy-to-make recipes for every night of the week. Read on for health-boosting tips – from yoga through to natural supplements.

Eat Real Food
Remove all processed grains, sugars, fast foods and packaged food. Eating real whole foods is one of the best ways to support your liver and your overall health. Eat grains (not grain products), fresh fruit and vegetables, nuts, seeds, olive oil, high-quality proteins and drink lots of water. Simple right? Yet it's so easy to get into the habit of grabbing processed or packaged foods. If you're feeling run down, try stripping it back and getting natural with what you're eating.

Try A Few Weeks Without Red Meat, Sugar And Dairy
Conventional meat and dairy are loaded with excess antibiotics, steroids and hormones, but it's not just these that can affect us. In traditional medicine these foods are seen as inflammatory, and western medicine also now recognises the inflammatory nature of red meat and sugar. Try leaner types of meat like organic chicken, turkey, fish, and plant-based protein such as legumes in order to give your body a break from the heavy stuff.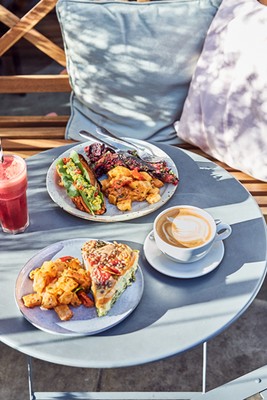 Include Herbal Supplements
There are some great herbs available that gently support your livers' efforts and detoxification. These three combos of herbs will leave you feeling uplifted, energised and clear-headed:
Milk Thistle: helps produce an antioxidant called glutathione which helps detox your liver and cells. 
Turmeric: high in antioxidants, this helps reduce liver inflammation (which we are all prone to when our poor liver has worked overtime in the festive period). 
Dandelion: acts as a diuretic and helps the liver release toxins. It also helps the gall bladder release bile, which the body needs. 
Detox Through Movement
The belief in Chinese medicine is the emotions we experience have a direct affect on certain organs. Frustration, resentment and anger are toxic emotions that can literally shut down the liver's functionality. Gentle exercise and yoga play a big part in supporting key organ function and reducing stress. So book in for a local class and make it a commitment for the new year.
Eat Liver Cleansing Foods
Leafy greens, sprouts, broccoli, beetroot, artichoke, cucumber, garlic, fresh horseradish, onion, cabbage, pink grapefruit, lemon and most bitter and sour foods are all great for the liver. Try adding a little raw apple cider vinegar, kimchi or sauerkraut to your meals. Adding some milled flax seed to your smoothie is a great source of fibre and will help the process of elimination.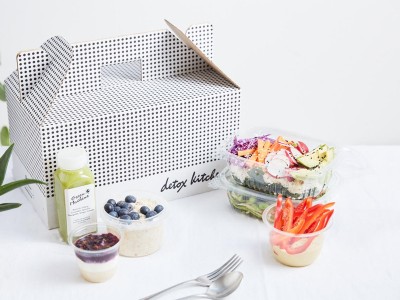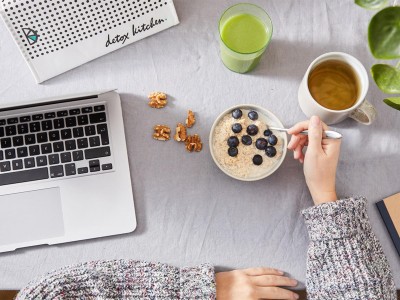 Want to incorporate the above into your routine? Read on for five super-healthy weeknight meals…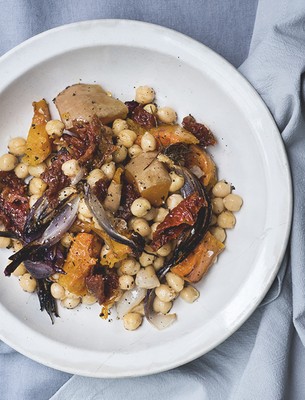 Roasted Butternut Squash, Sun-Dried Tomatoes & Chickpeas
SERVES 1
INGREDIENTS:
1/3 small butternut squash
1 small red onion
2 cloves garlic
200g chickpeas
1 tbsp olive oil
Pinch of Malden salt
Pinch of black pepper
50g sundried tomatoes, roughly chopped
METHOD:
Cut the squash into bite-sized pieces, keeping the skin on. Peel the red onion and slice into wedges. Peel the garlic and cut into slices.
Place the squash, red onions, garlic and chickpeas into a roasting tin. Drizzle with olive oil, making sure everything is well coated, and season with salt and pepper. Place the tin in the oven and roast for 30 minutes or until the squash is tender.
Remove from the oven and add in the sundried tomatoes. Serve immediately or leave to cool and place in Tupperware if preparing in advance.
Black Rice & Charred Corn Sushi Bowl
SERVES 1
INGREDIENTS:
1 tsp sliced ginger
Malden salt
Juice 2 limes
60g black rice
100g cauliflower florets
1 corn on the cob
20g cashew nuts, chopped
50g radishes, sliced
1 spring onion, sliced
1 tbsp tamari sauce
1 tsp sesame oil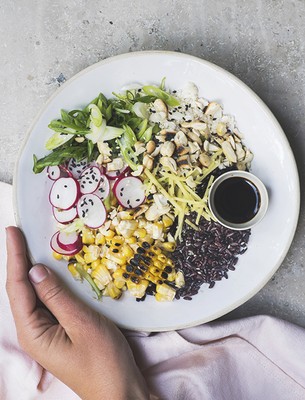 METHOD:
Place the ginger in the lime juice with a pinch of salt and leave to soak until ready to use.
Bring a pan of cold water to the boil and add in the black rice, cook on a medium heat for 20-25 minutes until the rice is tender. Drain and set aside.
Place the cauliflower florets in the food processor and blitz until they resemble rice, remove from the blender and set aside.
Place a griddle pan on a high heat. Once it's hot, add the corn and keep turning until slightly charred on all sides. Remove from the heat and leave to cool. Once cooled, hold the corn vertically and using a sharp knife carefully slice off the kernels. Discard the centre of the corn.
Place a small frying pan on a medium heat and toast the cashew nuts until golden.
Now assemble the dish with the cauliflower rice and black rice, top with the corn, radishes, spring onions, cashews and pickled ginger. Serve with the sesame and tamari sauce in a small pot.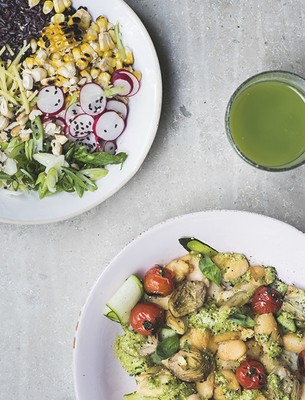 Roasted Butterbeans With Garlic Tomatoes & Cashew Pesto
SERVES 1
INGREDIENTS:
4 cooked artichokes, halved
200g cooked butterbeans
50g cherry tomatoes
1 tbsp olive oil
Pinch of Malden salt
Pinch of pepper
1 courgette
FOR THE PESTO
70g cashew nuts
1 handful spinach
1 tbsp rapeseed oil
1 tbsp water
5 sprigs basil
1⁄2 tsp Malden salt
METHOD:
Preheat your oven to 180 degrees.
Place the beans, garlic, artichoke and cherry tomatoes in a roasting tin, drizzle with olive oil and sprinkle with salt and pepper. Cook in the oven for 25-30 minutes until the beans are golden and crisp.
Meanwhile make the pesto by placing all the ingredients in a food processor. Blitz until the consistency is creamy yet still a little chunky. This pesto recipe makes 100g, so store any leftovers in an airtight container and keep it in the fridge for up to seven days.
Using a peeler, peel the courgette into thin ribbons and place in a serving bowl. Top with the cooked beans, artichokes and cherry tomatoes and spoon over the pesto.
Roasted Aubergine With Glass Noodles & Mange Tout
SERVES 1
INGREDIENTS
1⁄2 aubergine
1 tsp sesame oil
70g rice noodles
40g mange tout, sliced
1 spring onion, sliced
40g edamame
Handful coriander, roughly chopped
20g peanuts, chopped
1 tsp sesame oil
1 tbsp tamari sauce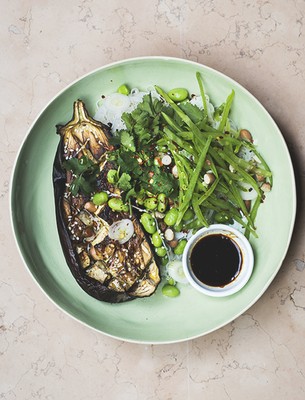 METHOD:
Preheat your oven to 180 degrees.
Cut your aubergine in half and score diagonal lines into the flesh. Drizzle with sesame oil and roast in the oven for 25-30 minutes until completely soft.
Meanwhile bring a pan of water to the boil and drop in the rice noodles. Cook for 2-3 minutes and then drain and rinse under cold water. Leave in a bowl of cold water until ready to use.
Once the aubergine is cooked, drain your noodles and add them to a bowl, place the aubergine on top along with the mange tout, spring onion, edamame, coriander and peanuts. Serve with tamari and sesame sauce. Sprinkle with chilli flakes if desired.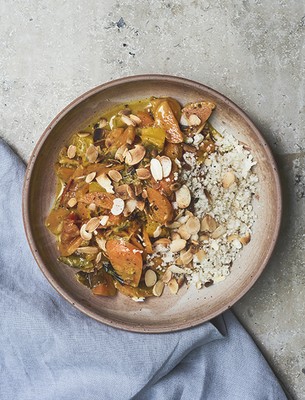 Root Vegetable Tagine With Cauliflower Rice
SERVES 1
INGREDIENTS:
1 tsp olive oil
1 shallot, diced
1 clove garlic, sliced
1⁄2 tsp turmeric
1⁄2 tsp cumin
Pinch of cinnamon
Pinch of salt
Pinch of pepper
1 carrot, sliced
1⁄2 small sweet potato, diced
50g cherry tomatoes
300g vegetable stock
Handful fresh coriander, chopped
Juice 1 lemon
150g cauliflower florets
20g flaked almonds, toasted
METHOD:
In a heavy-based dish, heat a little oil and add in the onions and garlic, cook until the onions are translucent.
Add in the ras el hanout, turmeric, cumin, cinnamon, salt and pepper and stir well for a few minutes ensuring the spices don't stick.
Add in the carrots, sweet potatoes and cherry tomatoes along with the stock and simmer for ten minutes.
Add the coriander and lemon juice, turn the heat off and place the lid on. Set aside until ready to serve.
To make the cauliflower rice, place the cauliflower florets in a food processor and blitz until it resembles couscous. Then place in a bowl and cover with boiling water for a few minutes, then drain and serve.
Place the cauli couscous in a bowl and top with the fresh coriander and toasted almonds.
Don't have time? Detox Kitchen is here to help. The team can take care of the planning, shopping, prepping and cooking of all of your meals, with one of its home delivery packages. Like the above, each dish is nutritionally designed using only real ingredients – delivered fresh to your doorstep each morning. Sign up to become a SheerLuxe VIP, and you'll receive 20% OFF its home delivery service until 31st January 2019.
Visit SheerLuxeVIP.com
DISCLAIMER: We endeavour to always credit the correct original source of every image we use. If you think a credit may be incorrect, please contact us at info@sheerluxe.com.