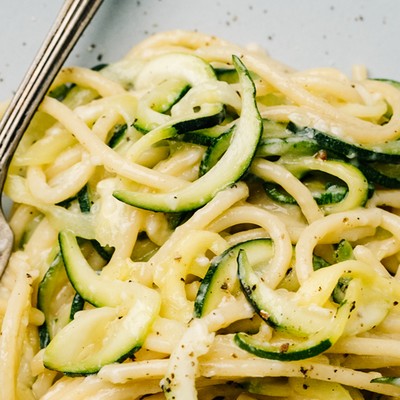 6 Gluten-Free Pasta Alternatives Rated By The Experts

Few things are more comforting than a bowl of pasta, but if you're allergic to wheat or gluten, you'll know all about the dangers of indulging. Thankfully, the alternatives have never been better. From quinoa spaghetti to chickpea fusilli, here's what three nutritional experts recommend – and what they don't.

By Tor West
All products on this page have been selected by our editorial team, however we may make commission on some products.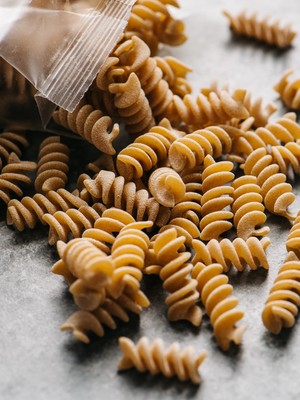 Always Read The Label
"Just because something is gluten free doesn't mean it's good for you. Always read the label and watch out for additional ingredients you don't recognise. And don't assume that just because it's a pasta alternative it's lower in carbohydrates. Many of these pastas contain the same amount of carbs as normal pasta." – Sophie 
Include A Source of Protein
"Free from gluten or not, it's important to pair carbohydrates with protein to minimise blood sugar spikes and dips that can leave you low in energy, irritable and craving more carbs. Pair your pasta with prawns, chicken or tofu to keep blood sugar balanced. Pasta with homemade pesto is my favourite – make your own pesto with fresh basil, pine nuts, garlic, parmesan and extra virgin olive oil. I rate Citizens of Soil Extra Virgin Olive Oil as it's delicious and especially rich in nutrients. If you are vegan, swap the parmesan for The Nooch Co nutritional yeast, which is also a great source of B vitamins." – Sophie 
Try Swapping Out The Pasta
"A gluten-free pasta will never quite match up to the gluten version, so consider tweaking your meal slightly for something that will be even more satisfying. For example, instead of pasta with a tomato sauce, consider making a tomato-based risotto (rice is gluten free), or make a pomodoro sauce and use it as a topping for a baked potato. Bolognese also tastes delicious on top of spiralised courgette or a bed of spinach. If you're using a spaghetti alternative, consider using half pasta and half spiralised vegetables to increase the nutrient content and plant diversity of the meal." – Daisy York, nutritional therapist at Aegle  
If you're looking for the most AUTHENTIC pasta taste and texture, RED LENTIL PASTA comes PRETTY CLOSE.

Avoid Standard Gluten-Free Options
"Whether gluten is something you actively cut out of your diet due to an allergy or intolerance, or if it's just out of personal preference, look beyond the obvious gluten-free substitutes in the supermarket, and get to know ingredients that are tastier and more nutritionally rich. The gluten-free aisles in the supermarket tend to be full of nutritionally poor, ultra-processed foods that don't contribute to good health." – Darcy Lawler, nutritional therapist at Aegle
Start With Red Lentil Pasta
"If you're looking for the most authentic pasta taste and texture, red lentil pasta comes pretty close to the original. Plus, red lentil pasta is higher in protein than normal pasta, which is a bonus. Protein is important for so many reasons, from supporting the immune system to maintaining bone density to preventing hair loss. I see many women in my clinic who aren't consuming enough protein, so switching pasta to a plant-based alternative is an easy way to increase your protein intake." – Sophie Trotman, nutritionist
Consider Spelt Varieties
"Spelt is a variety of wheat so it does contain gluten, meaning it should be avoided if you have a gluten allergy or intolerance, but studies suggest it's more easily digestible than normal pasta. Plus, as it's a wholegrain and is unrefined, it will have less of an impact on blood sugar than white pasta." – Sophie
Try One of These Gluten-Free Pasta Alternatives the Experts Love…
Mr Organic Oat Rigatoni, £3.95
What The Experts Say: Daisy's gluten-free pasta of choice, this oat-based rigatoni tastes great and has a pasta-like texture. "A gluten-free pasta will never match up to the original, so it's best to avoid like-for-like swaps that feel like a compromise. This oat rigatoni is the best I've come across and is also high in protein and fibre."
Available at Ocado.com
Profusion Red Lentil Fusilli, £2 (was £3)
What The Experts Say: "Pasta alternatives based on plant proteins, such as lentils, are great for increasing the nutritional value of a meal, including the protein content," Daisy adds. "This can be especially helpful if you follow a vegan or vegetarian diet." Serve this red lentil fusilli with Belazu's truffle and artichoke pesto. 
Available at Ocado.com
Amisa Buckwheat Spaghetti, £4 (was £5)
What The Experts Say: "It's important to remember gluten-free pasta is a pasta alternative, so you have to let go of the idea that it may be similar. If you're trying to emulate your favourite carbonara recipe using lentil pasta, you'll be disappointed. Instead, use these pastas as a nutritious way to get creative in the kitchen," says Sophie. This protein-rich buckwheat pasta is a great example – with 12g of protein and 9g of fibre per serving, it's great for pasta and noodle-based dishes.
Available at Ocado.com
---
Explore Cuisine Edamame Spaghetti, £3
What The Experts Say: "There are dozens of gluten-free pastas out there, but try not to fixate on one," Sophie advises. "Variety is important for gut health and hitting overall micronutrient targets, so buy a few and rotate. Edamame pasta is a great source of calcium, iron and phosphorus." 
Available at Ocado.com
Banza Chickpea Fusilli, £18.99
What The Experts Say: For Sophie, it's all about chickpea pasta. "Not only does chickpea pasta contain three times more fibre than normal pasta, but it's also a great source of non-heme iron, magnesium and potassium. Modern Western diets are often lacking in fibre, so even if you don't follow a gluten-free diet, consider swapping your regular pasta for this chickpea alternative." 
Available at Amazon.co.uk
Clearspring Pea & Quinoa Pasta, £5.36
What The Experts Say: Going gluten free can result in an over-reliance on ultra-processed, refined alternatives that are nutritionally poor, so it's important to look for gluten-free pasta blends that contain plenty of fibre and protein, adds Darcy. "Blends containing oats, quinoa, millet and/or buckwheat are great. Look for a pasta that contains at least 5g of fibre and 7g of protein per serving."
Available at Amazon.co.uk
For more information or to book a consultation with Sophie, visit SophieTrotmanNutrition.com. Daisy and Darcy are the co-founders of Aegle – to book an appointment, visit MeetAegle.com.
DISCLAIMER: Features published by SheerLuxe are not intended to treat, diagnose, cure or prevent any disease. Always seek the advice of your GP or another qualified healthcare provider for any questions you have regarding a medical condition, and before undertaking any diet, exercise or other health-related programme.
DISCLAIMER: We endeavour to always credit the correct original source of every image we use. If you think a credit may be incorrect, please contact us at info@sheerluxe.com.