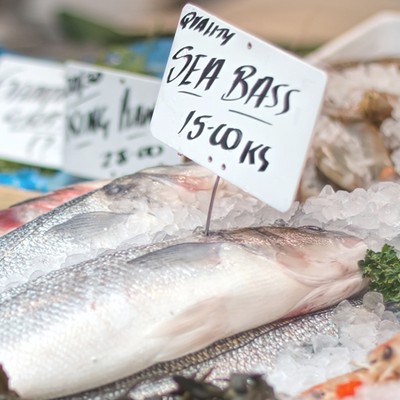 Everything To Know About Buying White Fish

Eating white fish might be great for your health, but it can be bad for the environment. SL contributor Chloe Scott-Moncrieff guides you through the pros and cons of the varieties you'll find in the aisles.

Ever seen the documentary The End of the Line? It's worth watching. An indictment of our voracious appetite for cheap seafood, it highlights how perverse shopping habits are. While we're happy to splash £40 on a round of cocktails or beauty products (I'm guilty), we're only willing to fork out a few quid on meat or seafood.
This attitude encourages the industrial fishing that is emptying the oceans at an intimidating rate. But all is not lost – yet. Responsible consumers can help change the market – for example, by purchasing fish with the blue Marine Stewardship Council (MSC) logo used in all supermarkets. To help you make the right choices, our guide to buying white fish weighs up all of the key issues.
HADDOCK
Price: Lightly dusted haddock fillets, Tesco, £3.20 for 255g (~£1.25 per 100g)
Environmental Credentials: Not great. Haddock from three North Sea and west of Scotland fisheries were removed from the Marine Conservation Society's 'green list' after stocks fell below the acceptable levels in 2016.
Flavour & Texture: A member of the cod family, it has a mild flavour and firm flesh. Used interchangeably with cod, some reckon it has a slightly sweeter taste, making it the best white fish for smoking. Cod is said to be fattier. 
Health: High in protein and low in fat, haddock rages with vitamins B6 and B12, magnesium, niacin, phosphorus and selenium. Like most fish, there is an army of omega-3 fatty acids to enjoy too.
POLLOCK
Price: Responsibly sourced pollock steaks, Sainsbury's, £3.20 for 520g (~61p per 100g)
Environmental Credentials: More research is needed, but pollock stocks are relatively healthy in Cornwall, according to the Cornwall Good Seafood Guide. Wild-caught Alaska pollock is a smart seafood choice too.
Flavour & Texture:  Like its fishy friend the haddock, pollock has a milder flavour than cod, which people often prefer, and it remains tender and creamy to taste. Use it as you would cod – in fish pies, curries and chowders.
Health: Pollock swaggers with protein and heart-strengthening omega-3 fatty acids. It's also a great source of selenium, which has been shown to reduce the risk of certain types of cancer. Pollock also contains more protein than cod (23g per 100g versus 19g for cod).  
HAKE
Price: Hake fillets, Tesco, £3.70 for 500g (~74p per 100g)
Environmental Credentials: The National Federation of Fishermen's Organisations has found hake to be the UK's most sustainable fish. Hake carrying the blue MSC label is certified sustainable. Of the 12,000 tonnes of hake landed into the UK last year, just 1.5% was consumed in the UK. It's generally exported to Spain, Portugal and Italy, where it's coveted for fine dining. 
Flavour & Texture: Hake's flakes are smaller than its cod cousin's, more delicate and sweet. Again, think a milder taste and softer texture. Chefs love this deep-sea member of the cod family – they call it 'saumon blanc' in France. It's uglier than cod, which perhaps explains its fringe status over here. For dinner, try roast hake with fennel and a homemade garlic mayonnaise.
Health: Hake has similar assets to cod and is sky high in omega-3 fatty acids.
COD
Price: 2 MSC-certified Cod Loins Skinless & Boneless, Ocado, £6.70 for 375g (~£1.78 per 100g)
Environmental Credentials: Cod stocks in the North Sea have plummeted to critical levels, according to the International Council for the Exploration of the Sea. Nick Underdown from Open Seas warns: "We need to protect spawning habitat urgently, remove damaging bottom trawling from inshore seas, and end the wasteful bycatch of juvenile fish." Can we really eat cod with a clear conscience? 
Flavour & Texture: Eaten traditionally because yields were once so high (it's been an important commodity since the Vikings), cod is enjoyed like the other fish in this list for its mild, dense flesh.
Health: High in protein, cod is a decent source of numerous vitamins including A, C and E. There are multiple B vitamins – especially B6 and B12 – and, of course, the omega-3 fatty acids.
DISCLAIMER: We endeavour to always credit the correct original source of every image we use. If you think a credit may be incorrect, please contact us at info@sheerluxe.com.