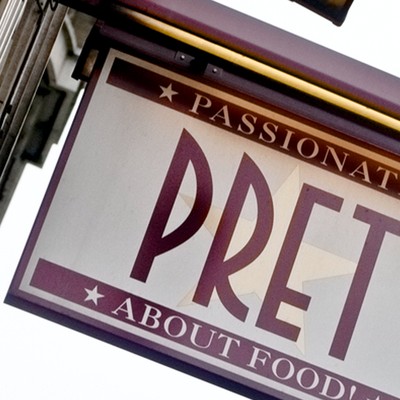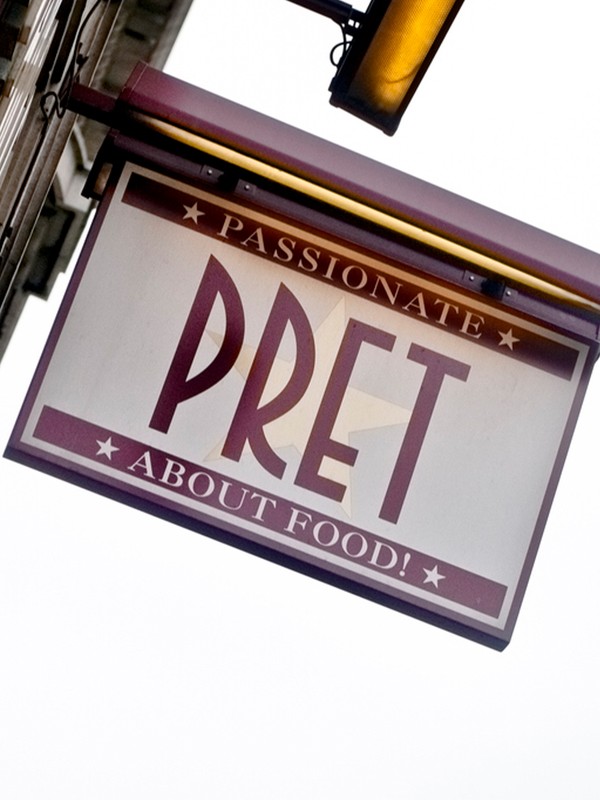 A Nutritionist Rates Pret's New Menu

Pret's latest menu features everything from plant-based wraps to warm quinoa salads. Naturally, some of the options are healthier than others, so to help you make the best choice possible, we asked nutritional therapist Louisa Dobbs to assess the various options…

By Tor West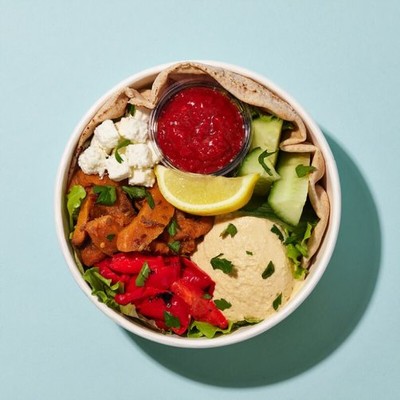 Veggie Shawarma Salad
What's Inside: Dukkah-spiced squash on a bed of salad leaves with hummus, chargrilled peppers, cucumber and feta. Finished with chipotle ketchup and a wholemeal flatbread.
Calories: 648
Verdict: "Salads don't have to be boring, and this salad proves it," says Louisa. "This nutritious salad bowl contains 18.5g of protein and 16.5g fibre, a combination which will keep blood sugar stable, reduce hunger and keep you fuller for longer." Plus, with many of us struggling to reach our daily fibre goal of 30g, this salad will keep your gut bacteria happy. "The variety of vegetables in this salad will help nourish your gut, keeping your digestive system healthy and reducing your risk of various diseases. Having said that, this dish is high in salt, containing 2.5g per serving. It's recommended adults should eat no more than 6g per day." If you're worried about your salt intake, skip the feta.
Rating: 8/10
Dukkah Spiced Squash & Feta Flatbread
What's Inside: Wholemeal flatbread filled with dukkah-spiced roasted squash, yoghurt, cucumber, chopped mint, pomegranate and creamy feta.
Calories: 345
Verdict: If you're craving a sandwich, this veggie wrap is a decent option. "Butternut squash is full of beta-carotene, which is what gives it its orange colour. Our body converts beta-carotene into vitamin A, which is important for healthy vision, the immune system and reproduction," Louisa tells us. "Pomegranates are also packed with vitamins and minerals, making them a powerful antioxidant and anti-inflammatory." Plus, with 10g of fibre per serving, it provides a third of your daily fibre intake, which is great for gut health. However, with just 9g of protein, Louisa says it may not be the most filling choice. "Pick up some nuts or a boiled egg to have alongside this wrap to ensure you're fuelled with energy to get you through the afternoon."
Rating: 8/10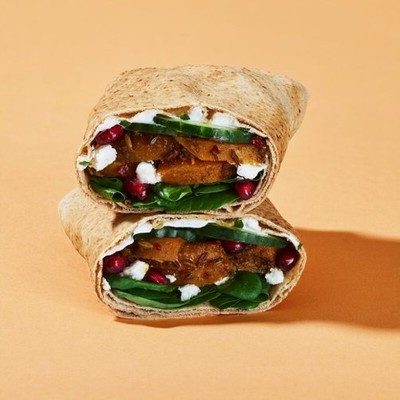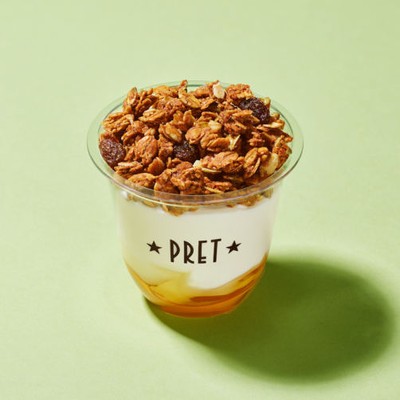 Honey Granola Pot
What's Inside: Honey, yoghurt and Pret's homemade granola.
Calories: 275
Verdict: Starting your day right is crucial, but you could do better than this sugar-laden option, says Louisa. "This granola pot may seem innocent, but it contains nearly 32g of sugar, which is equivalent to just over seven sugar cubes. The sugar comes from various sources, too – like honey, muscovado sugar and golden syrup." If you're in a rush and need a quick breakfast, Louisa recommends steering clear of this pot. "It's likely to spike your blood sugar and lead to an energy crash later in the morning, as well as resulting in mood swings and further sugar cravings." Already your go-to? At the very least, try not to eat it on an empty stomach, says Louisa. "Eating a savoury meal first and then having this pot afterwards will slow the release of sugar into the bloodstream."
RATING: 2/10
Chicken & Edamame Protein Pot
What's Inside: Shelled edamame soya beans with sliced chicken.
Calories: 185
Verdict: The perfect add-on to your meal or a low-sugar mid-morning snack, this protein-rich pot is the one that gets Louisa's vote. "This protein pot contains barely any sugar (just 0.6g) and is high in protein (26.6g), which will keep blood sugar stable throughout the day and keep you feeling energised and fuelled. Protein is a key macronutrient involved in reducing cravings, increasing muscle mass and strength, and helps us maintain a healthy weight."
Rating: 10/10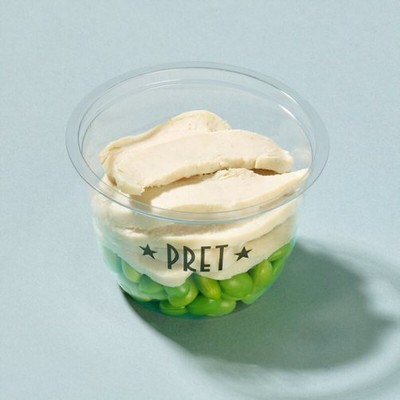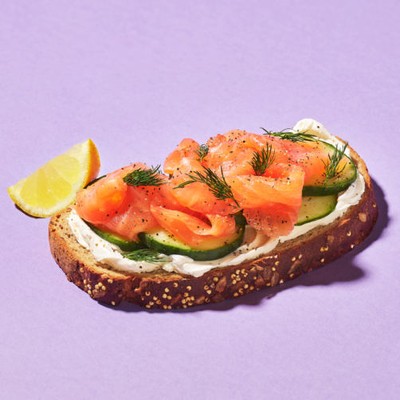 Smoked Salmon Open Sandwich
What's Inside: A slice of Pret's multigrain bread topped with creamy soft cheese, sliced cucumber, Scottish smoked salmon and fresh dill.
Calories: 353
Verdict: This is a clever way to get your sandwich fix without overdoing the carbs, says Louisa. "Oily fish such as salmon is also a brilliant source of omega-3 fatty acids, which play a crucial role in the body, from reducing depression and anxiety to improving eye health and support cardiovascular health. Plus, the body can't produce omega oils itself, so we have to get them from our diet." With 18g of protein, 23g of carbs and 7g of fibre, this is a balanced lunch option, but don't indulge too frequently due to its high salt content. "With 3g of salt per serving, equivalent to 50% of your recommended daily intake, this sandwich isn't one to have on a daily basis."
Rating: 7/10
Meatless Meatball & Feta Hot Rice Bowl
What's Inside: Hot brown rice and quinoa topped with meatless meatballs in a spicy red pepper sauce, finished with feta.
Calories: 481
Verdict: This plant-based dish is a good option if you're looking for an energy boost. "Served on a bed of rice and quinoa, both of which are complex carbohydrates, this dish won't play havoc with your blood sugar and will keep energy levels constant throughout the afternoon," says Louisa. "It's also made with red peppers, which are a great source of vitamin C, containing nearly three times more vitamin C than an orange." However, with nearly 3g of salt, it's not the best option. "High salt intake not only dehydrates us, but long-term salt consumption can increase the risk of high blood pressure, heart disease and stroke. Plus, it doesn't contain any green vegetables, so consider adding a side salad for a hit of phytonutrients."
Rating: 7/10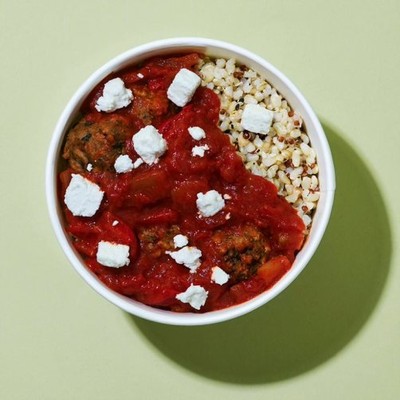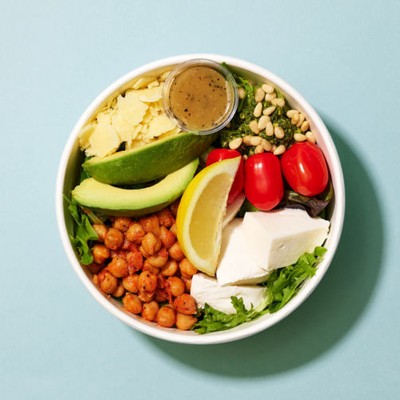 Roasted Chickpea Salad
What's Inside: Roasted chickpeas with sliced avocado, mozzarella, Italian cheese, baby tomatoes and pesto, topped with roasted pine nuts on a bed of salad leaves. Finished with Pret's French dressing.
Calories: 547
Rating: "This salad is high in protein (19.5g) and provides a range of plant-based foods, which we know is vital for good health," Louisa adds. "However, this salad does contain a high amount of saturated fat (just over 9g), which can raise our 'bad' LDL cholesterol, increasing our risk of heart disease and stroke." To make this dish healthier, skip the dressing and add a squeeze of lemon juice instead. "The NHS recommends women shouldn't eat more than 20g of saturated fat per day, and making this simple swap is a sensible solution."
Verdict: 6/10
Vegan Chilli Wrap
What's Inside: Spicy vegan chilli with sliced avocado on a kibbled wrap topped with charred sweetcorn salsa and coriander, pickled onions, red peppers and spinach.
Calories: 369
Verdict: If you're looking for a colourful, nutrient-rich and plant-based option, Louisa recommends this wrap. "With just 2.5g of saturated fat and 4g of sugar, it's a healthy option that also contains 11g of protein to keep you full," Louisa says. "It also contains avocado, which is rich in many nutrients, including fibre, healthy fats, vitamins C, E and B6, potassium, magnesium and folate." Louisa is also a fan of the beans, which provide fantastic fuel for our gut bacteria. 
Rating: 8/10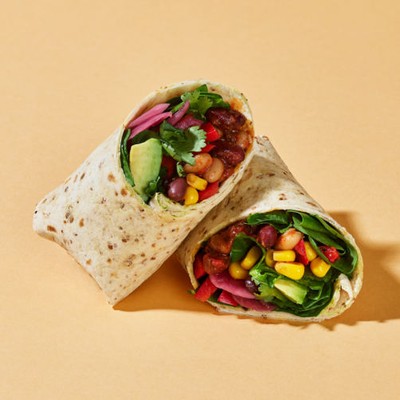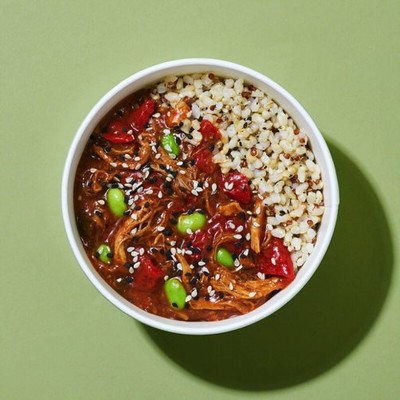 Korean Style Pulled Pork Hot Rice Bowl
What's Inside: Hot brown rice and quinoa with pulled pork in a sticky Korean-style sauce with ginger, five-spice and gochujang chilli paste, finished with sesame seeds.
Calories: 521
Verdict: Don't be lured in by the seemingly healthy Asian ingredients, says Louisa, who recommends steering clear of this dish altogether. "It contains demerara sugar, sugar, honey, cane molasses, dextrose and glucose syrup, which all contribute to the 34g sugar intake – far more than the recommended amount. Eating too much sugar can lead to health issues such as obesity, diabetes and heart disease. It can also play havoc with our hunger and satiety signals, causing weight gain." If you're in the mood for a rice bowl, you're better off ditching this dish and swapping it for the meatless meatballs and rice, which has 21.7g less sugar.
Rating: 2/10
For more information visit Pret.co.uk and LouisaDobbsNutrition.co.uk
DISCLAIMER: Features published by SheerLuxe are not intended to treat, diagnose, cure or prevent any disease. Always seek the advice of your GP or another qualified healthcare provider for any questions you have regarding a medical condition, and before undertaking any diet, exercise or other health-related programme.
DISCLAIMER: We endeavour to always credit the correct original source of every image we use. If you think a credit may be incorrect, please contact us at info@sheerluxe.com.