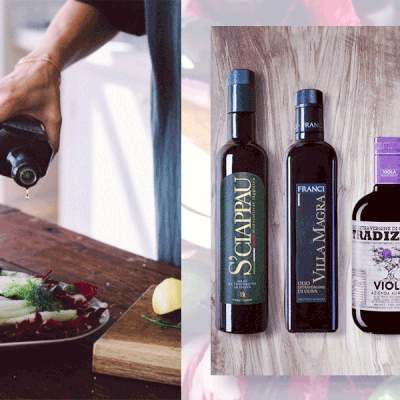 The Olive Oil Brand To Know

These days, olive oil is to a kitchen cupboard what a white tee is to a capsule wardrobe. But that doesn't mean you can't invest in the basics to reap the rewards. Here, founder of Frantoi, one of Italy's foremost olive oil brands, Elizabeth Berger tells us what goes into making an exceptional oil and why supermarket varieties are rarely up to the job…

A good olive oil has to be produced by people who know and love their craft. This means estate-grown, pressed and bottled on site to ensure total control over the quality. There are plenty of bottlers out there, and millions of growers, but few people follow the process all the way through. 
Provenance and sustainability are also really important. Knowing exactly where your olive oil comes from and that it's been made with respect to the environment makes it far more enjoyable. The quality should always be extra virgin, but freshness is also critical as it's made without preservatives. 
Many people don't realise olive oil is a seasonal product. The olive tree requires a cold (but not freezing) winter so it can naturally disinfect. Then, in the spring, the flowers are transformed into drupes, which then grow over the summer until it's time to harvest them.
Green olives are essential for producing a high quality olive oil. ​All olives start out green and only turn black if they are left on the tree. As with any harvest, the fruit will deteriorate as soon as it leaves the branch, so it's essential to get them to the mill as quickly as possible. Once in the mill, the olives are sorted, washed and pressed before the 'malaxing' begins, where the oil is coaxed out of the pulp.
The results you get are heavily influenced by the climate. A hotter year will result in more generous flavours, whereas a cold year typically results in more mineral notes. A heavy frost can also be hugely detrimental, as can too much or too little water. It's an expensive business, and you can't cut corners, so you get what you pay for. 
There are plenty of bottlers out there, and millions of growers, but few people follow the process all the way through from tree to bottle.

Our brand name, Frantoi, is at the heart of everything we do. Our oils are pressed by the very best in the business, right here in Italy. A 'frantoio' is the Italian word for olive mill and 'frantoi' is the plural. We work with ten family-owned producers across ten different regions, and everyone we work with has complete control over the farming and pressing. It's a highly competitive business, so producers are striving to make the best possible product. 
Within Italy, nearly half of all production comes out of Puglia. Puglian oils are luxurious and generous, but we've discovered some real gems elsewhere. Gianluca Tumidei in the Romagna hills at Frantoio Pennita is making some insanely good oils. Likewise, Paolo Cassini up in Liguria is restoring ancient Taggiasca olive groves to their former glory and reaping some really elegant results. Also, the Gregori brothers in the foothills of the Monti Sibillini are working with indigenous cultivars to make organic oils. These producers might be tiny, but at they're at the top of their game.
How an olive oil tastes will depend on where it's produced. An olive oil from the hills above Lake Garda in the very north of Italy will give you more mineral characteristics, while an oil from southern Tuscany, made from the indigenous Moraiolo olive, will be full of peppery spice. An oil grown on the slopes of Mount Etna in Sicily, made from the local Nocellara Etnea olive, will be quite herby.
When it comes to cooking, a good olive oil completely changes the game. It also elevates the other ingredients to a totally new level – rather like wine. That said, great olive oil is a luxury and extra virgin might not be everyone's choice when it comes to roasting potatoes. Where possible, it's worth trying to change your mindset. Put it on your toast in the morning (it's particularly good with marmalade), glaze your carrots or greens with it and drizzle it generously over grilled fish or meat.
My experience in the wine industry gave me a real appreciation of flavour. From the altitude and location of the grove, to the type of soil and the olive cultivar, olive oils – like wines – are all different and when made well, should reflect their roots. Once you enter this industry, you realise certain olive oils are better suited to different foods. You wouldn't naturally pair a full-bodied shiraz with a lettuce salad, and it works in exactly the same way with olive oil. Having just this little bit of knowledge gives you the ability to really elevate your cooking. 
When it comes to cooking, a good olive oil completely changes the game.

There are so many health benefits to including extra virgin olive oil in your diet. For a start, its high concentration of polyphenols makes it a natural anti-inflammatory agent, which is why it's a staple in the Mediterranean diet. Extra virgin olive oil is also a healthy monosaturated fat, so it outperforms things like coconut oil in lowering cholesterol and risk of heart disease. It also contains a good amount of vitamin E, which is great for your skin, hair and nails. Finally, it's great for your digestive system, as well as supporting your natural defences and immunity. 
Extra virgin olive oil only has a shelf life of around 18 months. So the closer to the harvest date you receive your oil, the better. If your olive oil has been sitting around in the supply chain or exposed to extreme light or heat, it will be altered. This is why you should always choose ones in dark glass bottles and, if possible, buy from someone who doesn't keep old stock hanging around. As with any ingredient, you'll get more for your money by buying it directly from the source.  
We offer our olive oil to buyers as soon as the harvest begins in early October – and only for a limited window of six weeks. Once bottled, we put the selection together (each case contains different oils from different regions to allow you to discover the different flavours and styles) and ship it immediately to arrive at your door in time for Christmas. My favourite? It won't surprise you to know that it depends what the other ingredients are on the plate. But If I had to have one desert island oil, it would be Il Sincero from Marco Viola in Umbria. 
Frantoi ships new season extra virgin olive oil from the best press houses in Italy immediately after the harvest to arrive at your door in time for Christmas.  To sign up for notification of when the new season is available to order, click here or visit Frantoi.org
DISCLAIMER: We endeavour to always credit the correct original source of every image we use. If you think a credit may be incorrect, please contact us at info@sheerluxe.com.