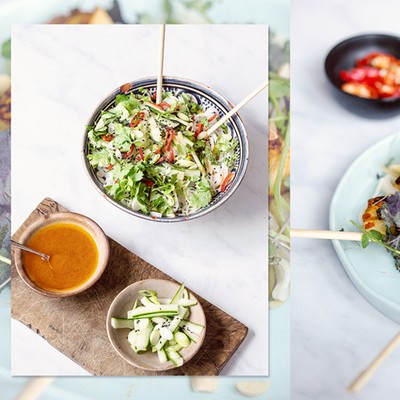 10 Asian Salad Dressing Recipes To Try At Home

As the weather warms up, now's the time to swap creamy salad dressings for fresh notes of chilli, lime and ginger. Whether you're looking to make your own from scratch or are in need of salad ideas to accompany some of the best shop-bought dressings out there, here are ten great Asian-style recipes to know.

Hannah McCollum, Founder of ChicP
Miso Turmeric Dressing
INGREDIENTS
2 tbsp of miso paste 

2cm of fresh root ginger, grated or and roughly chopped 

1 tsp of raw runny honey

2cm of root turmeric (powder also works)

5 tbsp of olive oil

1 clove of garlic 

½ a lemon, juiced

Pinch of sea salt and pepper

1 tbsp of tahini 
METHOD
Make this dressing in a Nutribullet so that all the ingredients are blended together and you get a nice creamy smooth but wonderfully tasty Asian dressing.

Serve immediately.
Visit ChicP.co.uk
Rupert Willday, Head of Food at Charlie Bigham's
Zingy Asian Dressing
For the dressing:
INGREDIENTS
4 limes, juiced

4 tbsp of groundnut oil

2 garlic clove, crushed

2 tbsp of rice wine vinegar

1 tbsp of fish sauce

1 tsp of palm sugar
METHOD
Mix all of the dressing ingredients, except the oil, in a bowl and allow the palm sugar to dissolve.

After five minutes, whisk in the oil and serve.
For the salad:
INGREDIENTS
½ a cucumber, finely sliced
1 red onion, finely sliced

2 tbsp of fresh mint, chopped

2 tbsp of fresh coriander, chopped

2 tbsp of roasted peanuts
METHOD
In another bowl, place all the chopped vegetables and herbs together. 

Pour the dressing over the top, scatter the roasted peanuts and toss well before serving.
Visit Bighams.com
Chris Riley, The Daring Kitchen
Spicy Peanut Dressing
Peanut dressing is made from peanuts, soy sauce and a variety of spices. It brings a unique flavour and will elevate any meal, from salads to burgers, pizza and BBQ dishes. It is quite versatile and also works very well with wraps or as a dipping sauce.
INGREDIENTS
¼ cup of creamy peanut butter

2 ½ tbsp of rice wine vinegar

1 lime, juiced

2 tbsp of low-sodium tamari or soy sauce

2 cloves of garlic, finely minced or use garlic press

1 tsp of grated ginger

1 tbsp of honey

1 tsp of toasted sesame oil

2 tbsp of avocado or olive oil

¼ tsp of crushed red pepper flakes or 1 tsp of chili paste (you can adjust this according to your preferences)
METHOD
In a small bowl whisk, all the ingredients and adjust if needed. 

For a thinner dressing, add 2 tbsp of water and whisk until combined.
Toasted Sesame Asian Salad Dressing
This toasted sesame dressing is light and will bring an amazing flavour to Asian salads.
INGREDIENTS
1 tbsp of toasted sesame seeds

¼ cup of soy sauce

2 tbsp of sesame oil

¼ cup of rice wine vinegar

¼ cup of olive oil

1 tbsp of honey

1 tsp of fresh grated ginger
METHOD
The most practical method of preparing this dressing is to add all of the ingredients in a wide-mouth jar and blend them using a hand blender.

If you have just a regular blender you can use that as well but keep in mind that you will lose a bit of the dressing that will end up on the sides of the blender.
Visit TheDaringKitchen.com
OR USE THESE TOP SHOP-BOUGHT BOTTLES…
Lucy Mackenzie, Founder of Lucy's Dressings
Rice Noodle Salad With Cucumber & Sesame Seeds
INGREDIENTS
100g of rice noodles

3 spring onions, finely sliced

1 cucumber, halved, seeds removed and cut into long thin strips

2 red chillies, deseeded and finely sliced

15g of mint leaves, roughly chopped

25g of coriander, roughly chopped

1 tbsp of sesame seeds, lightly toasted

Lucy's Ginger and Sesame Dressing
METHOD
Cook the noodles to packet instructions and drain.

Place the noodles in a salad bowl and mix with the remaining ingredients. Drizzle over 3-4 tbsp of dressing and toss to combine. Serve immediately. 
Asian Coleslaw With Cashew Nuts
INGREDIENTS
2 carrots, julienned

2 beetroot, julienned

¼ of red cabbage, finely sliced

¼ of white cabbage, finely slice

1 small red pepper, deseeded and finely sliced

½ a small red onion, finely sliced

Large handful of mint leaves, roughly chopped

Large handful of coriander leaves, roughly chopped

25g of cashew nuts, lightly toasted

Lucy's Asian Dressing
METHOD
Place the carrot, beetroot, cabbage, red pepper, onion and most of the herbs into a large salad bowl. 

Toss lightly with a generous amount of dressing and top with reserved the herbs and cashew nuts.
Green Bean & Edamame Salad
INGREDIENTS
250g of fine green beans, trimmed

100g of frozen edamame beans

1 tsp of black sesame seeds

Handful fresh mint leaves, roughly chopped

Lucy's Ginger and Sesame Dressing
METHOD
Bring a large pan of water to the boil, add the beans and simmer for 3 minutes. Add the edamame beans and cook for a further minute. Drain, refresh under cold water and leave to dry.

Place the beans and mint in a salad bowl and gently mix with 2 tbsp of dressing and top with the sesame seeds. 
Baked Chilli Tofu With Kale And Noodles
INGREDIENTS
250g of tofu, cut into 2cm slices
1 tbsp of chilli jam

1 tbsp of  orange juice

1 tbsp of sunflower oil

100g of noodles

150g of baby kale

1 spring onion, finely sliced

25g of salted roasted peanuts, roughly chopped

Wedges of lime to serve

Lucy's Lime and Chilli Asian Dressing
METHOD
Preheat the oven to 200°C.

Place the chilli jam, orange juice and oil into a small bowl and mix to combine.

Place the tofu on a baking sheet lined with greaseproof paper and spoon over the chilli jam mix. Bake for 20 minutes or until golden.

Cook the noodles in a large saucepan of boiling water for 3-4 minutes or until al dente. Drain and refresh under cold water.

Place the noodles, kale and spring onions in a large salad bowl and gentle too together with the dressing. Divide between two bowls and top with the chilli tofu and peanuts and serve a wedge of lime.
Visit LucysDressings.co.uk
Ellie Edwards, Food Editor at Souschef
Uchibori Ponzu Sauce
Uchibori ponzu sauce is perfect for dipping sauces, marinades and making salad dressings. Ponzu sauce is a balance of sweet, citrus, salty and sharp flavours – it's made with a mix of the fragrant yuzu fruit, soy sauce, dried fish and vinegar. Try using with salmon or prawn salads, or, make a fresh slaw of cabbage, carrots, and sugar snap peas then season with ponzu and a scattering of sesame seeds.
Mizkan Gomashabu Sesame Dressing
Mizkan gomashabu is the classic sesame dipping sauce for Japanese hot pot or shabu shabu. We love using this rich dressing to toss through crunchy lettuce leaves – or even rehydrated seaweed salad mix – for a Japanese-style salad.
Visit Souschef.co.uk
Inspired? Here are the ingredients to buy…
DISCLAIMER: We endeavour to always credit the correct original source of every image we use. If you think a credit may be incorrect, please contact us at info@sheerluxe.com.