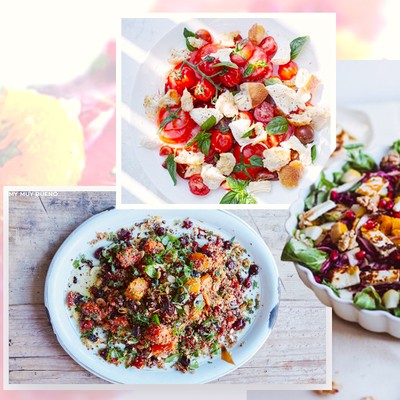 11 Mediterranean-Style Salads To Make This Week

Nothing says summer like a plate of grilled vegetables and a vibrant dressing. Whether you're after a fresh and simple salad for lunch or something to impress guests at a summer BBQ, 11 chefs share their favourite Mediterranean salad recipes…

Romesco Spiedini: Gizzi Erskine
INGREDIENTS  
180g of jarred roasted red peppers

75g of tomatoes

50g of blanched almonds

50g of Hellmann's vegan mayonnaise 

1 clove of garlic, peeled and finely grated

3 tbsp of sherry vinegar

1 tsp of salt 

½ tsp of smoked paprika 

Pinch of cayenne

1 tbsp of tomato puree

1½ tbsp of olive oil, plus extra for drizzling 

4 large spring onions

125g of asparagus 

2 little gem lettuces, cut in half lengthways 

1 green or yellow courgette, cut into thin slices lengthways 

150g of pea pods
METHOD
Begin by barbecuing your peppers and tomatoes. Brush them with a little olive oil and place them on the cooler part of the grill. Allow the skins to char and the flesh to soften for about 10-15 minutes, turning the peppers round with tongs so they cook all over. Once they have got a good deep charring all over and feel soft, set aside and allow to cool. Once they are cool enough to handle, the skins will peel away easily, so remove the skins and the seeds inside. 

Meanwhile, heat the oven to 200ºC. Once hot, put the almonds on a baking tray and place in the oven for 4-5 minutes to toast until golden brown – be careful not to let them burn. Remove from the oven and transfer to a food processor. Now add the peeled and deseeded peppers, tomatoes, Hellmann's vegan mayonnaise, garlic, sherry vinegar, salt, smoked paprika, cayenne, tomato puree and olive oil. You don't want the romesco to be super smooth, so use the pulsing function until everything is well blended but there is still a little bit of texture from the almonds.

Pierce the vegetables onto skewers so they are easier to handle. So, with the asparagus for example, take one skewer and pierce it through one end of the asparagus, and a second skewer and pierce it through the other. Repeat until you have a rack of asparagus along the lengths of the two skewers. Repeat the process for the rest of the vegetables. With a pastry brush, brush the vegetables with the vegan mayonnaise. It will give the most incredible caramelisation and seasoning.

Now place the vegetables onto the BBQ, and allow to grill for about 10 minutes, turning regularly until they are nicely charred.

On the base of a large platter, pour out the sauce out in an even layer. Once all of the vegetables have been barbecued, remove them from the skewers and arrange them on top of the romesco with a drizzle of extra virgin olive oil and a sprinkling of sea salt.  
Visit Hellmanns.com
Charred Octopus & Red Pepper Salad: Rupert Willday, Charlie Bigham's
INGREDIENTS
1kg of young fresh whole octopus

1 tbsp of salt 

10 peppercorns

1 onion, peeled and quartered

2 bay leaves

1 big sprig of fresh oregano

4 tbsp of pitted black olives

4 tbsp of capers

1 tsp of smoked paprika 

1 lemon, juiced

2 tbsp of sherry vinegar

4 tbsp of extra virgin olive oil

2 roasted red peppers

1 bunch of finely sliced spring onions

100g of wild rocket

5 tbsp of chopped flat parsley

Salt and pepper to season

Crusty bread to accompany (optional)
METHOD
Bring a large pot of water to the boil together with the salt, peppercorns, onion, bay leaves and oregano. Wash the octopus in cold water and add to the pan. Simmer for 40 minutes to 1 hour until tender (test by pricking with a sharp knife).

Remove the octopus carefully from the water, wait for it to cool then chill in the fridge until cold. 

While the octopus is chilling, you can prepare the dressing. Finely chop the olives and capers, then mix together in a small bowl with the smoked paprika, lemon juice, sherry vinegar and olive oil.

Once the octopus has cooled, heat your griddle pan until smoking hot. Slice your octopus into bite-sized pieces and toss into the pan with a little olive oil. Char-grill until nicely golden in colour. 

Mix the charred octopus, roasted peppers and dressing in a bowl. Leave to marinate for at least 20 minutes. 

Add the chopped spring onions, rocket and parsley. Check the seasoning, adding more salt, pepper and lemon juice as desired. 

Serve at room temperature with some crusty bread.
Visit Bighams.com
Blood Orange Salad With Balsamic Pearls, Extra Virgin Olive Oil & Baked Feta: Belazu
INGREDIENTS
½ a celeriac

2 heads of red chicory

3 blood oranges

250g of feta cheese

1 tbsp of balsamic pearls

2 sprigs of parsley, roughly chopped

1 tsp of vegetable oil

5 tbsp of Verdemanda olive oil

Salt and pepper

Small pinch of chilli flakes
METHOD
Heat an oven to 175ºC. Peel the skin from the celeriac, place the skin in a bowl and toss in vegetable oil and salt. Bake in the oven for 15 minutes until crisp, remove from the oven and set aside.

Wrap the feta cheese in tinfoil, or place on a small baking tray, sprinkle with chilli flakes and place in the oven to soften.

Using a vegetable peeler, peel the remaining celeriac into ribbons, place in a bowl and season with salt and a little of the Verdemanda olive oil. Set aside.

Use a paring knife to cut the skin and pith from the blood oranges, then cut out each segment with a bowl underneath to catch the juice. Place the blood orange flesh in the same bowl as the celeriac ribbons. Add the remaining olive oil to the blood orange juice to create a dressing and set aside.

Remove the base from the chicory and slice thinly into vertical strips, place in the bowl along with the celeriac ribbons and blood oranges. Mix together and season with salt and pepper. Divide the salad between plates.

Dot balsamic pearls over the salads, followed by the crispy celeriac skin. Finally, remove the feta from the oven and use a spoon to crumble over the salads, then sprinkle with parsley.
Visit Belazu.com
Riso Gallo Venere Rice Salad With Courgette Pesto, Almonds & Shaved Ricotta: Danilo Cortellini
INGREDIENTS
260g of Riso Gallo Venere rice

1 green courgette

Fresh herbs to garnish (basil and rocket salad)

1 tbsp of extra virgin olive oil

20g of almonds, skinned and chopped

20g of hard ricotta

Salt and pepper to taste
For the pesto:
2 green courgettes

20g of grana padano cheese, grated

50ml of extra virgin olive oil

10g of almonds, skinned

5g of fresh basil, picked and washed

5g of fresh mint, picked and washed (optional)

Salt and pepper to taste
METHOD
First prepare the pesto. Shred the courgette with a grater, season with salt and leave it to drain for at least an hour over a sieve. Once the excess water is gone, put the shredded courgette in a food processor with all the other ingredients. Make sure you 'pulse' the courgettes as you want to have a grainy paste with consistency, not a too-loose pesto. Once at the right texture, keep aside in a jar. You can store the pesto in the fridge for a couple of days to use in a variety of other dishes, such as pasta. 

Cook the rice in salted boiling water for about 16 minutes and drain while still a little al dente. Cool the rice down under running water. 

Cut the remaining courgette into a fine julienne and season with salt. Pat the courgette dry and mix together with the rice in a large bowl.

Dress the salad with the courgette pesto and add a drizzle of extra virgin olive oil. Mix well and plate in large bowls. Top the salad with chopped almonds, fresh basil, rocket leaves and some shaved ricotta.
Visit DaniloCortellini.com
Grilled Aubergine, Feta, Olive & Mint Salad: Riverford
INGREDIENTS
6 tbsp of pine nuts

2 garlic cloves, crushed to a paste

5 tbsp of balsamic vinegar

150-200ml of olive oil

3 aubergines, sliced lengthways, 5mm thick

160g of feta, crumbled

Handful of black olives

Handful of basil leaves

Handful of mint leaves

Salt and black pepper
METHOD
Lightly toast the pine nuts in a dry frying pan, tossing them frequently until golden. Make a dressing by whisking the crushed garlic with the vinegar, olive oil, salt and pepper to taste. 

How much oil you need will depend on the strength of your balsamic vinegar – and personal taste. Go easy on the salt as the feta and olives will be a little salty anyway. Heat a cast-iron griddle pan until very hot. 

Brush or rub the aubergines with some of the dressing (just enough to coat on both sides) and grill them in batches until they are soft to their centres and have nice grill marks (about 3-4 minutes on each side). 

Assemble the salad by layering the aubergine with the pine nuts, feta and olives, drizzling the remaining dressing over as you go. Finish by tearing or finely slicing the basil and mint leaves, and scattering them over the top. 
Visit Riverford.co.uk
 
Piedmontese Beef & Burrata Salad With Olive Oil & Anchovy Dressing: Giancarlo Morelli, Fine Dining Lovers
INGREDIENTS
1kg of rump steak from Piedmontese beef  

200g of extra virgin olive oil

350g of burrata

10g of pink peppercorns

150g of onion

100ml of red wine vinegar

100ml of water

Sugar, to taste

50g of anchovies in oil

Cress sprouts, to garnish

Maldon salt, to taste

Bread crisps or croutons, to garnish 
METHOD
Trim fat off the meat according to taste and cut into small cubes.

Dress with oil, salt and a little bit of pepper.

Drain the burrata cheese and chop with a knife.

In a pan, boil the water, vinegar and add sugar to taste until you have the dressing of your preference.

Add the sliced red onions to the pan and cook until soft. Cool and set aside.

Cut the anchovy fillets into small pieces and add them to the extra virgin olive oil.

Plate the dish individually or on a platter by standing up onion slices against a small spoon of the cubed meat next to a slice of burrata. Spoon over the anchovies and as much olive oil as you wish. Garnish with sprouts and bread crisps.
Visit FineDiningLovers.com
Green Olive, Farro & Roast Fennel Salad: Anna Jones For Miele
INGREDIENTS
200g of farro

2 fennel bulbs, trimmed and thinly sliced, leafy tops reserved to garnish 

2 leeks, washed and thinly sliced

2 courgettes, sliced

4 garlic cloves, peeled

1 tbsp of coriander seeds

Salt and black pepper

Extra virgin olive oil

A splash of white wine vinegar 

A small bunch each of mint, coriander and flat leaf parsley, finely chopped

150g of green olives, rinsed then pitted

6 tbsp of extra virgin olive oil

100g of almonds, toasted and chopped

1 fresh red chilli, deseeded and roughly chopped

2 tbsp of freshly squeezed lemon juice, plus more to taste 

1 bunch of fresh parsley or basil

½ tsp of red chilli flakes
METHOD
Soak the farro in cold water for 30 minutes. Meanwhile, preheat the oven to 180ºC. 

Put the fennel, leeks, courgette and garlic on separate baking trays, spreading as evenly as you can. Sprinkle over the coriander seeds and a good amount of salt and black pepper, then drizzle with olive oil. Put the fennel in the oven to roast first for 30 minutes. Five minutes into the cooking time, add the tray of leeks to the oven. After ten more minutes have passed, add the tray of courgette. Roast until the vegetables are cooked through and crisp around the edges.

Remove the vegetables from the oven and immediately sprinkle over the vinegar, then set aside to cool. When cool, scatter the finely chopped herbs over the top. Set to one side.

Drain the soaked farro and add to a saucepan with 750ml cold water and ½ tsp of salt. Cover and bring to a boil over a medium heat, then lower the heat to a gentle simmer. Leave to simmer for about 12 minutes. Cook until tender. Be careful not to overcook the grains as they will become mushy. Drain the cooking water and set aside to cool.

Coarsely chop the olives and put them in a bowl along with the olive oil, almonds, chopped fresh chilli and lemon juice. Stir well and set aside until ready to serve the salad.

Combine the roasted vegetables, farro, red chilli and olive mixture in a bowl and mix well. Taste and adjust the seasoning with salt, lemon juice or olive oil if needed. Put the salad mixture onto a serving plate and garnish with the fennel tops. 
Visit DerKern.Miele.co.uk
Sicilian Capuliatu, Caper & Fennel Salad With Basil & Honey Orange Dressing: Strazzanti 
INGREDIENTS 
1 large fennel bulb 

100g of capuliatu (Sicilian minced sundried tomatoes) 

50g of capers in vinegar 

50g of fresh basil leaves 

1 large orange, segmented (save the orange juice) 

¼ lemon  

10g of Sicilian raw honey  

35g of Sicilian extra virgin olive oil 

Sea salt 
METHOD
Finely slice the fresh fennel bulb into shred, removing the tougher outer parts (keep the fronds for garnish afterwards). Place in a mixing bowl and add the Capuliatu (you can also use very finely chopped sun-dried tomatoes) and capers. Mix well. 

In a separate bowl, whisk the honey with a pinch of sea salt. Gently pour in the juice of the lemon and the orange juice that was left after segmenting the orange. Whisk well. Slowly pour in the extra virgin olive oil to create an emulsion – this will be your dressing. Once amalgamated, add in your orange segments and leave to marinate in the dressing for 5 minutes.  

Finely chop half the basil. Add to the mixing bowl with the fennel, Capuliatu and capers. Mix well together.  

Pour the dressing over the fennel mix, coating generously and making sure to mix all the ingredients together well. Taste for seasoning – you may need more sea salt. Place on a serving platter with the remaining fresh basil leaves on top and any leftover fennel fronds.  
Visit Strazzanti.co
Mediterranean Salad With Halloumi Cheese: Ligia Lugo, The Daring Kitchen
INGREDIENTS
110g of halloumi 

110g of rocket, watercress or spinach leaves

½ a red bell pepper, deseeded, quartered and thinly sliced

½ a yellow or green bell pepper, deseeded, quartered and thinly sliced

2 green onions, trimmed, washed and finely chopped

2 medium tomatoes, coarsely chopped

1 tbsp of olive oil
For the dressing:
2 tbsp of extra virgin olive oil

Juice of half a lemon

2 tsp of dried oregano

1 tsp of chilli flakes (optional)

Salt and ground black pepper to taste

Crusty bread to serve
METHOD:
Place the rocket, spinach leaves or watercress – or a combination of all three – in a large bowl.

Mix in the sliced peppers, chopped green onions and tomatoes.

Add the extra virgin olive oil, lemon juice, dried oregano, salt and ground black pepper to taste. Toss to combine and set aside.

Drain the halloumi cheese and pat dry with a paper towel. Cut it into 6-8 slices.

In a large pan on high heat, pour in 1 tbsp of olive oil. Once the pan is hot, add the halloumi slices and cook for 1-2 minutes on each side until they are golden brown. Place the cooked halloumi over the salad and sprinkle with chilli flakes if you wish.

Serve immediately with crusty bread.
Visit TheDaringKitchen.com
 
Sautéed Squash With Olive Tapenade & Cannellini Beans: Vegan Recipe Club
INGREDIENTS
1 medium squash or pumpkin

500-600g of squash, peeled, seeded and cut into medium chunks

120g of cannellini or white haricot beans 

1 lemon, zested

Black pepper

1 tbsp of olive oil 

2 fat cloves garlic, finely chopped
For the olive tapenade:
100g of mixed green and black pitted olives (or use one type if that is all you have)

4 tbsp of finely chopped parsley

4 tbsp of olive oil 
METHOD
Steam the squash chunks until they are tender – approximately 15-25 minutes.  

To make the tapenade, chop the olives and parsley by hand for a chunky tapenade, then add the 4 tbsp of oil, beans and lemon zest. For a smoother tapenade, blend the olives, parsley and oil, then add the whole beans and zest. If using a bought tapenade, just mix it with the parsley and the other ingredients. Set aside.   

In a large frying pan, heat the 1 tbsp of olive oil or oil spray on a low heat. Cook the crushed garlic gently until it starts to turn translucent – don't let it brown as it will taste bitter. Toss the hot cooked squash in the mix.

Mix in the olive tapenade with the squash. Add black pepper and serve hot.
Visit VeganRecipeClub.org.uk
 
Mediterranean Quinoa Salad: Justine Murphy, My Muy Bueno
INGREDIENTS
For the salad:
400g of butternut squash, peeled, deseeded and chopped into 2cm cubes

1 tbsp of olive oil

Pinch of flaked sea salt 

Grind of black pepper

300g of quinoa, rinsed 

100g of Kalamata black olives, pitted and sliced

100g of sun-dried tomatoes, finely sliced 

100g of dried cranberries 

40g of flaked almonds, toasted

20g of fresh basil, roughly chopped

20g of fresh parsley, roughly chopped
For the Mediterranean dressing:
3 tbsp of lemon juice

3 tbsp of olive oil 

3 tbsp of balsamic vinegar
METHOD
Preheat the oven to 200ºC. 

Place the butternut squash into a roasting tin, drizzle the olive oil all over, then season with salt and pepper. I like to get in there with my hands and ensure the oil is thoroughly coating the cubes. Roast for 30 minutes in the preheated oven, giving the tin a shake around halfway through. 

While the butternut squash is roasting, cook the quinoa. Place it in a pan with 500ml of water, bring it to the boil, then reduce the heat to let it simmer for 12-14 minutes. Drain once cooked, then spread the quinoa out on a large tray to cool.

To make the Mediterranean dressing, put all the ingredients into a jar or bowl. Shake or whisk well until thoroughly combined. Add the olives, sun-dried tomatoes, cranberries and flaked almonds (reserving some for garnish) to the quinoa. Mix well, then gently fold through the roasted butternut squash without crushing the cubes. Add the herbs, keeping back a few leaves for garnish, then season the salad with salt and pepper. 

Pour the dressing over. Top with the reserved almonds and herbs to finish.
DISCLAIMER: We endeavour to always credit the correct original source of every image we use. If you think a credit may be incorrect, please contact us at info@sheerluxe.com.