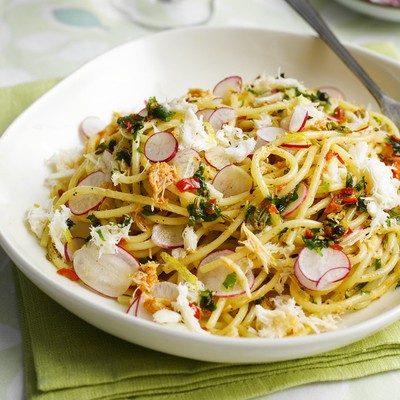 12 Simple Crab Recipes To Make At Home

Here at SL, when summer hits, we'd eat crab every day of the week if we could. Versatile, delicate and fresh, we asked some of top chefs to share their favourite ways to use it…

Crab Ravioli With Tomato & Basil: Stevie Parle, Pastaio
INGREDIENTS
 
For the ravioli: 
250g of 00 flour, plus extra for dusting 

2 whole eggs 

3 egg yolks
For the filling:
200g of white crabmeat 

25g of fresh white breadcrumbs, very finely chopped 

1 tsp of fennel seeds, crushed 

1 tbsp of parsley, very finely chopped 

Zest of 1 lemon 
For the sauce: 
400g of baby tomatoes 

3 tbsp of extra-virgin olive oil 

1 garlic clove, finely chopped 

A handful of basil leaves, to serve
 
METHOD
Make a well of flour and a pinch of salt on a clean work surface. Crack the eggs into the middle and use your hands to mix it all together until you have a smooth dough – you can also do this in a food processor. As soon as it comes together, knead for a couple of minutes, then wrap in cling film and place in the fridge for 30 minutes.

Make the filling by combining all the ingredients in a small bowl and seasoning to taste.

Make the sauce. Bring a small pan of water to the boil and with a sharp knife nick an "X" into each tomato. Drop into the boiling water, wait about 30 seconds, then scoop out and rinse under cold water. Slip off the skins, then squeeze out the seeds and roughly chop. Heat the oil in a small pan and lightly fry the garlic until it feels sticky, then drop in the tomatoes and season to taste. Cook for two minutes, then take off the heat and put to one side.

Cut the dough in half (always keep any dough you're not working with under a damp tea towel). Dust your work surface with some flour. Flatten one half of the dough with your fingertips. Set the pasta machine at its widest setting and roll the dough through it, lightly dusting with flour if it sticks. Fold the pasta in half, click the pasta machine down another setting and roll through. Click the machine up a setting again, fold in half and roll through. Do this four times for each half – this process kneads the dough and creates a beautiful texture.

To start rolling the dough properly: work one half through all the settings on the machine, from the widest down to the narrowest, lightly dusting both sides of the pasta with a little flour every time you run it through. When you've got down to the narrowest setting, fold the pasta in half lengthways, then in half again, then in half again once more until you've got a square piece of dough. Run this through so you have a long, straight piece of dough, about as wide as the machine.

Lie this piece out flat and place heaped teaspoons of the crab mix 5-6cm apart, and 2cm away from bottom edge. Using a pastry brush, lightly brush a little water over the bottom edge. Pull the top edge over the filling, and pinch the sides together. Use your fingers to gently pat the pasta around the filling, making sure there are no holes. Trim and cut the ravioli into shape with a knife or crinkly cutter. Place on a tray or plate covered in flour and repeat with the other half of dough.

Gently heat the tomato sauce and bring a pan of salted water to a gentle boil. Cook the ravioli for 3-4 minutes. Transfer to plates once cooked, spoon over the tomato sauce, rip over the basil and serve immediately. You can keep the ravioli in the fridge for a few hours if you want to make ahead of time.
Visit Pastaio.co.uk
Dressed Crab: Andrew McLay, J Sheekey
Brown crab meat has the most flavour, so it's best to try and incorporate it when you're cooking. The shells shouldn't be forgotten either, as they add delicious flavour to soups and sauces. Always buy from somewhere that sells crabs when they're still alive, so they're as fresh as possible. In London, See Woo in Chinatown has a great selection of live shellfish, including English cock crabs. 
INGREDIENTS
300g of white crab meat 

2 medium free-range egg yolks, hard-boiled for 10 mins and grated

Wholemeal or stone-baked bread, sliced and toasted 
For the crab mayonnaise:
150g of brown crab meat

1 tsp of tomato ketchup

1 tsp of Worcestershire sauce

2 tsp of English mustard

Half a lemon, juiced

3 slices of white or brown bread, crusts removed and broken into small pieces

50ml of sunflower oil

50ml of extra virgin olive oil
 
METHOD
Make the mayonnaise the day before you plan to serve it. Place the brown crab meat, egg yolks, ketchup, Worcestershire sauce and mustard into a blender and process until smooth. Add the lemon juice and bread. Process again until the mixture is smooth, stopping the machine occasionally to give it a stir.

Very slowly trickle the oil into the blender, processing on a low speed as you pour. Stop the machine occasionally to scrape down the sides with a spatula and stir. When the mayonnaise is smooth, empty it into a bowl and season if necessary. Cover with clingfilm and refrigerate overnight.

At J Sheekey we present this in an oval mould to emulate the shape of a crab shell. The best way to serve this at home is on individual plates with equal portions of white crab meat, accompanied by the egg and brown crab mayonnaise. Serve with wholemeal toast.
 
Visit J-Sheekey.co.uk
Crab Linguine: Michael Brown, Daphne's
To get the best flavour out of crab, cook it simply: bring salted water to the boil and then lower in the crab. Simmer for 11-12 minutes and then leave to cool with a little liquid on a tray in the fridge, ready to prep for your recipe.
INGREDIENTS
160g of fresh white crab meat, hand picked 

75ml of shellfish or fish stock

200g of cooked linguine

5g of red chilli, finely diced

5g of garlic, finely diced

5g of parsley, chopped

100ml of olive oil

30g of butter

5g of dried chilli flakes

Half a lemon
METHOD
Heat up a tablespoon of olive oil in a frying pan and add the fresh white crab meat, garlic and fresh chilli and cook on a medium heat for roughly 2 minutes.

Next add the shellfish or fish stock and cover, leaving to reduce and letting the flavours develop. 

Separately, boil water in a saucepan with a generous pinch of salt, and cook the linguine, draining once al dente.

Add the cooked linguine to the saucepan and heat it all through together.

Finish with the parsley, butter and dried chilli, with a final garnish of a squeeze of lemon juice. Serve in a large pasta bowl.
 
Visit Daphnes-Restaurant.co.uk
Dressed Crab With Chilled Peach Soup, Jalapeño & Coriander: Stuart Kilpatrick, London Shell Co
Crab is an ingredient we use almost year-round at the restaurant, but it's particularly good in summer. Generally, we use brown or spider crab. We prefer using live crabs over the pre-cooked or picked stuff as the flavour of the meat is fresher and sweeter. However, if I was cooking at home, I'd happily use picked meat as I'm lazy like that. Just remember that if you do use picked crab, choose the unpasteurised stuff over dull long-life alternatives. This recipe is a perfect starter or light lunch on a hot day.
INGREDIENTS
300g of white crab meat      

1 lemon

4 ripe peaches

Half a cucumber

¼ bunch of basil

1 tsp of coriander seeds

¼ tsp of white peppercorn

50ml of white wine vinegar

150ml of extra virgin olive oil

50ml of sweet white wine

1 tsp of salt

1 tbsp of sugar

Green tabasco, to taste

6-8 ice cubes

1 green jalapeño

Handful of coriander
METHOD
Peel the cucumber and peaches, discard the skins. Remove the stone from the peaches and chop the flesh of both into rough chunks. Mix them together in a large bowl with the coriander seeds, white pepper, vinegar, wine, olive oil, sugar and salt. Bruise the basil by spanking the leaves between the palms of your hands to release the oils and add to the mix. Don't break or chop the basil as you're going to remove it later. Now cover and leave the mixture somewhere cool to marinate for at least a couple of hours.

This is a perfect opportunity to cook and pick your crab if you've decided to go for a live one. Dress the picked crab meat with a generous pinch of salt and a squeeze of lemon. Uncover your bowl and fish out the basil. Stir in the ice (6-8 cubes depending on size, but have more on hand should you need to adjust the consistency). Blitz together in a jug blender or juicer until really smooth then, using the back of a ladle, pass through a sieve. Adjust the seasoning, adding a good splash of green tabasco if you like.

Divide the soup evenly into six bowls, add a dollop of the seasoned crab on top, and garnish with very thinly sliced jalapeños and a handful of coriander.
 
Visit LondonShellCo.com 
Tagliatelle With Crab, Lime, Chilli & Basil: Cesar Fernandez, Miele Der Kern 
INGREDIENTS
500g of tagliatelle

5 tbsp of extra virgin olive oil

2 garlic cloves, finely chopped

400g of picked fresh white crab meat 

2 red chillies, deseeded and finely chopped

Zest and juice of 1 lemon

Zest and juice of 1 lime

A small bunch of basil leaves, picked and torn 
METHOD
 
1. Fill a large stockpot with water, bring to a boil, add a large handful of salt and cook the pasta to al dente. Drain, and reserve a cup of the pasta cooking liquid aside.
2. Heat up a small frying pan with the oil, add the garlic and cook until just browned. Remove from the heat and set aside.
3. Combine the crab meat with the chilli, lemon and lime, cooled garlic and oil and some salt and pepper. Check the seasoning.
4. Mix together the crab, pasta and add a little of the cooking water to bind the sauce together. Add the basil and check the seasoning before serving immediately. 
Visit DerKern.Miele.co.uk

Rich Crab Tart: Rupert Willday, Charlie Bigham's
INGREDIENTS
For the pastry: 
330g of plain flour (and extra for dusting) 

170g of unsalted butter, chilled and diced 

60g of cheddar cheese, grated 

¼ tsp of cayenne pepper  
For the filling: 
7 free-range eggs, 6 for the custard plus one for egg wash 

600ml of double cream 

250g of cheddar cheese, grated  

2 bunches of spring onions, finely sliced 

250g of picked white crab meat (any kind) 

Pinch of freshly grated nutmeg

Salt and pepper to season 
 
METHOD
Preheat the oven to 220°C (200°C Fan, Gas Mark 7). 

Place all the pastry ingredients in a food processor and pulse in short one second bursts until the mixture resembles coarse breadcrumbs. 

Add cold water one tbsp at a time, pulsing in between each addition, until the pastry comes together and begins to form a ball. You may need to add two or three tbsps.  

Tip out and gently bring together to form a dough. Wrap in clingfilm and refrigerate for roughly 10-15 minutes until firm. 

Once chilled, roll the pastry out onto a floured surface to a 3mm thick circle, big enough to line a 20cm loose-bottomed tart tin. 

Line the pastry tin with a circle of greaseproof paper, add the pastry inside evenly and chill for another 10 minutes in the fridge. 

Take out the baking tin and cooled pastry and cook in the centre of the preheated oven for 15 minutes. 

Remove from the oven and take the part-cooked pastry out of the greaseproof paper. 

Brush the inside of the pastry with egg wash and turn the oven down to 180°C (160°C Fan, Gas Mark 4).

In a mixing bowl, combine 6 eggs and cream together and season with salt, pepper and a pinch of freshly grated nutmeg.

Sprinkle the grated cheese, spring onions and crab evenly inside the pastry and carefully pour in the custard.

Bake in the oven on a baking tray for 25 minutes until the custard is set and golden brown. Allow to cool to room temperature and serve.
Visit Bighams.com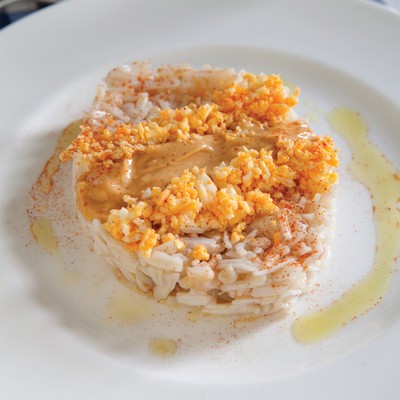 Howard Sooley For J Sheekey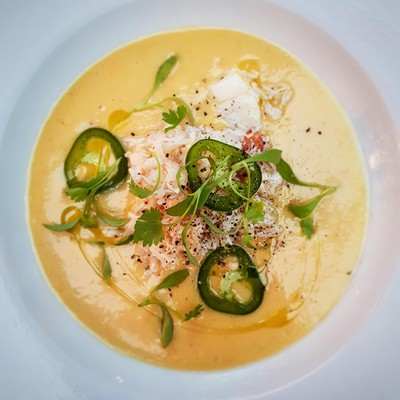 Stracci With Crab, Chilli, Garlic & Saffron: Matt Beardmore, Legare
INGREDIENTS
150g of brown crab meat

150g of white crab meat

50g of butter

1 small pinch of saffron

1 tsp of dried chilli 

½ lemon, juiced

1 tbsp of chopped chives 
For the pasta:
270g of 00 pasta flour

7 free-range eggs 
OR
500g of good-quality dried pasta such as linguine or tagliatelle
For the sauce:
1 can of whole peeled plum tomatoes

3 cloves of garlic

50ml of olive oil

1 pinch of sea salt 
METHOD
Begin by making the pasta dough. Separate 6 of the 7 eggs and mix the yolks with the remaining whole egg.

Place the flour in a mixing bowl and gradually mix in the egg until it comes together to form a loose dough. Knead until the dough is smooth.

Wrap dough tightly in cling film and place in the fridge for at least an hour, ideally overnight.

Once rested, take out of the fridge and leave to warm up a little to make it easier to roll.

Now start to roll the pasta. Start by rolling it out with a rolling pin until it is thin enough to go through a pasta machine on the thickest setting (if you don't have a pasta machine you can use a rolling pin for the entire pasta making process, keep rolling your dough until it is approximately 1-2mm thick. This can be quite tricky so I would recommend using good quality dried pasta if you don't have a pasta machine). 

Roll the dough through the machine on the thickest setting, then fold the dough over into three and roll out a little.

Rotate 90º and pass through the machine again. Repeat this process until the dough becomes silky smooth.

Now you have folded and put your dough through the pasta machine a few times, you need to begin to decrease the thickness setting. Pass the dough through, decreasing the setting by one each time, until the pasta has reached 1-2mm thickness. Have your flour handy in case the dough becomes sticky and needs dusting.

Once you have reached the desired thickness, cut the pasta into rough triangles, around 10cm in length with a knife or a pizza cutter, or even just tear it. Lightly dust with flour to make sure they are not sticking together. Store lightly bundled on a tray and cover with a damp tea towel until ready to be used.

To make the sauce, finely slice the garlic and put in a small saucepan with the olive oil. Cook on a very low heat until the garlic is soft but hasn't begun to brown.

Strain the tomatoes and discard the juice. Add the tomatoes to the pan with the garlic. Crush them a little to help them on their way.

Cook down gently for 30-45 minutes until you can see the oil rise to the surface and you have a rich sauce. Season with salt.

Bring a large pan of salted water to the boil for the pasta.

Carefully pick through the crab meat to ensure there are no shell fragments remaining.

Now stir the butter into the tomato sauce, when melted stir in the brown crab meat, dried chilli and the saffron. Careful now, that saffron is powerful stuff!

The rest of the sauce will be assembled while the pasta is cooking so set it aside briefly and have your white crab, lemon juice and chives at the ready.

Drop your pasta in the water and cook for 1-2 minutes (or according the packet if using dried).

Meanwhile, fold the white crab meat through the sauce.

Drain off the pasta, retaining a little of the pasta water and add to the sauce along with the chives and lemon juice. 

Toss together with a little of the pasta water until the sauce thickens slightly and coats the pasta. Adjust seasoning with salt/chilli/lemon to taste if required and serve.
Visit LegareLondon.com
Crab, Lemon & Herb Tartines: Abel & Cole
Tartines are French open sandwiches, and for this bright, summery spin we've used golden toasted slices of organic seeded sourdough topped with a cool creamy mix of fresh crab, lemon chives and crème fraîche. Perfect for a light lunch, or quarter the toast to make mini tartines for serving with drinks.
INGREDIENTS
1 lemon

A handful of chives

100g of crème fraîche

100g of white Cornish crab meat

Sea salt

Freshly ground pepper

4 thick slices of seven seeded sourdough 
METHOD
Finely grate the zest from half the lemon into a mixing bowl. Finely chop the chives and add most of them to the bowl (keep a pinch back for garnishing). Add the crème fraîche and most of the crab meat (keep a little back for garnishing).

Season with a pinch of salt and pepper and stir together to mix. Taste and add a pinch more salt or pepper if you think it needs it.

Toast the slices of bread till golden. Spoon the crab, lemon and herb crème fraîche over the toast. Top with the chives and any remaining crab meat. Pare a little extra zest off the lemon and sprinkle over the top. Serve with wedges of lemon on the side for squeezing.
Visit AbelAndCole.co.uk
Homemade Crab Cakes: FishWorks
INGREDIENTS 
450g of white crab meat 

2 chillies, finely chopped and seeds removed 

A handful of coriander, chopped 

2 spring onions, finely sliced 

25g of ginger, finely chopped 

200-300g of breadcrumbs 

200g of flour

4 eggs 

150ml of milk 

150g of mashed potatoes (if needed)

Vegetable oil for pan 

Salt and pepper for seasoning  
METHOD
Combine the crab meat with the chilli, ginger, spring onions and coriander in a mixing bowl. Season with salt and pepper. Mix all the ingredients together and add a tablespoon of breadcrumbs whilst mixing to solidify the mixture. You can add you mash at this stage, if you wish however for a richer seafood taste, leave your mash out!

Allow the mixture to rest for 30 minutes in the fridge. 

Mix the eggs and milk in a bowl and add salt and pepper to season. Place your flour in a separate bowl and your breadcrumbs in another third bowl.

Once your crab mix has been set, take the mixture and shape the crab cakes into a patty shape using your hands. You can use a metal ring if you have one or a cup for guidance. 

Coat each cake in flour first, the milk and egg mixture next and then the breadcrumbs. Make sure the whole cake is covered. Repeat a second time if you would like to make your crab cakes crispier. 

Pre-heat oven to 250°C or gas mark 9.

On full heat, heat up a flat pan half full of vegetable oil. Make sure you get the vegetable oil hot then turn the heat down to medium. 

Cook each crab cake for 2 minutes on each side and place in the oven for 8-10 minutes until golden brown. You're now ready to serve.
Visit Fishworks.co.uk
Vietnamese Crab Noodles, AO Life
INGREDIENTS
150g of glass noodles or thin rice noodles

1 red chilli

2 spring onions

3 tbsp of finely chopped fresh coriander

¼ pomelo, or 1 grapefruit

1 tbsp of rapeseed oil

3 cloves of garlic, crushed

150g of cooked edamame beans

Meat from 1 dressed crab

3 tbsp of sesame seeds, toasted

1 tbsp of yuzu juice (optional)

Lime wedges, to serve
 For the dressing:
2 tbsp of grated fresh galangal or ginger

Juice of 2 limes

1 tbsp of yuzu juice (or substitute with grapefruit juice/more lime juice)

1 tbsp of rapeseed oil

2 tbsp of light brown sugar

2 tsp of tamarind paste

2 tsp of soy sauce

½ tsp of salt
 METHOD
First, make the dressing. Whisk together all the ingredients in a small bowl, and taste. You might want it a little sweeter/sourer/saltier, so adjust to taste.

Put the glass noodles in a large bowl and pour over enough hot (but not boiling) water to cover. Leave for a couple of minutes, until they are softened but not soggy, then drain in a sieve and rinse under cold water. Drain again, then put the noodles in a sieve on a tea towel to dry out a little.

Deseed and finely chop the chilli and spring onions, and put aside in a small bowl with the coriander. Cut the skin off the pomelo quarter and use your fingers to separate the flesh from the pithy membranes and tear it into small chunks (if using a grapefruit, cut off the skin and use a sharp serrated knife to separate the segments from the pith).

Heat the oil in a large non-stick frying pan and add the garlic. Cook over a medium heat until it just turns golden, then turn off the heat. Add the noodles to the pan with the dressing, chilli, spring onions, coriander, pomelo/grapefruit, edamame beans and crab meat. Toss well to combine everything, then turn the heat on again just to warm everything through gently.

Divide between two bowls, drizzle with the yuzu, if using, sprinkle with the sesame seeds and serve with lime to squeeze over.
 Visit AO.com
Crab Ravioli With Tomato Sauce Vierge: Richard Bainbridge, Restaurant Benedicts 
INGREDIENTS
For the herb pasta: 
250g of 00 pasta flour 

10g of table salt

1 whole egg

3 egg yolks 

Handful of soft herbs 

Rapeseed oil  
For the crab filling:
2 dressed Cromer crabs

1 lime (juice and zest)

Sea salt and white pepper for seasoning 

20g of chopped coriander  
For the tomato sauce vierge: 
4 tomatoes, peeled, seeds removed and diced 

100ml of olive oil

Juice of ½ lemon

1 tbsp of snipped basil leaves 

½ tbsp of snipped chervil

½ garlic clove, finely chopped 

3 coriander seeds, crushed 

Salt and pepper to taste 
METHOD
Make the tomato sauce vierge in advance. Place the tomatoes in a bowl with the olive oil, lemon juice, herbs, garlic and coriander seeds. Mix gently and season with salt and pepper to taste. Just before serving, warm the sauce slightly in a saucepan on a low heat. 

Next, make your pasta dough. In a blender place all the eggs and the soft herbs and blend until a smooth purée. 

In a food processor place the flour and salt and pulse slowly adding your egg mixture. Once all combined you should end up with a soft green crumble add a few drops of rapeseed seed oil, transfer to a bowl and knead for a couple of minutes until it comes together to form a smooth ball which should feel moist but not wet. 

Wrap in cling and place in the fridge over night or for 30 minutes before use.

To make the filling, remove the white meat from your dressed crabs and place onto a cold tray, then, using your fingertips, pick though the crab. Once finished place into a bowl and place in the fridge.

Now remove the brown meat from the shell and place into a blender, blend until a smooth purée and remove from the blender. Add two tbsp of the brown meat to the white meat, add the lime zest, juice and salt and pepper to taste. Add coriander and place in the fridge until you are ready to make the raviolis. 

To make your ravioli, roll out the dough to 1/8-inch thickness. Using a 3-inch round cutter cut out dough rounds.

Using a tablespoon, place mounds of crab filling in the middle of dough rounds. Place an unfilled round on top of the filling and press the edges of the dough together firmly between thumb and forefinger. Moisten edges with a little water if they are not sealing properly. 

Place rounds on a surface that has been dusted with pasta flour and cover with a tea towel until needed. 

Once ready to cook place a large pot of water onto the stove top and bring to the boil. Once boiling, add your ravioli and simmer for about three minutes or until the pasta is just cooked. Remove from the water and lightly dry on kitchen towel before serving.

To dress, spoon a little of the sauce in the bottom of a bowl and place the ravioli on top. Garnish with a few garden herbs and salad leaves and serve warm. 
 
Visit RestaurantBenedicts.com
Spaghetti With Crab, Lemon, Chilli, Parsley & Radish Shavings: Love Radish
INGREDIENTS
500g of dried spaghetti
5 tbsp of extra virgin olive oil
4 garlic cloves, sliced
1 tsp of fennel seeds
1 large red chilli, deseeded and finely chopped
150g of white crabmeat
50g of brown crabmeat
2 lemons, zested and juiced
1 large bunch of parsley, shredded
Sea salt and black pepper
50g of French breakfast radishes, very thinly sliced
METHOD
Bring a large pan of salted water to the boil. Cook the spaghetti according to the packet instructions.
While you are waiting for the spaghetti to cook, in a large frying pan, heat the olive oil, add the garlic, fennel seeds, and cook over a medium heat until the garlic starts to turn golden brown. Remove from the heat and add the chilli, crab, lemon zest, juice and parsley.
Once the pasta is cooked drain thoroughly and then add to the pan with the crab sauce, season with sea salt and plenty of black pepper, mixing well. 
Dived between 4 warm bowls, sprinkle over the radishes and serve at once.
Visit LoveRadish.co.uk
DISCLAIMER: We endeavour to always credit the correct original source of every image we use. If you think a credit may be incorrect, please contact us at info@sheerluxe.com.