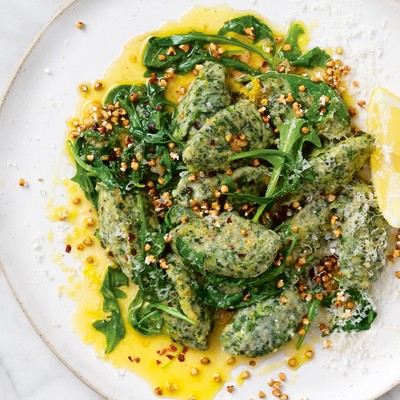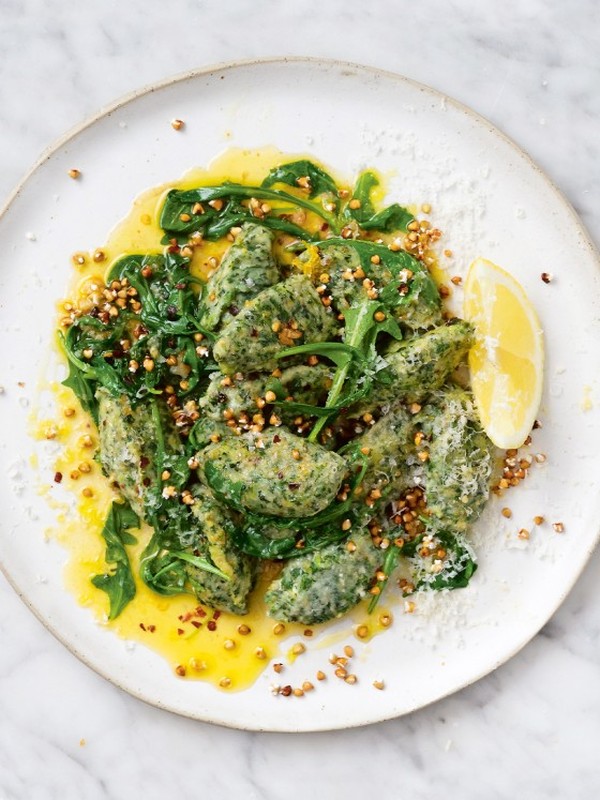 3 Delicious Veg-Packed Recipes Worth Trying

Lucy Tweed is the creator of Every Night of the Week, an Instagram account full of recipes for people who don't like cooking. Since starting out as a food stylist at Donna Hay magazine, she has worked in food styling, menu creation, travel writing and art direction for countless major food brands. Her first book, Every Night of the Week, was an international bestseller. Now, she's written a book to help those who find it hard to slot veg into their meals. Here, she shares three great recipes both veggies and meat-eaters will enjoy.

All products on this page have been selected by our editorial team, however we may make commission on some products.
I need to start with a confession – I'm not a vegetarian. Am I allowed to write a vegetarian book? Am I qualified? A friend asked me if this book was going to be cheese heavy. I felt defensive. They didn't ask me that when I wrote a book with meat included. I said 'No.' I lied. Of course I use cheese. Plus, a ton of eggs. And butter. Carbs – in all their glory. And – don't freak out – but this book includes vegetables. Loads.
The object of this book is not to reduce fat, remove flavour or limit happiness. I'm not asking you to join a cult or commit to this every day. It's about exploring variations. The possibilities. The fun.  It's about turning to the fridge crisper before the freezer. My husband – a Kiwi raised on meat and veg – is known to respond to my food with, 'This is so delicious! I can't believe there's no meat in it.'  And that's what makes this book essential. Not what's lacking, but everything it has: flavour, texture and playfulness. 
Lifting veg from token to hero in a 'you-won't-notice-it's-meat-free' way is easy when you're pumped up about it. The upsell – or perhaps side-sell – comes naturally. But there's a potential spanner in the works: family. We must feed and nourish them while respecting their immature, undistinguished, sometimes revolting desires. Up to a point. Growing up, my mum would take any opportunity to stuff a sun-warmed, slightly hairy baby bean picked straight from the vine into my gob. 'Taste this!' she'd exclaim. My dad would normalise cuisines. 'This is san choy bow!', he'd announce proudly about yesterday's reheated bolognese with added peas and lettuce cups. It's the excitement that matters most. Getting food in mouths midweek is the destination, but the journey should be exploration, indulgence and laughter. If in doubt, just crumb it and add tomato sauce.
---
Inspired?
Here are three great recipes to try at home…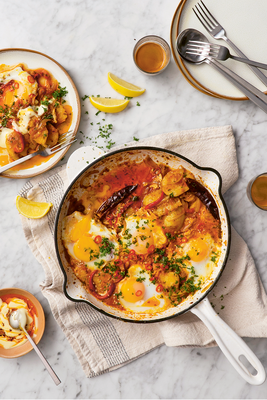 In Hell
Is it shakshuka-ish? Yes. Do I prefer the term 'In Hell'? Yes. Purely because it makes me feel like a badass. Yes, shakshuka is a great word. Loosely meaning 'all mixed up', it's a perfect start to any haphazard day. The traditional recipe calls for chilli peppers, cayenne and paprika, so I like to arm myself with sourdough on the side or, in this case, throw in some cooked potatoes to soak things up a bit. It becomes a little like patatas bravas then, too.
Ingredients
300g

of potatoes, sliced into chunky shards, skins on
3

tbsp

of extra virgin olive oil
1

brown onion, thinly sliced
1

red capsicum, seeds removed & thinly sliced
3

garlic cloves, thinly sliced
2

whole dried red chillies
170ml

of tinned crushed tomatoes
1

tbsp

of chilli crisp (see below)
Optional ingredients:

1

bird's eye chilli, sliced & finely chopped parsley
For the chilli crisp:

1

tsp

of chicken-style stock powder
1

tbsp

of crispy fried shallots
1

tsp

of Szechuan peppercorns
Method
Step 1
To make the chilli crisp, combine the chilli flakes, sesame seeds, salt, stock powder and garlic in a heatproof bowl and set aside. Heat the peanut oil, fried shallots and peppercorns in a medium saucepan over medium-low heat until the mixture simmers. Continue cooking for 2-3 minutes, then carefully pour it over the spice mix, allowing it to crackle. Let it cool, then store in a jar in the fridge for up to 3 weeks.
Step 2
Boil the spuds in salted water until tender, 15 minutes, then drain.
Step 3
In a large deep frying pan, heat 2 tablespoons of the olive oil over medium heat. Sauté the onion and capsicum for 5 minutes, until the onions are beginning to turn golden. Add the garlic and dried chillies and sauté for a further 2 minutes.
Step 4
Add in all the remaining spices, salt and oregano and stir until it is well mixed.
Step 5
Then toss in the potatoes and the remaining 1 tablespoon of olive oil and stir well. Combine the tomatoes and 170ml of water and pour that in too. Simmer for 5 minutes, until it begins to reduce slightly.
Step 6
Make some little wells with the back of a spoon for the eggs. You can evenly space them for serving or, if you're me, deliberately cluster them together.
Step 7
Crack in the eggs and reduce the heat to low. Do not stir once the eggs are in. Allow them to poach for 5-7 minutes, covering for the last 3 minutes.
Step 8
Serve with aioli, chilli crisp oil and bird's eye chill – or don't. Definitely add the activity of lemon squeezing to the agenda.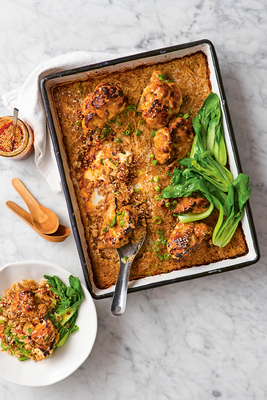 Honey Soy Cauli
The sticky, chewy business of baking rice with different flavours is with us to stay, my friends. It's a classic lazy approach disguised as a big flavour move. And so satisfying, because it's basically set and forget. Cauliflowers are the greatest sauce-trappers, too.
Ingredients
2

spring onions, finely chopped, whites & greens separated
8cm

piece of ginger, peeled & julienned
1

large cauliflower, cut into

8

wedges
3

tbsp

of extra virgin olive oil
½

tsp

of Chinese five-spice
Optional ingredients:

Blanched greens & chilli crisp (see recipe above)
Method
Step 1
Preheat the oven to 200°C Fan.
Step 2
Blend the miso, garlic, honey, soy, rice vinegar, sesame oil, spring onions (white parts only) and a quarter of the ginger in a food processor until smooth.
Step 3
Toss the cauliflower through this mix, making sure to coat it really well.
Step 4
In a large roasting tray big enough to fit the cauliflower in a single layer, combine the olive oil, rice, remaining ginger, Chinese five spice and salt.
Step 5
Cover with 750ml of water and gently shake the pan to level out the rice. Place the cauliflower into the water, then cover tightly with foil.
Step 6
Bake for 20 minutes, then uncover and bake for a further 25 minutes, basting with any remaining marinade for the final 5 minutes. Serve with sesame seeds and the green parts of the spring onions.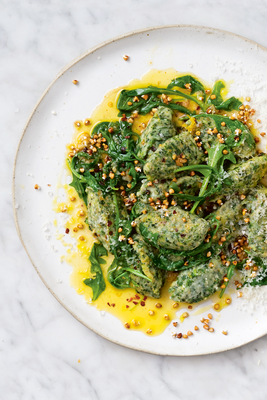 Supergreens Gnudi
Crispy, soft, plump, chunky, rough dumplings – I think we can all relate. If you are offended by the sin of conveniently prepared frozen spinach, you could always de-spine, cook, squeeze and chop fresh if you like. You'll need approximately 75kg of fresh leaves to yield 2 cups once wilted (estimating the weight of cooked-down leafy greens from a fresh bunch is pointless).
Ingredients
500g

of frozen spinach, kale or any other leafy green
500g

of fresh ricotta (the deli kind in a basket because it's drier)
100g

of finely grated parmesan
50g

of buckwheat veg oil, for frying
½

tbsp

of extra virgin olive oil
1

garlic clove, finely chopped
2

tbsp

of finely grated lemon zest
Method
Step 1
Thaw, squeeze and chop the greens in a food processor or with a knife. The blitzing level is up to you. The leafier bits are harder to roll, but rude, nude and rustic is what's so great about these gnudi, so I blitz for a bit, remove half and purée the rest.
Step 2
Reunite the spinach in a bowl and add in the ricotta, eggs, parmesan, nutmeg and flour. Mix well to combine.
Step 3
You can add herbs, garlic or zest to the dumplings, but I like to boss my dinner about, not the other way around. Keep it simple and you can whip this out of the freezer anytime. Pick your flavours then.
Step 4
Prep a tray or plastic container with baking paper so you can layer these. Have a small bowl of semolina for sprinkling at the ready.
Step 5
Using two tablespoons, one to scoop and one to scrape, shape the dough into little dumplings and dollop them onto the tray. Sprinkle a bit of semolina over them as you go to prevent them sticking to each other.
Step 6
Fry the buckwheat in 1cm of veg oil in a small saucepan over high heat. They will get crispy, and some will puff like mini popcorn in less than 10 seconds. Scoop these buckinis out onto paper towel and set aside.
Step 7
You can cook (fresh or frozen) gnudi just as you would gnocchi, in plenty of simmering salted water, scooping them out as they float and tossing with your favourite sauce, but my preference is to cook them like potstickers. Choose a non-stick frying pan that can hold as many serves as you'd like to make in a single layer – usually about 20 would be the most! Heat 1.5 tablespoons of olive oil over medium heat and place the gnudi in a single layer with a bit of space between each one.
Step 8
As they begin to sizzle, add some water so that it comes halfway up the side of the dumplings. Cover the pan with a lid and allow it to simmer for 5-8 minutes. Listen for a change in fry sound from watery bubble to oily sizzle. Gently toss and loosen the gnudi and push to the side. Add the butter and, when it foams, add the garlic, chilli and rocket. Toss the whole lot for a few minutes, until the garlic softens slightly, then add in the lemon juice for a final stir through.
Step 9
Cover in halloumi, lemon zest and buckinis before serving.
DISCLAIMER: We endeavour to always credit the correct original source of every image we use. If you think a credit may be incorrect, please contact us at info@sheerluxe.com.