3 Vegan Breakfast Recipes To Try

Want to add more plant-based foods to your diet? If you haven't yet come across The Coconut Collaborative, you're seriously missing out. So in a bid to get you enjoying their dreamy dairy-free yogurts, we spent our Sunday afternoon in the kitchen and pulled together three brilliantly easy and exceptionally delicious breakfast recipes, that even the least skilled cook could carry out...

CREATED IN PARTNERSHIP WITH COCONUT COLLABORATIVE
Did you know dairy milk requires four times more land than its plant-based counterparts? Plus, producing plant-based drinks uses 80% less water and emits 60% less C02 than dairy. If those stats aren't enough to impress you, we can assure you the taste will – The Coconut Collaborative's range of coconut-based vegan yogurts, ice creams and deserts are all far creamier and more delicious than their dairy counterparts (plus they're helping save the planet, too).
Here are three breakfast recipes to try at home this weekend…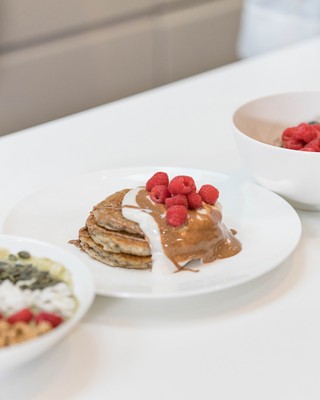 1. Vegan Banana Pancakes
Makes 8
Ingredients:
1 flax egg (1 tbsp of ground flaxseed + 3 tbsp of water)
1 cup of almond flour
1/2 cup of rolled oats
2.5 tsp of baking powder
A pinch of salt
1 cup of almond milk
1 tsp of vanilla extract
Coconut oil
2 large ripe bananas
Toppings:
Raspberries
Almond nut butter
1 pot of The Almond Collaborative Natural yogurt (you can use Coconut if you prefer)
 
Method:
1. Make the flax egg: In a large bowl, add one tablespoon of ground flaxseed and three tablespoons of water. Mix and then set aside for two minutes.
2. In a large bowl, add one cup of almond flour, half a cup of rolled oats, two and a half teaspoons of baking powder and a pinch of salt, then mix.
4. In a separate bowl mash two bananas using a fork, then add one cup of almond milk, one teaspoon of vanilla and stir until well combined.
5. Add both the liquid and dry ingredients together.
6. Heat the pan over a medium-high heat and add a spoonful of coconut oil.
7. Scoop two tablespoons of batter onto the pan. Cook for around a minute until golden brown and then flip. This should make eight pancakes.
8. To serve, add a large tbsp of The Coconut Collaborative Natural Yogurt, drizzle nut butter on top and garnish with raspberries.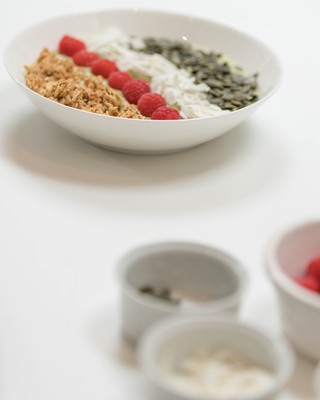 2. Green Smoothie Bowl
Makes 1 large bowl
 
Ingredients:
¼ of a ripe avocado
2 medium frozen bananas
2 large handfuls of spinach
1 cup of almond milk
1 x 120g Pot of The Coconut Collaborative Natural Yogurt
1 tbsp of chia seeds
2 tbsp of almond nut butter
 
Toppings:
Granola
Pumpkin seeds
Shredded unsweetened coconut
Raspberries
 
Method:
Slice the avocado and add half into the blender
Add the remaining ingredients into the blender.
Blend until creamy and smooth.  
Pour the smoothie into a bowl.
Top with the granola, pumpkin seeds, coconut and raspberries.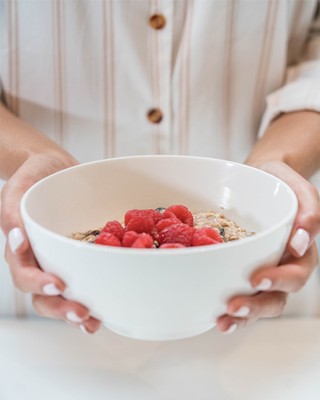 3. Banana Overnight Oats
Serves 1
 
Ingredients:
50g of oats
1 ripe banana
1/4 pot of The Coconut Collaborative Natural Almond Yogurt
1/4 pot of The Coconut Collaborative Natural Yogurt
100ml of almond milk
20g of sunflower seeds
1 tbsp of chia seeds
2 tsp of raisins
1 tsp of maple syrup
Blueberries 
Method
Add the banana, 100ml of almond milk, one tablespoon of chia seeds and a quarter of a pot of both the The Coconut Collaborative Natural Yogurt and The Coconut Collaborative Almond Natural Yogurt into a blender. Blend until smooth.
Transfer the mixture into a large jar or container, then add a handful of blueberries, two tablespoons of raisins and 20g of sunflower seeds. Stir well.
Place the lid on the jar and refrigerate overnight.
When ready to serve, add a drizzle of maple syrup and enjoy chilled.
Shop our favourites below...
DISCLAIMER: We endeavour to always credit the correct original source of every image we use. If you think a credit may be incorrect, please contact us at info@sheerluxe.com.