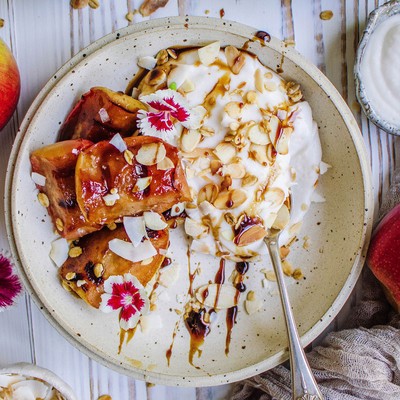 12 New Weekday Breakfasts Recipes

Bored of eating the same thing for breakfast during the week? Get your day off to the best start with these tasty recipes from some of our favourite chefs. From make-in-advance pear and ginger breakfast muffins to ricotta and blackcurrants on toast, here are 12 fresh ways to mix up your morning routine…

Banoffee Overnight Oats: Shelina Permalloo, Lakaz Maman and MasterChef Winner 2012
Ingredients
150g

of small pot of thick greek yoghurt
30g

of dark chocolate chips
Method
Step 1
Mix together the oats and the milk and set aside.

Step 2
Prepare two small clip-and-seal mason jars by placing half the oat mixture in the base of each jar. Followed by half the honey, then the yoghurt topped with banana then covered with a bit more honey and then tumble over some chocolate chips, seal the jar and set in the fridge overnight.

Pear & Ginger Breakfast Muffins: Amanda Hamilton, Sharpham Park Spelt
Ingredients
1

tsp

of bicarbonate of soda
Method
Step 1
Pre-heat the oven to 190°C/170°C Fan/Gas Mark 6.



Step 2
Combine the spelt flour, oats, baking powder, bicarbonate of soda and spices in a mixing bowl. Make a well in the centre of the mixture and pour in the wet ingredients. (Baby fruit puree can be used in place of pear puree).



Step 3
Gently mix until it forms a cake-like batter. Add the sultanas and diced pear then mix again. Divide the mixture into individual cases in a muffin tin. Bake for 20-25 minutes. Leave to stand for 5 minutes before unwrapping.

Step 4
These muffins can be made in advance and frozen, then defrosted overnight and reheated in the morning. They make a great on-the-go breakfast with an extra pot of natural yoghurt or a piece of fruit.

Spinach Pancakes With Maple & Eggs: Maple From Canada
Ingredients
2

eggs, plus extra for serving
Method
Step 1
Whisk the eggs, flour, melted butter, baking powder and maple syrup together to form a batter.

Step 2
Blanche spinach in boiling water and drain as much as possible.

Step 3
Blend the spinach to a pulp and add to the batter.

Step 4
In a frying pan on a medium heat, add the batter and fry until golden, turn and cook until golden.

Step 5
Add to a plate and top with a fried egg or your topping of choice, drizzle with extra maple syrup. Serve and eat immediately.

Caramelised Apples With Coconut Cream & Granola: Elisa Rossi, Happy Skin Kitchen
Ingredients
For the coconut cream:

50g

of plain coconut yogurt
50g

of creamed coconut (the solid one you buy in a packet)
To serve:

A generous sprinkle of flaked almonds
Method
Step 1
To make the coconut cream, melt the creamed coconut in a small pan on a very low heat. When it is completely melted transfer it to a pan and add the coconut yogurt. Mix everything together until you have a thick cream. Place it in the fridge while you are preparing the rest.

Step 2
Slice and core each apple into 4 pieces and remove the seeds. Place them on a baking tray and drizzle the coconut oil and the cinnamon on top. Bake in the oven at 180°C for 10 minutes until slightly soft but not too squishy.

Step 3
While the apples are baking make the caramel. Simply place the coconut sugar and water into a pan and bring it to the boil. Let it bubble away for about 5 minutes until it starts to thicken up and become a sticky caramel. Turn the heat off and leave it on one side.

Step 4
Remove the apples from the oven and place them on the barbecue for about 2-3 minutes on each side.

Step 5
Serve the apples with a generous drizzle of the coconut caramel, the coconut cream, granola and flaked almonds.

Easy Hash Browns: Juliet Sear
Ingredients
3

-4

medium potatoes, washed and unpeeled
1

medium white onion, peels, halved and sliced thinly
Method
Step 1
Coarsely grate the spuds, put onto the clean tea towel with the sliced onions.

Step 2
Lift up the edges of the tea towel and squeeze out as much excess liquid as you can.

Step 3
Place into a large mixing bowl, scatter over the flour and season well. Toss through with your hands to coat over everything.

Step 4
Add the eggs and stir through to fully coat the mix.

Step 5
When ready to cook, you may like to preheat the oven to about 100ºC to keep the hash browns warm on kitchen paper as you fry up the batches, you don't want to overcrowd the pan it's good to give them room.

Step 6
Preheat the pan to medium hot and add in the olive oil. Spoon little rounds of mixture into the pan, do not move them for at least 7-8 minutes, let them completely crisp over on the bottom. Flip over and cook until really golden, crunchy and crisp. Flip over and cook for a further couple of minutes on each side to the potato inside is completely cooked.

Ricotta & Blackcurrant Toast: Bertinet Bakery
Method
Step 1
Mix the zest and juice of half a lemon with the ricotta. Spread over a slice of seeded sourdough bread.

Step 2
Crush the blackcurrants in a bowl to create a basic jam.

Step 3
Drizzle the blackcurrant jam over the toast and sprinkle flaked almonds for crunch.

Roasted Mushrooms On Toast With Poached Eggs: Paul Leonard, The Forest Side
Ingredients
Handful of wild mushrooms
Method
Step 1
Use a nice thick slice of sourdough as a base and toast until golden brown, roast your mushrooms in some unsalted butter with a touch of garlic and diced shallot. Finish this with some chopped parsley, salt and fresh black pepper.

Step 2
For your eggs, go for a nice free-range Burford Brown. Stunning golden yolks and a nice rich flavour make these eggs my favourite. To make the perfect poached egg, use a nice deep pan and add a splash of white wine vinegar, bring your pan to the boil and then reduce heat until you have just a nice simmer. Crack the egg into a cup first, this will make it easier to add to the water and also give you chance to make sure you do not have any shell still attached to the egg. Swirl the water creating a vortex and add the egg against the flow of the water. Set a 3-minute timer. Lift out your eggs onto kitchen roll to drain away any excess water. Season with sea salt and fresh black pepper.

Step 3
To finish the dish, use a peeler to shave some nice mature cheddar cheese over it and enjoy.

Winter Pancakes With Berries: Jenna Hope, Berry People
Ingredients
For the pancakes:

1

tsp

of bicarbonate of soda

Method
Step 1
Combine the flour, bicarbonate of soda, baking powder and salt in a bowl and whisk well. Then slowly whisk in the oat milk until a thick pancake texture forms.

Step 2
Heat 1 tsp of oil in a pan, once the pan is hot, ladle out the mix into a pancake. Turn down the heat and cook for 3-4 minutes or until bubbles start to appear. Then flip and cook for a further 2-3 minutes. Remove from the heat and repeat until all the pancake mix is used up. You may need to re-oil the pan throughout the process.

Step 3
In the meantime, add the raspberries, maple syrup and vanilla extract to a food processor and blitz until smooth. Pour the mix through a cheesecloth (or a fine strainer) into a jug and pour over pancakes to serve.

Honey-Roasted Peaches & Plums: Maldon Salt
Ingredients
4

ripe peaches or plums (or both)
Method
Step 1
Cut the peaches/plumes into halves and remove the stones.

Step 2
Heat your butter on a low to medium heat add your fruit and cook until slightly soft.

Step 3
Drizzle over the honey and add the thyme.

Step 4
Cook for another 1-2 minutes.

Step 5
Add a pinch of salt. Serve on its own or with some yogurt and granola chunks.

Chai Tea & Blood Orange Breakfast Compote: Elly McCausland: AO Life
Ingredients
2

chai teabags (or fruit tea of your choice)
100g

of dried cranberries
Method
Step 1
Put the water in a large saucepan and bring to the boil. Add the teabags and spices and simmer gently for a couple of minutes.

Step 2
Cut half the prunes and apricots in half (scissors are the easiest way to do this) and add to the tea along with the remaining fruit. Simmer, covered, over a gentle heat for about 20 minutes, until the fruit has plumped up and the liquid has turned syrupy. If it's still a bit watery, take the lid off and simmer a little longer to reduce. Similarly, if it's too thick, add a little more water. Leave to cool.

Step 3
Cut both ends off the blood oranges then use a sharp serrated knife to slice away the skin and pith. Then slice between the membranes of the fruit to cut out all the individual segments, do this over a bowl to catch the juice.

Step 4
Squeeze the remaining pith into the bowl to get all the juice out.

Step 5
Mix the blood orange segments with the dried fruit compote, then serve at room temperature or chilled. It'll keep in the fridge for a week.

Step 6
If you're not a porridge fan, you don't have to go down that route. This is also excellent over a bowl of muesli or granola, or simply served in a bowl with a dollop of Greek yoghurt and maybe some chopped nuts. You could even have it with ice-cream as a dessert. Whatever you do, you'll end up with a gorgeous warming blend of citrus and spice that will brighten up any winter day.

Breakfast Muffins with Apple & Peanut Butter: Maryall Hall, Vegan Recipe Club
Ingredients
250ml

of sweetened plant milk
1

apple, peeled and grated
20g

of sultanas or raisins
1

tsp

of cinnamon (optional)
Method
Step 1
Heat the oven to 180°C Fan/Gas Mark 4. Line a muffin tin with 8 paper cases.

Step 2
Mix the muesli with the light brown sugar, flour, baking powder, cinnamon and salt in a bowl.

Step 3
Combine the milk, apple, oil, nut butter and raisins in a jug and mix well.

Step 4
Stir this liquid mix into the dry ingredients with a wooden spoon. Divide equally between the cases to about 3/4 full.

Step 5
Bake for 25-30 minutes or until the muffins are risen and golden. Optional: Drizzle some vegan syrup on the top of each one.

Hazelnut Butter With A Hint Of Vanilla: Carole Poirot, AO Life
Ingredients
400g

of unsalted, unroasted hazelnuts
1

vanilla pod, seeds scraped out
Method
Step 1
Preheat your oven to 180°C and put the hazelnuts onto a baking sheet making sure you have only one layer. Bake the hazelnuts until they're lightly roasted and golden. Take the nuts out of the oven and leave to cool until they're just warm.

Step 2
Pour the nuts onto a tea towel and roll the nuts to remove most of the skins.

Step 3
Now put the peeled nuts into the blender and blend at a low speed for around 8 minutes. You will see the butter starting to form and the nuts will become creamy having released their natural oil. Add the scraped out vanilla seeds and blend until all combined.

Step 4
Transfer the butter to a clean jar and store in the fridge for up to 2 weeks.

Step 5
Serve on toast, topped with banana slices, honey or raw chocolate flakes.

DISCLAIMER: We endeavour to always credit the correct original source of every image we use. If you think a credit may be incorrect, please contact us at info@sheerluxe.com.