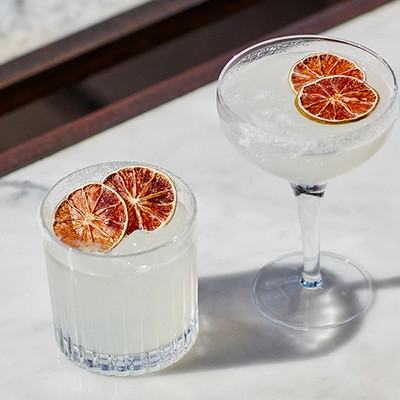 7 Margarita Recipes To Jazz Up Your Weekend

Like sourdough and banana bread before it, the margarita is defining the Instagram zeitgeist during lockdown. To help make yours the best it can be – and to give you a few alternatives if you don't have all the ingredients – we asked seven top bartenders and brands how to make the classic cocktail at home.

Hacha Mexican Highball by Hacha
INGREDIENTS
40ml of blanco or reposado tequila 

10ml of mezcal 

10ml of freshly squeezed lime 
For the homemade tepache:
1 medium-sized pineapple

Half a bag of brown sugar

2 large handfuls of cloves

1 large piece of peeled ginger

2 cinnamon sticks

2 litres of water
METHOD
To make the tepache, take the pineapple, peel the skin and then cut into cubes. Place the skin in a large container skin-side down and add a small handful of the cubes. Cover the skin and cubes with the brown sugar. Add the cloves, ginger and cinnamon sticks, then add two litres of water. Cover the container with a lid and leave a little gap to allow a small amount of airflow. Leave for a minimum of 24 hours (48 hours for best results), waiting until you see some small foam on top of the liquid – this signals the fermentation process.

Strain and discard the skins and debris, and decant into a 2-litre jug and keep in the fridge. The tepache can last for at least 2-3 weeks if kept in the fridge and makes a refreshing non-alcoholic drink – very traditional in Mexico.

To make the cocktail, fill a highball glass with cubed ice and add the tequila, mescal and lime juice. Stir well, top with the tepache and serve. 
Visit HachaBar.com
Classic Margarita by Waeska
INGREDIENTS
50ml of blanco tequila

25ml of Cointreau

20ml of lime juice

Salt

Ice
METHOD
Take a cold martini glass and rub a wedge of lime around the rim. Then dip your rim in the salt flakes.

Add the tequila, Cointreau, lime juice and lots of ice to a shaker.

Shake, then strain through a fine sieve into your chilled glass. Serve immediately.
Visit TheMandrake.com 
Lemon Margarita by Two Keys 
INGREDIENTS
35ml of Don Julio reposado tequila

1 bottle of Two Keys lemon mixer

Juice of half a lemon
METHOD
Salt the rim of the glass, if desired.

Pour the tequila over ice.

Squeeze the lemon juice into the glass.

Top up with Two Keys lemon mixer and stir.

Garnish with a wedge of fresh lemon.
Visit TwoKeysLDN.co.uk
Patrón Perfect Margarita by Patrón
INGREDIENTS
35ml of Patrón reposado tequila

15ml of Patrón Citrónge orange liqueur

20ml of lime juice
METHOD
1.  Chill a coupe glass.
2. Garnish the glass with a lime wedge and a salt rim around half the glass.
3. Add all ingredients and ice to a shaker.
4. Shake and strain into the glass.
Visit PatronTequila.com
Tommy's Margarita by The Address Collection
INGREDIENTS
50ml of El Jimador blanco tequila (or any 100% agave tequila of choice)

25ml of fresh lime juice

20ml of agave

A lime wedge, to garnish
METHOD
Shake all ingredients with ice. You can adjust the agave levels to taste depending on how sweet or sour you like your margaritas.

Strain into a rocks glass and garnish with a lime wedge. We use dehydrated limes in our bars, but fresh lime is also great.
Follow @TheAddress_Is
Tequila & Tonic by El Rayo 
INGREDIENTS
40ml of El Rayo tequila 

Tonic water 

Grapefruit slice 

Ice
METHOD
Fill a highball glass with ice and add the tequila. 

Top with tonic water and garnish with a slice of fresh grapefruit.
Visit ElRayoTequila.com
Classic Margarita by Ladies & Gentlemen
INGREDIENTS
50ml of tequila

25ml of triple sec liqueur or Cointreau 

25ml of lime juice

1 lime wedge

A splash of orange juice

Salt

Cubed ice
METHOD
Chill your glass. The easiest way is to fill it with ice or pop in fridge prior to making Friday cocktails. 

Put lots of ice and all of the ingredients including a splash of orange juice into a jam jar or anything you can shake with, then shake hard for about 30 seconds to chill the liquid really well.

Run a lime wedge around the outside of the rim of your glass before rolling the rim in salt.

Strain the mix into the glass and enjoy.
Visit LadiesAndGents.co