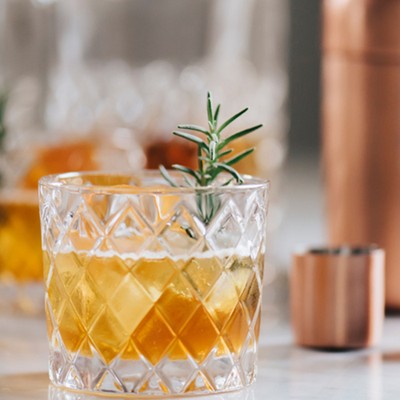 The Expert-Approved Bar Gadgets To Own

Bars might be starting to reopen, but if lockdown's taught us one thing, it's how to whip up a good cocktail at home. If you're looking to enhance your home bar and step up your entertaining skills, here are the gadgets you need – and how to use them.

Camille Vidal, La Maison Wellness
Juicer: For me, fresh is best when making cocktails, so you'll need a hand juicer for your citrus and a proper juicer for other fruit and veg ingredients. This makes it way easier to incorporate cucumber or watermelon juice, which are perfect for summery cocktails.
Ice moulds: Ice is a huge part of your cocktail, so don't skimp on it. Good ice is key when making a cocktail, so I recommend getting some high quality ice moulds, and get creative by adding fruit, flowers and herbs to your cubes for extra flavour.
Soda stream: A soda stream is very handy to a make effervescent and refreshing cocktails – and it's eco-friendly, too. They are simple to use and help you play around with different infusions, as they can flavour the water with fruit and herbs before it's carbonated. 
Visit LaMaisonWellness.com
Joe Mccanta, Head Of Mixology And Education At Bacardi
Shaker: I prefer using a tin-to-tin one rather than a three-piece. Three-piece shakers look good but are often fussy and the top can get stuck. My go-to spot for top-quality equipment is Cocktail Kingdom. For the shaker, I recommend the Leopold tins, which are weighted.
Citrus press: The most underrated, yet most useful bar tool is a citrus press. Make sure you spend money for a quality one as you want it to last. 
Glasses: Like everyone, I don't think you can beat Soho Home for barware.
Visit BacardiLimited.com
Howard Davies, Salcombe Distilling Co.
Jigger: This is your measuring device. Most jiggers now come double-sided, with a 25ml measure at one end and a 50ml measure at the other. Every drink you create will be made up of different quantities of ingredients (spirits, juices, syrups etc.), and using a jigger will ensure you use the right proportions of each, making the most of their flavour and creating the tastiest drink possible.
Cocktail shaker: These are used to combine and dilute your ingredients by shaking them up with ice cubes. They're especially important for any cocktails that include citrus or other fruit juices, syrups, cream liqueurs or sour mixes, as these liquids need a little extra help in marrying their flavours together. Gin sours and rum punches are perfect for making in a cocktail shaker. Make sure you use a Hawthorne strainer when pouring your concoction into your glass, which will stop any small bits of ice or fruit from going into your serve.
Mixing jug and bar spoon: For cocktails that don't need shaking, a mixing jug and bar spoon is the perfect way to expertly judge your dilution and flavour combinations. 'Stirred down' cocktails like a negroni are best made with a mixing jug and bar spoon to ensure maximum taste. Make sure you use a julep strainer this time, which will catch your ice cubes, before serving over fresh ice. Bar spoons are also great for any 'built' serves, like a gin and tonic – simply give your G&T a quick stir before serving to marry all those wonderful flavours and aromas.
Ice tongs: A good set of ice tongs look great on a home bar, and give you control when carefully placing your ice (and garnish) in a glass.
Bottle opener: Don't underestimate the power of a decent bottle opener – a good looking one is a must-have for any home bar.
Visit SalcombeGin.com
Tom Bronock, The Cocktail Service
The Flavour Blaster: This is the new kid on the mixology block. It's an innovative piece of cocktail equipment that allows bartenders to make edible bubbles, flavoured mist and smoke clouds. These flavoured bubbles sit on top of drinks and are easily popped to release a scented mist, that smells beautiful and infuses flavour into cocktails. It's is not cheap, but we've not seen anything as fun as this since dry ice had its heyday in bars.  
Visit TheCocktailService.co.uk
Salvo Russo, Head of Wine, Heliot Steak House
Baby weaning food moulds: These are great for making large ice cubes.
A decent blender: Such as a Nutribullet. You can use them for smoothies and sauces, but they're also perfect for making frozen cocktails.
Stainless steel straws: These are reusable, so better for the environment and also great for outdoor cocktail parties.
Milk frother: Great for quickly frothing up your morning coffee, or your whisky sour. 
Dehydrating machine: Keen cocktail connoisseurs might consider investing in one of these. They make it easy to bulk prep your cocktail garnishes – such as dehydrated fruit slices – and store in a jar for quick cocktails. I also always have jars of maraschino cherries and stuffed olives in the cupboard for classic, easy garnishes which also add flavour to your serves.
Stemless wine glasses: My glass of choice for cocktails at home – you only need to buy one set and can then use them for anything from wine to cocktails and spritzes. 
Visit HippodromeCasino.com
David Seear, Devon Rum Co 
Muddler: This tool helps release the flavours of your cocktail ingredients. It's essential for making a mojito or old fashioned and is used to crush (or muddle) herbs, mint, spices and fruits. Typically made of a rounded hardwood, a muddler can even be used to crack ice to help add a finishing touch to your cocktail. 
Visit DevonRumCompany.com
Ben Maguire, HMS Spirits
Spirit measure: While it is possible to roughly gauge quantities, to gain consistency and follow recipes, it's vital to invest in measures for your spirits.
Strainer set: For nearly all cocktails, whether shaken or stirred, chances are they'll need to be strained into the glass. As a starting point, I would suggest a julep strainer and a fine strainer; these will ensure every drink you make will be free from bits, pips and ice shards.  
Mexican elbow: Lots of cocktails require the use of lemon or lime juice, and this tool will get the juice out quickly and efficiently. Cheap ones will snap, so invest in a heavy-duty alloy one.
Visit HMSSpirits.com
 Shop our edit of expert-approved bar gadgets below...
DISCLAIMER: We endeavour to always credit the correct original source of every image we use. If you think a credit may be incorrect, please contact us at info@sheerluxe.com.