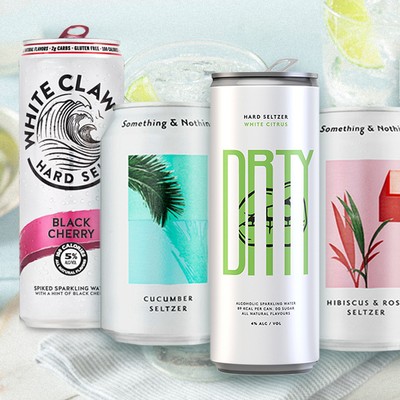 Hard Seltzers – The New Drink To Know

Hard seltzers are now a mainstay in America, with over 80m cans sold there in the last year. And like most good things, they're now also available in the UK. From US original White Claw to a selection of cool new cans from the likes of Chase Distillery and London Fields, here's everything you need to know and the best ones to try…

What Is Hard Seltzer?
A new contender in the ready-to-drink market, hard seltzer is simply alcohol-infused sparkling water. Usually served in cans, the drink contains carbonated water, alcohol – traditionally vodka – and fruit flavourings. Hard seltzers aren't as sweet as you might expect from their flavour combinations, which often contain berries or passionfruit. Instead, they tend to be pleasantly fruity and refreshing rather than overly sugary.
How Does It Compare To Wine Or G&Ts?
For a start, the alcohol by volume (ABV) is much lower – on average, a hard seltzer comes in at 5%, compared to 13% for white wine and 37.5% for gin and tonic. And when it comes to calories, most cans of hard seltzers contain fewer than 100 calories, whereas a medium glass of rosé has 147 calories and a double G&T has around 149 calories (a double gin and slim, however, is more like 115 calories).
What Are The Benefits?
Most of the newcomers to the UK are low on sugar and filled with pressed natural fruit rather than artificial flavourings. The low ABV is also a real draw, making them a light option if you don't fancy having a big night. Finally, their low-cal, no-carb credentials make these a good choice for those wanting something lighter. Hard seltzers are also naturally vegan and gluten free.
Two Brooks
Hard seltzer is an alcoholic version of sparkling water, and a popular alternative to higher-calorie beer or cocktails. This year, brother and sister Fabio and Francesca launched Two Brooks with three distinct flavours: Passion Star, Mango Hi-Ball and Lime Cooler. With 4% alcohol, each Two Brooks recipe is made from 100% natural ingredients, with zero added sugar.
Visit TwoBrooks.co.uk
Kopparberg Hard Seltzer
The newest drink from Kopparberg is a 5% ABV alcohol-infused sparkling water with a classic fruity Kopparberg taste. The drink has 93 calories, is carb and gluten free, and vegan friendly. It's currently available in three variants: mixed berries, black cherry and passionfruit. Each of them is best served ice cold and straight from the can, or in a tall glass over mountains of ice with a fruit garnish.
Visit Kopparberg.co.uk
DRTY Drinks
DRTY has crafted a pink variant of its hard seltzer and dubbed it Raspberry Rosé. Made with raspberries, hibiscus and rose water, the fruit is initially fermented to make the alcohol, then added to sparkling water, before more fruit is added. All canned up at 4% ABV, this floral, fruity expression is picnic ready. Its second flavour, White Citrus, has notes of grapefruit and lime.
Visit DrtyDrinks.com
London Fields WTF Is Hard Seltzer?
London Fields Brewery had no clue what a hard seltzer was supposed to taste like when the team decided to create one themselves, using fresh guava and infused pinot noir grapes. This fizzy fermented beverage –made with champagne yeast – has a light fruity body and a dry finish with a touch of tannin. We love the modern cans too.
White Claw
US seltzer pioneer White Claw has landed in the UK. Its drinks are made with sparkling water, triple-distilled spirit and a hint of natural fruit flavour. With only 95 calories per can and available in raspberry, black cherry and lime, White Claw has an ABV of 4.5% and contains no artificial sweeteners. 
Visit WhiteClaw.com
Bodega Bay
Bodega Bay is made from three ingredients: CraftedClear alcohol, sparkling water and natural fruit extracts. The result is a low-calorie, low-sugar, vegan and gluten-free drink available in two refreshing expressions: elderflower with lemon and mint; and apple with ginger and açai berry. Both flavours are 4% ABV and contain a single unit of alcohol per can.
Visit BodegaBay.co.uk
Something & Nothing
All of Something & Nothing's seltzers have been created to work as mixers, delivering delicious, low-calorie long drinks with premium spirits. Each can contains grape juice and lemon juice to give balance and a full flavour. The seltzers are naturally low in calories (12 cals per 100ml) and luxe flavours on offer include yuzu, cucumber, and rose and hibiscus. 
Visit SomethingAndNothing.co
Served
Served seltzer launches exclusively in Selfridges this week. Its made by infusing fresh wonky fruit with natural spring water and four-times distilled ServedPure gluten-free alcohol. Made in the UK, the brand's current flavours include lime and raspberry, with mixed cases available.
Visit ServedDrinks.co.uk
Chase's Gin Seltzer
Chase Distillery has branched into this new drinks category with a range of ready-to-drink gin seltzers. The collection blends Chase Gin and sparkling water sourced on the family farm, with no artificial ingredients. Natural botanical flavours include pink grapefruit and pomelo, Seville orange, London dry and lemon. Each 250ml can comes in at just 89 calories.
Visit ChaseDistillery.co.uk
Long Shot
Long Shot's two founders noticed something brewing in the drinks world as early as last year. After some careful crafting, they came up with Long Shot, a can that's low calorie, all-natural – using only natural fruit juices with no additives or sugars. Of the three flavours, which include grapefruit, and raspberry and blackcurrant, we love the strawberry and rhubarb best.
Visit LongShotDrinks.co.uk
Clean & Press
Brewdog-owned Clean & Press makes its hard seltzers with craft Rogue Wave vodka from the group's Aberdeen distillery and an array of punchy natural fruit flavours. Available in three flavours – cactus and lime, crushed black cherry, and white peach and mango – each can is 5% ABV, has 90 calories and contains no carbs and no sugar.
Visit Brewdog.com
58 Gin Hard Seltzer
58 Gin has added all-natural fizzy water to its spirit to create a premium gin-based hard seltzer. Available in raspberry and pink grapefruit flavours, 58 Gin Hard Seltzer contains 67 calories per can, making it a guilt-free option for the park or garden. Made from 58 Gin's London dry gin, natural fruit flavours and pure sparkling waters, these drinks contain nothing artificial, and no added sugars or sweeteners.
Visit 58Gin.com
Berczy
Berczy is an indie start-up which specialises in low-calorie alcoholic sparkling waters. The brand is all about natural ingredients, and the team uses fermented sugar beet alcohol (similar to sugar cane), pure sparkling water and fruit flavours from real fruit to make its Lemon & Lime and Peach & Raspberry drinks. Everything is made in the UK, all cans and boxes are recyclable and the company gives 5% of its profits to environmental charities.
 
Visit BerczyDrinks.com
Dalston's Seltzer
Using real fruit, Dalston's Soda Co makes soft drinks that are just as refreshing – not to mention better for you – as the average fizzy drink. Now it's created seltzers in three flavours: rhubarb, elderflower and cherry. Of the trio, we love the cherry variety. At only 40 calories, it contains a blend of sweet and sour cherry juices, distilled botanicals and sparkling water for a clean but complex soft drink.
Visit Dalstons.com
DISCLAIMER: We endeavour to always credit the correct original source of every image we use. If you think a credit may be incorrect, please contact us at info@sheerluxe.com.