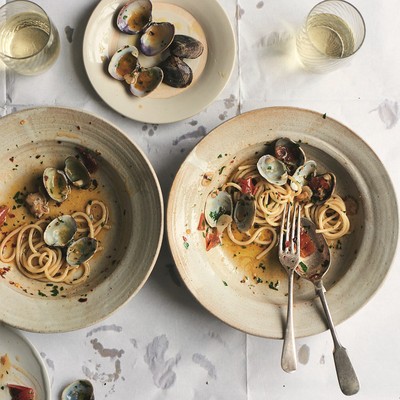 Easy, Comforting Recipes To Make This Autumn

Chef and food writer Gizzi Erskine has had a busy 2020. First, she launched a residency at The Nitery at St Martins' Lane Hotel, before creating a weekly Instagram series with Professor Green – Giz & Green – in lockdown, which saw the pair recreate takeaways at home ahead of showcasing the recipes at a popular Shoreditch pop-up. Now the face of Agent Provocateur, she also has a new cookbook focused on sustainable, yet delicious, home cooking. Here she shares her favourite simple suppers for autumn.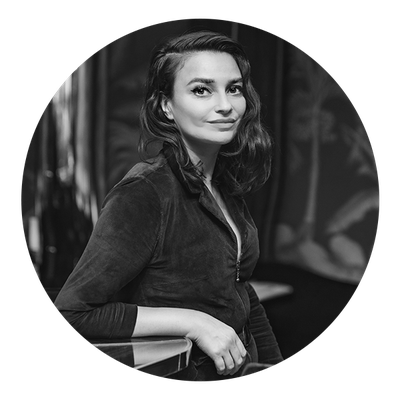 Most people's mode of living involves excessive calorie consumption. Accepting that change starts at home can be overwhelming, devastating and depressing for anyone with any joie de vivre, but it doesn't mean we have to live a staunch, colourless or bland life. If anything, it's the opposite: when we look into food production and the reality of what it means to eat sustainably, we are offered a pretty bountiful plate.
There are some incredible food producers in this country, and our seasons deliver an abundance of wonderful ingredients. Yes, eating in a 'restorative' way takes consideration, forming new habits, and stepping away from conveniences, but it can also be creative, fun and delicious. 
The recipes below are full of practical steps and advice that can help push you towards living and eating more sustainably. By looking at the real carbon footprint of food and the reality of what we need to do to support our environment, our agricultural industry and the health of our bodies, you can use this information to create accessible and attainable recipes that are a celebration of life.
 
Inspired? Here are three autumnal recipes of Gizzi's to try at home…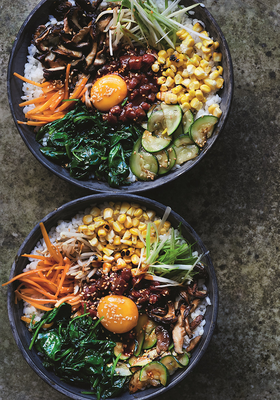 Bibimbap
While working as a chef in NYC, I'd hit Koreatown in my downtime with my mates, drink ice-cold beers and eat Korean fried chicken. Koreatown was open late, and you could go from restaurant to karaoke bar eating and drinking yourself into a stupor. I fell in love with Korean food there, and fell in love with the culture five years later when I first visited Korea, later moving there to film my TV show Seoul Food. I'm certain that the popular 'buddha bowl' has Korean culinary heritage, as it's similar to a dish called 'bibimbap'. In a bibimbap bowl, rice is topped with vegetables, meat (optional), egg yolk and a spicy sauce. It is quite refined – you can't say that about a lot of Korean food – and is cooked in a searing hot cast-iron pot which is oiled before adding the rice; the vegetables and egg (and meat, if using) are swiftly put on top. By the time the rice gets to the table it has a fantastic caramelised crust that you peel away from the pot and you stir-fry everything at the table. It's real theatre. Fear not if you don't have cast-iron pots: you can eat it like Hawaiian poke, in a bowl with hot rice. Bibimbap is delicious, healthy and a great way to tackle a fridge forage. I've used traditional toppings, but do play around with seafood, tofu and different veg: the only mainstays are the rice, egg yolk and sauce.
Ingredients
1

courgette, thinly sliced
1

large carrot, finely julienned
6

spring onions, shredded
100g

of shiitake mushrooms, thinly sliced
300g

of rump steak, finely chopped
Sea salt and freshly ground black pepper
1

tbsp

of black or white toasted sesame seeds, to serve
For the sauce:

2

tbsp

of Korean or Japanese soy sauce
1

tbsp

of rice wine vinegar
Method
Step 1
Put the rice and water in a large saucepan with a good pinch of salt. Cover, bring to a simmer and cook for 12 minutes. Take off the heat and steam (lid on) for 10 minutes.
Step 2
Gently heat the sauce ingredients in a small saucepan until emulsified. Set aside.
Step 3
Mix together the sesame and sunflower oils. Heat a large wok or frying pan over a high heat, add 1 tablespoon of the oil mix and add half the spinach with a pinch of salt. Cook briefly until wilted, then remove and drain on kitchen paper, squeezing out any liquid. Repeat with the remaining spinach. Add another splash of oil and briefly fry the courgette until golden. Remove and set aside. Repeat this process with the carrot, beansprouts, spring onions and shiitake mushrooms. Rub the sweetcorn cob with oil, salt and pepper, then brown in the pan until the kernels start to char.
Step 4
Heat two stone bibimbap dishes or a wok on the hob until smoking hot. Place the stone dishes on a heatproof surface (if using). Brush the insides of the dishes (or hot wok) with the remaining oil and add the rice. Group vegetables around the edge, put the raw meat in the middle, then the egg yolks and 2 tablespoons of the sauce for each serving. Top with sesame seeds. Mix the sauce into the rice at the table with a spoon.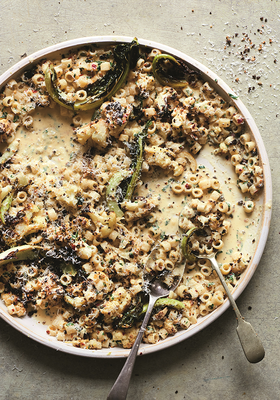 Roasted Cauliflower, Preserved Lemon & Chilli Pasta
Why have I never put cauliflower in any pasta dishes before? It's not like it doesn't make sense to put cauliflower cheese with pasta? The first time I saw anyone do it in a way that piqued my interest was when cookery writer Rosie Birkett made this lovely roasted cauliflower pasta with preserved lemons. I have messed around with a few different recipes, but there's something in the way the salty, sour and bitter lemons react with the cauliflower and acidulated, silky cheese sauce that give it the adult flare that makes it so special. I roast cauliflower leaves for this dish: they are so sweet and delicious, and have a satisfying texture.
Ingredients
1

medium cauliflower, cut into florets, and the inner leaves
100ml

of olive oil, plus

1

tbsp

for roasting the cauliflower
40g

of rye bread, blitzed into breadcrumbs
250g

of ditali pasta, macaroni, mezzi rigatoni or orecchiette
6

garlic cloves, finely chopped
Large handful of flat-leaf parsley, leaves finely chopped
2

preserved lemons, pips removed and skin thinly sliced
Sea salt and freshly ground black pepper
Method
Step 1
Preheat the oven as hot as it can go (260°C/240°C Fan/Gas 10).
Step 2
Spread the cauliflower florets and leaves on a baking tray and drizzle over the tablespoon of olive oil. Season with a teaspoon of salt, mix with your hands so that all the cauliflower is evenly coated in the oil and place in the roasting-hot oven for 15 minutes, until cooked through and nicely browned, even slightly charred.
Step 3
Once the cauliflower's in the oven, heat half the oil in a small frying pan over a medium heat. Add the breadcrumbs and fry for about 4 minutes until crisp and golden, then transfer to kitchen paper to drain off excess oil and keep them crispy. Set aside.
Step 4
Cook the pasta in a saucepan of well-salted boiling water for a couple of minutes less than the time stated on the packet (you will finish cooking it with the sauce).
Step 5
While the pasta's cooking, heat the remaining oil in a separate frying pan with the garlic and chilli and cook gently for 5 minutes, until softened. Set aside.
Step 6
Drain the pasta, reserving 100ml of the pasta water, and return the pasta to the pan.
Step 7
Whisk the egg yolks, cream and parmesan together in a bowl. Place the pasta pan back over a medium heat and stir in the egg mixture, followed by the garlic and chilli oil, parsley, preserved lemon, lemon zest and a generous pinch of black pepper. Mix well over the heat for a couple of minutes until the sauce thickens slightly, check for seasoning and stir through the roasted cauliflower. Serve immediately, with the breadcrumbs sprinkled on top and, if you're like me, an extra grating of Parmesan.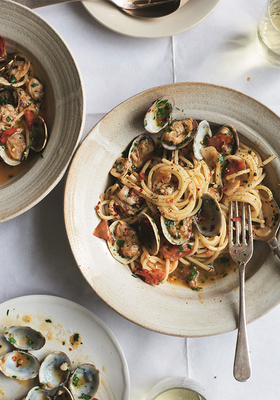 Vongole
Clams are my favourite food. Some people can sit and eat ridiculous volumes of oysters (I am also one of those people), and I feel the same about clams. Winey, garlicky clams, with buttery bread to mop up the juices in a hot country like Spain or Portugal and a freezing glass of light white wine are one of the biggest eating pleasures of all. But in Italy you get to have it with the other best food of them all (I may have to broaden my idea of what my actual 'best food' is here) – spaghetti. Here's the deal with vongole. I use four techniques to ensure maximum flavour; first, I open the clams early in too much wine, second, I use way too much garlic (alarming amounts, but go with it, trust me), third, I don't cook the pasta fully, so it finishes cooking in the sauce, and fourth, I use the starchy pasta water to emulsify the sauce.
Ingredients
1kg

of clams, cleaned and rinsed for about

10

minutes in cold water
1

head of garlic, cloves peeled and thinly sliced
2

dried chillies, crushed
3

vine-ripened tomatoes, chopped bunch of flat-leaf parsley, finely chopped
Sea salt and freshly ground black pepper
Method
Step 1
Bring a large saucepan of heavily salted water to the boil. Add the spaghetti and cook for a minute or two less than the suggested time on the packet so it's al dente and not quite cooked (you will finish cooking the pasta at the end). Get the clams on while the spaghetti is cooking, and when you drain the pasta be sure to save 2-3 ladles of the cooking water as you will add this to the sauce later.
Step 2
Put a large, dry saucepan over a high heat and let it get really hot. Throw in the clams with the wine and quickly cover to steam the clams for 1-2 minutes, until they have opened. Strain the clams through a sieve (discarding any that remain closed, just as you do with mussels), reserving the liquor in a bowl underneath. Pick the clam meat out of about 80% of the shells, and save the other 20% to serve.
Step 3
Meanwhile, heat the oil in a large frying pan or wok over a medium heat, add the sliced garlic and crushed chillies and fry for 2-3 minutes until the garlic starts to pick up a little colour. Next, add the chopped tomatoes and fry for a few minutes until they start to break down into the oil. Now pour in the winey clam stock, being careful not to pour in the last bit at the bottom as this can often be a bit sandy or gritty. Whack the heat right up and allow it to reduce to a soupy sauce, then add the spaghetti, the reserved pasta cooking water (start with 2 ladles and add another if you need to), the picked clams and the clams still in their shells.
Step 4
Stir through the parsley and lemon juice and allow the whole lot to boil for 1-2 minutes to finish off cooking the pasta and allow it to absorb the sauce. Season with a good pinch of salt and some freshly ground pepper and serve immediately.
DISCLAIMER: We endeavour to always credit the correct original source of every image we use. If you think a credit may be incorrect, please contact us at info@sheerluxe.com.