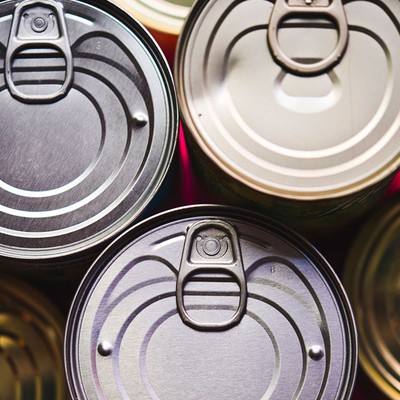 How To Cook Great Meals Using Tin Cans

Our kitchen cupboards are full of tins – tomatoes, chickpeas, tuna, kidney beans, sardines, sweetcorn, even figs – most of which are used as an addition to a recipe, but never the main ingredient. Take One Tin is a creative celebration of tinned ingredients, offering 80 recipes that take one tin and make it the main focus of the meal. Here, Lola Milne shares her favourite canned ingredients, plus seven recipes to try…

UPDATED JANUARY 2021
Tin cans are such a wonderful, everyday thing. We all have them stashed in our cupboards and use them often, perhaps even daily. They're a brilliant way to eat fruit and veg that aren't in season and that haven't been flown thousands of miles. 
My favourite store-cupboard essential would be all of the tins of different lentils, they're so good for using as a base in pasta sauces, soups, salads or dips. I also use jarred sauerkraut a lot – just bung it under some strong cheddar for elevated cheese on toast or in a salad to bring a little sharpness.
Premium brands aren't better than basics. But I do think that when it comes to pulses, a little investment is 100% worth it. Generally organic tinned pulses taste of more and are a bit softer, but the cheaper ones are still decent.
If you're looking to spend a little more on certain ingredients, I would say tinned chickpeas, black beans and kidney beans are the place to start. Also, buy the nicest tuna you can afford and definitely invest in lump crab over shredded. 
Tin cans are such a wonderful, everyday thing.
You can use tins at breakfast by making sweetcorn fritters. At weekends, I like to serve them with a crispy fried egg, dollop of yogurt and some chutney. 
If you're after an office-friendly lunch, a haricot bean and tuna salad is a really good one for throwing together the night before. A punchy mustardy dressing is delicious with tuna, soft beans and the crunch of cucumber.
For a Sunday lunch, a lentil, cheese and onion puff pie is great for feeding a crowd. Its super oozy and unctuous and easy to scale up if you need to. I like serving it with a big green salad tossed in an anchovy dressing.
When it comes to a crowd-pleasing dessert I'm very fond of a tinned pear and prune cobbler. It's sweet and sticky with a warming kick from some stemmed ginger.
The most surprising tinned ingredient you'll find is probably figs. Figs in tins are absolutely delicious.
 
Feeling inspired? Here are seven recipes from Lola's new book…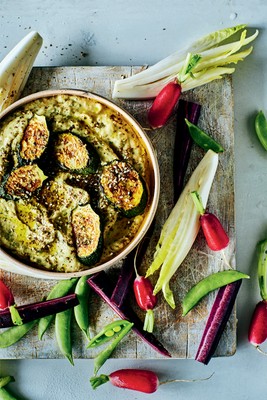 Roasted Courgette & Cannellini Bean Dip
This is quite like hummus and it's delicious eaten warm or cold with soft flatbreads or veg crudités. Za'atar is magic – try sprinkling it on grilled fish, roasted veggies or salads.
Ingredients
4

courgettes, sliced into chunky rounds
4

tbsp

of olive oil, plus extra for drizzling
400g

tin of cannellini beans, drained and rinsed
​1

tsp

of za'atar spice mix
Method
Step 1
Preheat the oven to 220°C. Spread the courgettes over two baking trays, drizzle with half the olive oil, season and then roast for 20-25 minutes until golden and tender. The undersides seem to brown much more quickly, so check after about 10-15 minutes and flip if necessary.
Step 2
Blend two-thirds of the roasted courgettes with the remaining olive oil and the lemon juice, garlic, tahini and cannellini beans until smooth, then season. Tip into a bowl and top with the remaining courgettes. Sprinkle over the za'atar and drizzle with extra olive oil.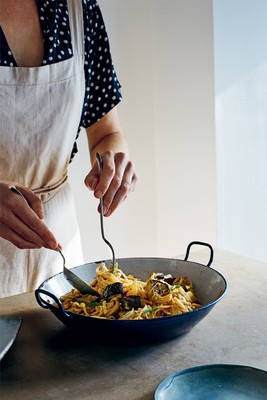 Bamboo Shoot & Aubergine Noodles
A deliciously creamy, spicy and sweet bowl of salvation. The texture of aubergine when fried is a thing of beauty – buttery soft and silky. In this recipe, it's complemented by the crunch of bamboo shoots.
Ingredients
FOR THE SATAY SAUCE:

2

tbsp

of crunchy peanut butter
1

-2

tbsp

of Chinese chilli oil
​2 garlic cloves, finely chopped
2

tbsp

of light soy sauce
​2.5cm of piece of fresh ginger, peeled and grated
1

tbsp

of rice wine vinegar
FOR THE NOODLES:

100g

of flat rice noodles
2

tbsp

of flavourless oil (such as sunflower)
​1 aubergine, cut into

2

.5cm chunks
225g

tin of bamboo shoots, drained and roughly sliced
​3 spring onions, sliced, whites and greens separated
Method
Step 1
Start by mixing everything for the sauce together along with 150ml of warm water, then set aside.
Step 2
Boil the noodles for 3 minutes, or according to the pack instructions, then drain and refresh under cold water and set aside.
Step 3
In a wok or large frying pan, heat the oil over a medium-high heat, then add the aubergine and fry, stirring often, until tender and golden (about 5-10 minutes). Next, add the bamboo shoots and spring onion whites, fry for a further 2 minutes, then add the noodles and satay sauce, stirring to coat.
Step 4
Pile on to plates and top with the spring onion greens.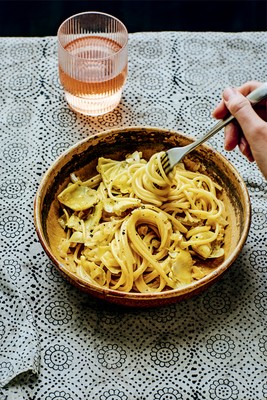 Artichoke Carbonara
Carbonara is such a quick supper. It is rich and creamy (without any cream) thanks to the egg yolks and mountains of cheese. Artichokes bring a slight citrus flavour that balances the richness of the sauce.
Ingredients
​1 large egg, plus

2

yolks
​50g pf parmesan, finely grated, plus extra to serve
​400g tin of artichoke hearts, drained, rinsed and roughly torn
Method
Step 1
Heat the olive oil in a large frying pan over a medium heat. Once hot, add the onion, turn the heat down and sweat gently for 20 minutes.
Step 2
Meanwhile, beat together the egg, extra yolks, nutmeg and cheese, then season (be generous with the black pepper) and set aside.

Step 3
Add the garlic to the pan and fry for 1 minute. Next, add the artichokes, cover with a lid and heat gently while you cook the spaghetti.
Step 4
Boil the spaghetti in a pan of salted water according to the pack instructions or until tender, scoop out a mug of cooking water, then drain.
Step 5
Remove the frying pan from the heat and immediately tip in the spaghetti. Toss in the sauce and then pour in the egg and cheese mixture. Working quickly, toss the pasta in the mixture, taking care to not allow the eggs to sit on the base of the pan (they may scramble). Once the pasta is coated, add a little of the reserved cooking water, if needed, to create a glossy sauce.
Step 6
Mound onto plates and top with extra parmesan and black pepper.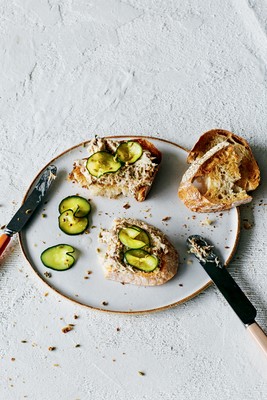 Smoked Mackerel Pâté & Quick Pickles
This quick and simple pâté is perfect as a starter or can be boxed up and taken for lunch. Try adding a little finely chopped shallot or onion to the quick pickles for added punch.
Ingredients
FOR THE QUICK PICKLES:

1

⁄2 large cucumber, sliced into rounds
​2

tbsp

of white wine vinegar
1

⁄2

tsp

of coriander seeds, lightly crushed
​1⁄2

tsp

of fennel seeds, lightly crushed

2

tbsp

of caster sugar
FOR THE PÂTÉ:

2

×

110g

tins of smoked mackerel fillets in oil, drained
​1⁄2

tsp

of fennel seeds, lightly crushed sea salt and freshly ground black pepper
Method
Step 1
Start by making the quick pickles: place the cucumber in a sieve and sprinkle with the salt. Leave to stand over the sink (or a bowl) for 20 minutes. Squeeze to get rid of any excess moisture and pat dry.
Step 2
Meanwhile, in a bowl, mix together the vinegar, coriander seeds, half the fennel seeds and all the sugar, stirring until the sugar has dissolved.
Step 3
Submerge the cucumber slices. They can be eaten straight away, or will keep, covered, in the fridge for a few days.
Step 4
To make the pâté, mash the mackerel fillets with the crème fraîche, lemon juice and fennel seeds. Season and enjoy spread on toast topped with the quick pickles.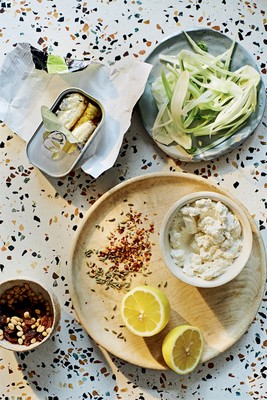 Sicilian Sardines On Toast
Taking inspiration from the flavours of Sicily and the very British dish of Welsh rarebit, this speedy supper was born.
Ingredients
2

×

120g

tins of sardines in oil, drained
​Zest of

1

lemon (and then cut lemon into wedges)
35g

of pine nuts, toasted and chopped
​35g of sultanas, chopped
Method
Step 1
Preheat your grill to high.
Step 2
In a large bowl, using a fork, mash the sardines with the egg yolk, lemon zest, chilli flakes, fennel seeds, pine nuts, sultanas and ricotta, then season.
Step 3
Lightly toast your bread and then spread with the sardine mixture. Place on a baking tray and grill until a golden crust forms. Serve with the lemon wedges.
Step 4
TIP: Try adding fennel: very finely slice a fennel bulb, toss with a little olive oil and lemon juice, season and place on top of the toast when it comes out from under the grill.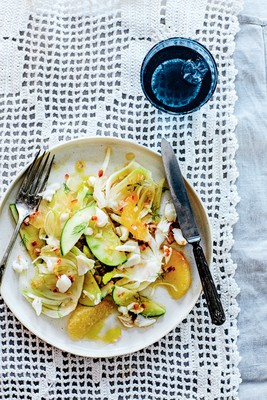 Apple, Fennel & Crab Salad
This salad is light, crisp, sweet and sharp, with a spicy kick from the chilli and ginger. It makes a lovely light supper for summer evenings. 
Ingredients
1

tsp

of grated fresh ginger
1

shallot, finely chopped
1

red chilli, deseeded and finely chopped
1

fennel bulb, very thinly sliced
1

pink grapefruit, peeled and segmented
1

granny smith apple, quartered, cored and thinly sliced
170g

tin of lump crab meat, drained
Method
Step 1
To make the dressing, mix together the ginger, shallot, vinegar, olive oil and chilli, then season.
Step 2
Tip the fennel, grapefruit and apple into a large bowl, add the dressing and toss to coat.
Step 3
Divide between two plates and top each with some crab.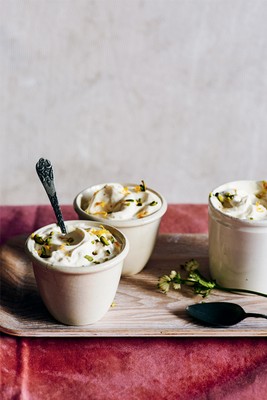 Fig & Orange Blossom Fool
This very simple pudding is inspired by the sticky baklava I get from the Turkish shop at the end of my road: rich, floral and thoroughly addictive.
Ingredients
1

drop of orange blossom water (or the zest of

1

⁄2 orange, or both)
425g

tin of figs in syrup, drained and roughly chopped and

2

tbsp

of syrup reserved
2

tbsp

of toasted unsalted pistachios, roughly chopped
Method
Step 1
In a bowl, whip the cream to soft peaks, then gently fold in the yogurt, orange blossom water, figs and reserved syrup.
Step 2
Divide the mixture between four tumblers or ramekins and top with the pistachios just before serving. Sprinkle over a little extra orange zest, if you like.