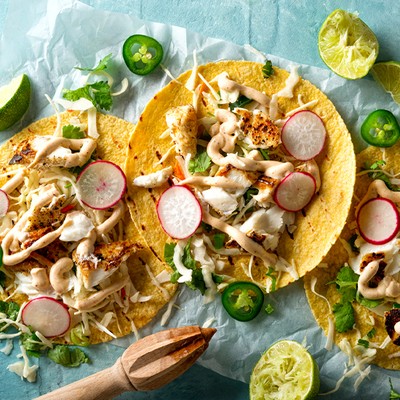 How To Cook Mexican Food At Home

If you love Mexican food, but it tends to be something you eat out rather than making yourself, we've got you covered. Enlisting the help of Wahaca founder Thomasina Miers, she talks us through the essential ingredients to stock up on and what to do with them to make your favourite dishes at home...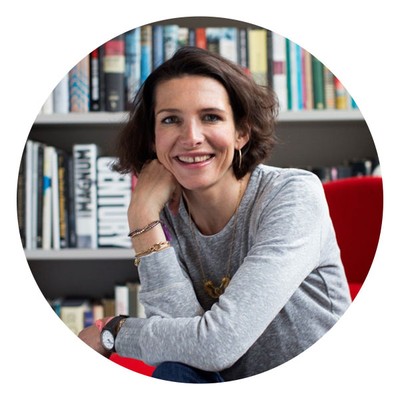 What are the health benefits of a Mexican diet?
The original Mexican diet was a peasant diet based on whole grains and pulses, such as amaranth, a quinoa-like grain; corn; and multiple varieties of beans. The country's huge biodiversity gave the cuisine the added deliciousness from its huge range of fruits, vegetables and herbs: think courgettes, pumpkins, tomatoes, avocadoes, wild leaves, 200 varieties of chillies, spices, tropical fruit, plentiful fish and seafood from the extensive coastline. It was an incredibly healthy, rich diet.
What are the cupboard staples for a home cook who's new to Mexican cooking?
I think a handful of spices are essential, as you can impart so much flavour by adding these to vegetables or meat. Allspice, cloves, cinnamon and cumin are the go-to ones, although I sometimes use anise as well. Beyond that, I would visit an online retailer like MexGrocer or Cool Chile Co for dried chillies and herbs: ancho, chipotle and chile de arbol are my favourites, while dried oregano and hoja santa also give you so much aromatic flavour.
What can you do with each ingredient?
Spices should be ground and put in sautéed corn, meat marinades, slow-cooked dishes, and even puddings, especially the cinnamon. I use chillis all the time, whether blitzing to a fine powder to use as meat rubs or rehydrating in hot water and pounding with herbs, garlic and spices to rub over cauliflower, baste onto aubergine or any other seasonal ingredient you are cooking.
Where are the best places to stock up on these ingredients?
MexGrocer and Cool Chilli Co are great, but Ocado is also a great place, as it stocks chillies from some of the smaller suppliers.
Are there any home appliances or tools that help?
A pestle and mortar is a must. And a good heavy flat griddle pan for toasting spices and tortillas. I also could not do without my Vitamix upright blender, which is brilliant at blending moles (sauces) from ground nuts and seeds, chillies and toasted spices.
Which cookbooks do you recommend?
I love Enrique Olvera's Cooking at Home cookbook and Alex Stupak's classic taco book is wonderful but for starting from scratch my Mexican Food Made Simple is still a really clear way into this fascinating cuisine. Wahaca at Home has all the Wahaca favourites which our customers love cooking themselves. But I would not be anywhere had I not started at the beginning with Diana Kennedy's encyclopaedic tomes on Mexican food. They are so insightful and a brilliant illustration of the diversity of the various cuisines of Mexico. She is a Mexican (but British) goddess.
Finally, where are your favourite places to eat Mexican food in the UK?
The cooking at the private member's club Annabel's is the best that I've had in this country, save for the supper clubs we've done with some of Mexico's really great chefs. I am very much looking forward to Santi Lastra to open up his new restaurant; he is a very inspired chef who really cares about where his ingredients come from.
Inspired? Here are four recipes to try at home…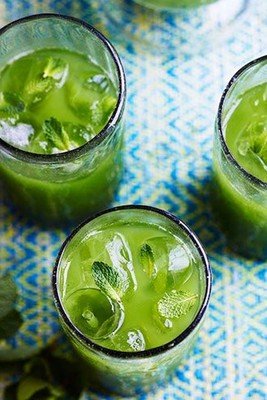 Cucumber Agua Fresca
This 'fresh water' drink, created to quench your thirst in the hot Mexican sunshine and rehydrate the body, is served at many cantina tables in Mexico. Made from water, cucumber and sugar, it's intensely refreshing. 
INGREDIENTS
4 English cucumbers or, better still, 8 short, fat Lebanese ones, which have much more flavour

½ serrano chilli or other green chilli, finely chopped

Juice of 5 limes

4 tbsp of agave syrup

1lt of water

Handful of mint leaves, plus extra to garnish

Pinch of salt
METHOD
Whiz all the ingredients in a blender, then strain through a fine sieve lined with muslin. 

Pour into 3 tumblers and serve with plenty of ice and sprigs of mint.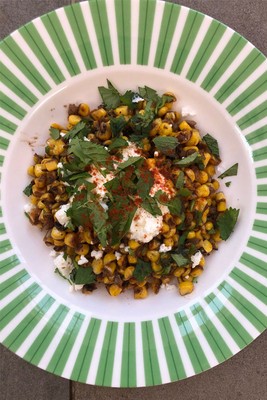 Warm Corn Salad
This warm salad's a perfect way to turn Mexico's favourite grain into a light summer lunch with just the right amount of chilli kick to power you through the rest of the day with a big grin on your face.
INGREDIENTS
4 corn on the cob

A slug of olive oil and a knob of butter

1 onion, finely chopped

1 green chilli, finely chopped

2 cloves of garlic, chopped

A few pinches of allspice

A few pinches of cinnamon

Maldon salt and freshly ground pepper

A handful of chopped coriander and mint

The juice of 1-2 limes
To serve:
Warm flatbread

A pinch of chilli powder

Grated pecorino or parmesan

Sour cream
METHOD 
Sit the cobs up in a bowl and scrape a knife down along the cob at a 45-degree angle to shave off the kernels into the bowl.

Heat the oil and butter in a pan over a medium heat and when it is gently sizzling add the onion, corn and chilli. Cook for at least 5 minutes or until the onion has turned translucent without colouring, before adding the garlic and allspice, salt and pepper. Turn up the heat and cook for another 5-10 minutes until the corn starts gently taking on some colour and caramelising. 

Pour over the lime juice, scatter with the fresh herbs and serve on small plates with generous spoonfuls of sour cream, a little grated cheese and a pinch of chilli. Eat with warm flatbread.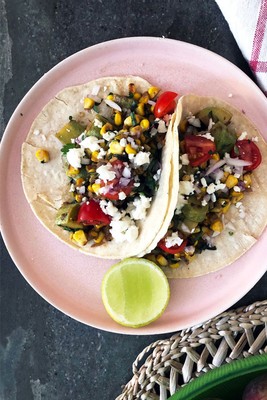 Summer Tacos With Courgette & Corn
This summery taco filling with lightly sautéed courgette and sweetcorn, masses of fresh summer herbs and a crumble of salty feta, is as simple as it is delicious, and a great way to use all the vegetables in season right now. As well as being the most delicious taco filling, it also makes a mean quesadilla.
INGREDIENTS
2 tbsp of olive or vegetable oil

2 small shallots, finely chopped

1 fat clove of garlic, chopped

2 corn kernels cut from a cob

1 green chilli, finely chopped

3-4 medium courgettes, cut into small dice

1 tbsp of chopped mint

1 tbsp of chopped chervil, tarragon or parsley

Juice of a lime

Feta, crumbled to serve

Tortillas, to serve
METHOD
Heat a heavy-bottomed frying pan and add the oil. When hot, add the shallot, corn, chilli and courgette. Fry, stirring all the time, until the vegetables are gently coloured on all sides and the onion is translucent. 

Now add the garlic and spices and sauté for another minute or two. Squeeze over the juice of half a lime, add half a cup of water and cover, allowing the courgette to seam in their own juices for another 3-4 minutes.

Stir in the chopped herbs (keeping a few back for garnish), squeeze over the remaining lime juice, and season to taste. 

Heat the tortillas in a dry pan, scoop in the filling, scatter over extra herbs, the crumbled feta and a little diced shallot and serve at once.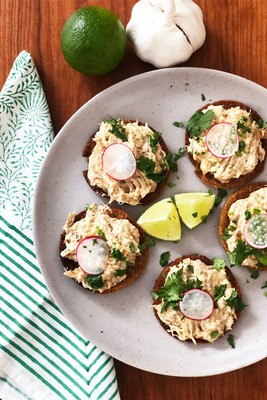 Smokey Mackerel & Sweet Garlic Tostadas
This light, fluffy, smokey mackerel is both delicious and incredibly healthy, giving you a good dose of the right omega oil and a delicious change from boring lunchtime sandwiches. It takes about 10 minutes to prepare from scratch if you already have the mojo made, but even the mojo is very little work. As well as these pitta tostadas (or crisp corn tortillas of course), you can use this deliciously garlicky, light mix to stuff inside baby gem leaves for a lighter bite, or fill a jacket potato, or put inside a hot quesadilla with a handful of rocket. 
INGREDIENTS 
For the mojo de ajo (salsa):
½ bulb of garlic

1 ancho chilli

1 chipotle chilli

3 tsp of thyme leaves

Salt

Vegetable oil
For the mackerel:
2 smoked mackerel fillets

3 pittas or baby gem lettuces leaves

4-5 tbsp of crème fraiche

2-3 tbsp of mojo de ajo (to taste)

1 lime
To serve:
A little chopped coriander leaf

Some sliced radish

Slices of avocado
METHOD
Pre-heat oven/grill to 220°C or high.

Start with the mojo de ajo salsa. Take your chillies and de-seed them. Add the de-seeded chillies to a dry frying pan and cook on a medium-high heat for 20 seconds each side. Once toasted, add to a jug and pour boiling water over the top to rehydrate them.

Next, peel and chop your garlic. Add about 1cm of oil to your pan and place on a medium heat. Once it begins to heat, add your garlic and turn the heat down as low as possible so that it doesn't burn. Cook for 10-20 minutes (depending on the heat of your hob), while adding your thyme and a pinch of salt to the pan. Once this is done, pour the water out of your chillies and replace it for the garlic oil. Take a hand blender and gently blitz it. Once you've made your mojo, it lasts for weeks in the fridge.

For the tostadas, cut open the pittas like a book and cut out two, 6-8cm sized circles from each half pitta. Arrange them on a baking tray and brush them with the mojo de ajo. Bake or grill for 5-10 minutes (depending on your oven and the thickness of the pittas), until golden brown and crisp.

Meanwhile, peel away the mackerel skin and break up the flesh with a fork. Mix in 2 tbsp of the mojo de ajo followed by the crème fraiche. Add the juice of half a lime and taste, checking to see if the mackerel needs a little salt and pepper.

Spread the mackerel over the tostadas and top with slices of radish and avocado and a sprinkling of coriander and serve with wedges of lime for liberal squeezing.

Visit Wahaca.co.uk
DISCLAIMER: We endeavour to always credit the correct original source of every image we use. If you think a credit may be incorrect, please contact us at info@sheerluxe.com.