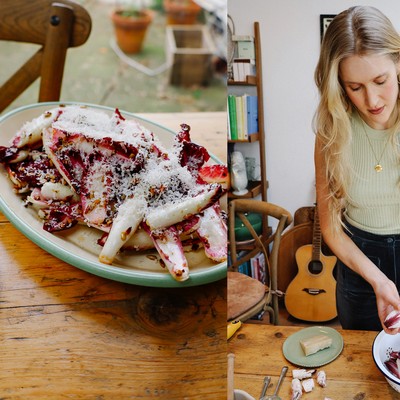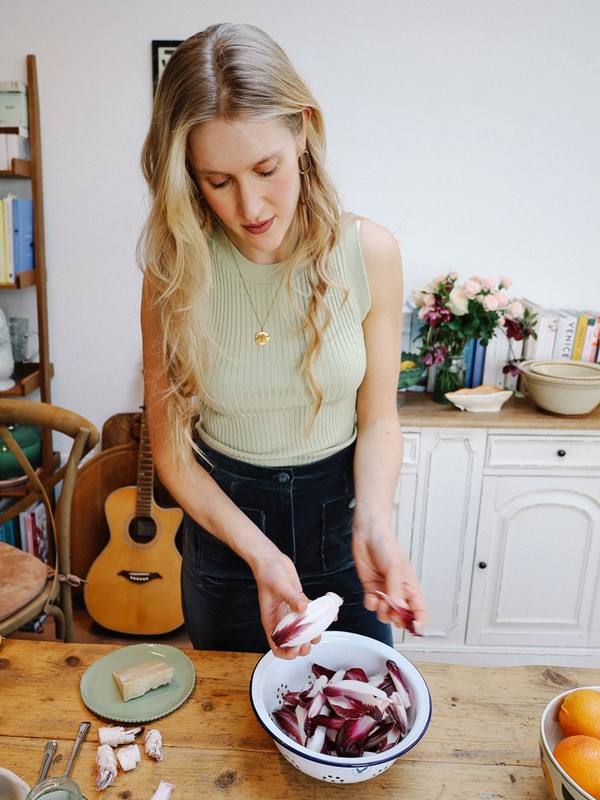 How To Entertain This Month – With Alexandra Dudley

Alexandra Dudley is a food columnist, cookbook author and host of the Come For Supper podcast. In this monthly column, she shares some of her most delicious entertaining recipes. This time, it's a spring-ready, one-tray chicken dish – plus a show-stopping ice-cream sundae.

By Alexandra Dudley
At the moment, I find myself leaning more towards one-tray dishes. Not only do they mean less washing up (always welcome) but I often find cooking vegetables, meat and fish this way makes for an even more delicious meal than if the ingredients were cooked on their own. A formula I tend to follow is a warm one-tray dish alongside a crunchy salad. I'll prep the dressing ahead of time and toss it all together just before sitting down.
Pudding this month is also deceptively simple – a rich, sticky hot fudge sauce that takes less than ten minutes to throw together and some good store-bought vanilla ice cream. You want the fudge sauce warm for this one, so my top tip is to measure out all your ingredients into the saucepan ahead of everyone arriving, so all you have to do is heat it up while someone scoops the ice-cream.
The warmer weather has me in spritz mode, too. I've been serving Lillet spritzes made with Lillet Blanc. Mix together equal parts Lillet Blanc with soda water and garnish with a slice of orange. I like to add a rosemary sprig too. The wine-based aperitif is very popular in France and the bottle is a chic addition to any alcohol station.
---
DISCOVER ALEXANDRA'S MENU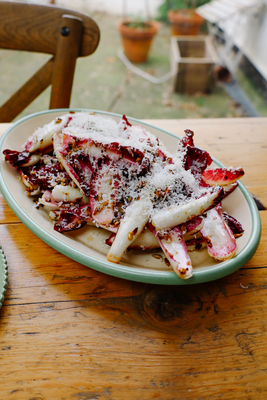 Crunchy Chicory & Seed Salad
A good salad is a crunchy one and this salad is all about the crunch. Lightly toasted coriander and fennel seeds add a wonderful boost of aromatic flavour to an otherwise simple vinaigrette. Red chicory looks great in this, but regular works just as well.
Ingredients
1

tsp

of whole coriander seeds
1

tbsp

of apple cider vinegar
30g

of grated grana padano or parmesan
Method
Step 1
Lightly toast the coriander and fennel seeds in a dry frying pan over a medium heat until they begin to smell fragrant. Remove and crush gently with a pestle and mortar.
Step 2
Toast the sunflower seeds in the same pan until they smell nutty and turn golden. Transfer to a plate.
Step 3
Wash and separate the chicory leaves.
Step 4
In a large bowl, combine the olive oil, vinegar, honey and salt together. Whisk in the coriander and fennel seeds. Add the chicory leaves and sunflower seeds and toss to combine.
Step 5
Transfer to a serving plate or bowl. Grate over the cheese and serve.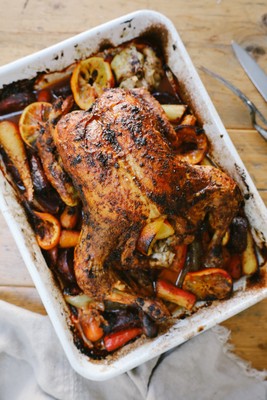 Spiced Roast Chicken & Roots
It's the flavourful marinade that really makes the difference to this throw-it-together one-tray dish. Don't be put off by the list of spices below. While I swear by a well-stocked spice cupboard, most of my recipes allow for a bit of wiggle room, so if you don't have all of the spices listed, feel free to sub for what you do have. The joy of this is that as the chicken cooks, its juices and fats sink into the vegetables, resulting in a perfectly golden crispy skinned chicken and beautifully soft flavourful veg. I love earthy sweet beetroot in this and usually opt for a mixture of baby carrots, parsnips and beetroot, but squash and sweet potatoes work well too, and I have had equal success making this with just beetroot and shallots, serving it alongside a big bowl of rice with any remaining cooking juices poured over it. As with most roast chicken dishes, this one makes for very good leftovers. I love to toss any leftover roasted roots with fresh spinach and tear the chicken over them.
Ingredients
1kg

of roots (I used a mix of carrots, parsnips, beetroot)
1

bulb of garlic (smoked garlic is wonderful in this if you can find it)
1

small glass of white wine
1

blood orange or orange, sliced
1

blood orange or orange, sliced
For the marinade:

1

tsp

of whole coriander seeds
1

tsp

of whole fennel seeds
1

tsp

of whole caraway seeds (or use more of the above)
1

tsp

of ground coriander seeds
1

tsp

of sweet smoked paprika
Method
Step 1
Preheat the oven to 200°C Fan.
Step 2
Place the coriander, fennel and caraway seeds in a dry pan over a medium heat and cook for about 2-3 minutes tossing every so often until the spices begin to smell fragrant. Remove from the heat and transfer to a pestle and mortar to crush slightly and release the flavours. The spices should be partially broken but still maintain most of their texture. If you don't have a pestle and mortar, you could place the spices in a clean bag and use a rolling pin or wine bottle to crush them.
Step 3
Combine the rest of the marinade ingredients in a mixing bowl, add the crushed whole spices and stir to combine.
Step 4
Wash, scrub and remove any very woody or stem bits from the roots. It is up to personal preference whether you peel them or not. I tend to peel parsnips but leave the skin on the rest. Chop into even sized roughly 4-inch pieces. I like to chop the beetroot into wedges and cut any large parsnips or carrots on the diagonal.
Step 5
Peel and halve the shallots and cut the bottom off the entire bulb of garlic so that an entire surface of the cloves are exposed.
Step 6
Place the roots, shallots and whole garlic clove into a roasting tray large enough to accommodate the roots in one layer. Spoon over 2-3 tablespoons of the marinade and toss using your hands giving everything an even coating (take care to keep the garlic whole and ensure it is placed cut side down).
Step 7
Pour over the white wine and arrange the orange slices over evenly.
Step 8
Place the chicken on top of the vegetables and stuff the remaining half a lemon (as well as the squeezed-out half from the marinade and any edges from the sliced orange if you like) within the cavity. Pour the remaining marinade over the chicken and rub all over the chicken using your hands. Sprinkle more sea salt over the breast and legs of the chicken and bake for about 1 hour 30-40 minutes.
Step 9
Check the chicken after 40 minutes and baste the chicken using juices from the pan. Check again after another 20 minutes. If the skin is browning too much cover the chicken loosely with foil.
Step 10
Allow the chicken to rest for ten minutes then enjoy. The skin should be golden brown and crisp and the vegetables soft, sticky and caramelised in places. The garlic should fall apart easily with the buttery soft roasted cloves easily able to slip out of their skins.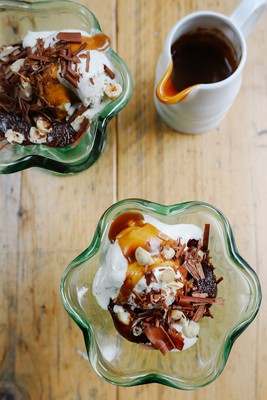 Hot Fudge Sundae
This is a fool-proof dinner party pudding that is as easy to prepare as it is to eat. I tend to weigh out the fudge ingredients into a saucepan ahead of time and melt them together just before serving. It helps to take the ice-cream out of the freezer while you make the sauce so it softens enough to scoop. I love adding roasted hazelnuts and chocolate shavings as extra toppings. Chocolate chips or other nuts such as almonds are also delicious. I've also been known to add crushed Maltesers.
Ingredients
1

tub of good-quality vanilla ice-cream
40g

of roasted hazelnuts, roughly chopped
1

bar of

70

% chocolate for shavings
For the hot fudge sauce:

100g

of butter, ideally room temp, cut into cubes
100g

of dark brown soft sugar
Method
Step 1
Place the butter, sugar and cream in a small saucepan and heat gently over a medium heat until the butter has melted and everything has combined.
Step 2
Simmer for about 5-6 minutes, stirring all the time until the sauce has thickened slightly.
Scoop the vanilla ice-cream into bowls or ice-cream coupes. Drizzle over the hot fudge sauce and finish with chopped hazelnuts and chocolate shavings.
Step 3
To make the chocolate shavings you could either use a vegetable peeler to peel a large 100-200g bar of chocolate. Or, place the chocolate on a chopping board. Starting at the shortest end, use a sharp knife to scrape from one end of the chocolate to the other. Hold the knife from both sides keeping one hand on the handle and the other always over the blunt top side of the blade.
Read More From Alexandra Dudley
DISCLAIMER: We endeavour to always credit the correct original source of every image we use. If you think a credit may be incorrect, please contact us at info@sheerluxe.com.