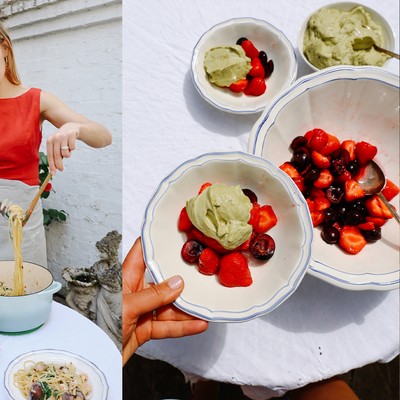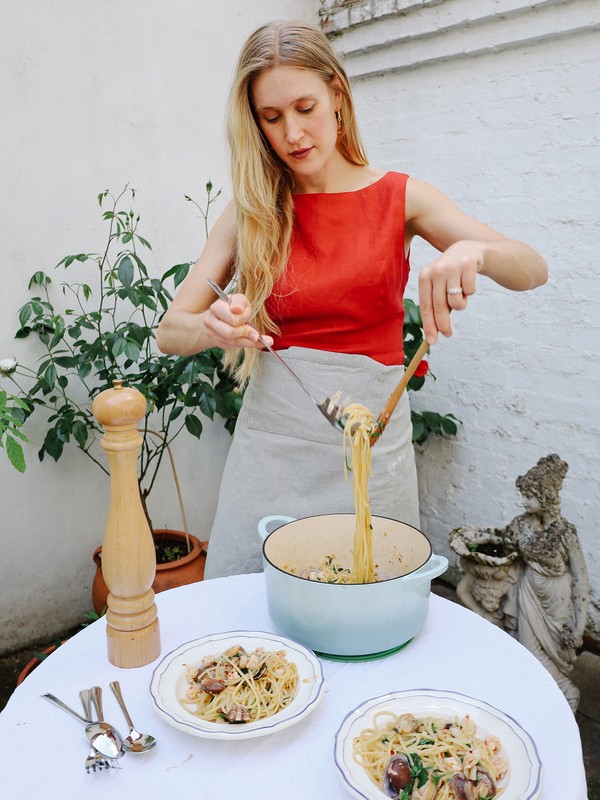 How To Entertain This Month With Alexandra Dudley

Alexandra Dudley is a food columnist, cookbook author and host of the Come For Supper podcast. In this instalment of her monthly column, she shares a summery dinner party menu that makes the most of basil – plus a simple yet delicious spaghetti main.

By Alexandra Dudley
Whenever I think of July I think of strawberries. Strawberries with double cream, strawberries with ice cream, strawberries smashed with meringue, or perhaps just as they are, plucked from the stalk and eaten with my fingers. A dinner party in July should always include strawberries and this time I'm letting them mellow with cherries in a boozy Cointreau bath before serving them with a cloud of pillowy thick pistachio cream. It's a pudding that sounds fancier than it is – it's really just a combination of good ingredients. A fresh fizzy cocktail to start the evening makes the most of summer basil. For the main course, a big pot of spaghetti cooked with clams and prawns is best served at the table. 
I love bubbles with seafood and recently I have been enjoying this Vintage Cuvée from Cornish maker Knightor. Made from a blend of pinot noir and chardonnay grapes, it has an almost buttery, biscuity flavour to it with hints of lemon and apple.
---
DISCOVER ALEXANDRA'S MENU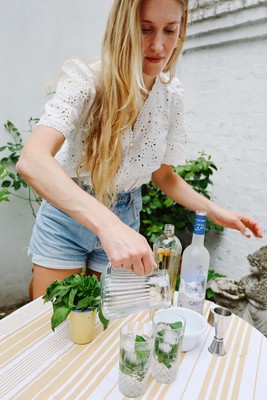 Basil Elderflower Smash
This is a refreshing summer cocktail perfect for summer entertaining. I love the pairing of basil and elderflower here – I also love vodka but feel free to make this with gin.
Ingredients
25ml

of St Germain elderflower liqueur
50ml

of vodka, I like Grey Goose
Method
Step 1
Start by placing a few leaves of basil into each tall glass. Using a muddler or a long spoon, bash the basil slightly to release the flavour.
Step 2
Step 3
Pour in the elderflower liqueur followed by the vodka. Stir using a cocktail stirrer or spoon.
Step 4
Top with the soda water, garnish with a fresh basil leaf if you like and enjoy.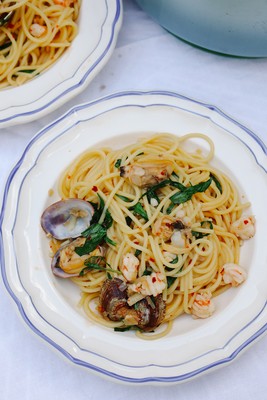 Spaghetti With Clams, Prawns, Tarragon & Chilli
There is something joyous about a big pot of spaghetti vongole. The heady smell of chilli and garlic and the sea-saltiness of the clams immediately transports me to the Mediterranean. A classic vongole is always a crowd-pleaser, but for a slightly elevated version I add prawns. Make sure you get prawns still in their shells. Peeling them is somewhat tiresome but the result of a quick boil of the shells, oil and water adds a glorious depth of flavour to this sauce. I love tarragon in this but if you prefer, parsley will do.
Ingredients
2

shallots, finely chopped
4

cloves of garlic, finely chopped
1

glass of dry white wine
1

bunch tarragon, leaves picked
Sea salt & freshly ground pepper
Method
Step 1
Remove the heads and peel the shells from the prawns, keeping the shells. Into a saucepan, add 6 tbsp of olive oil, the prawn heads, 100ml of water and just 2 teaspoons of the chilli flakes. Cook the prawn shells and heads on a medium heat using the back of the spoon to squeeze out the flavour from the heads. Once the prawn heads are cooked through and the liquid is a vibrant red, take off the heat. Strain the prawn head liquid through a sieve into a bowl. Discard the shells. Roughly chop the prawns.
Step 2
Clean the clams by rinsing in cold water. Bring a large pot of salted water to the boil for the spaghetti. Check the timings of your spaghetti. The next stage takes 10 minutes total so you may want to get it on now.
Step 3
In a separate large heavy-based pan with a lid, heat a further 4 tablespoons of olive oil over a medium heat. Add the finely chopped garlic and shallots along with the remaining 2 teaspoons of chilli flakes. Cook until the oil has absorbed some of the colour from the chilli and the shallots have softened slightly, then add the white wine and bring to the boil. Add the clams and cover with the lid. Cook for about 4 minutes or until the shells open, shaking the pot every so often. If you have not already, ensure to cook the spaghetti.
Step 4
Stir through the chopped prawns and allow them to cook for just 30 seconds as they will cook quickly.
Step 5
Add spaghetti, tarragon leaves and butter to the pan and toss through. Taste to season. Serve with a drizzle of good olive oil and freshly cracked black pepper.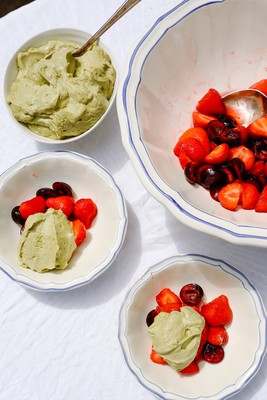 Boozy Berries With Pistachio Cream
Pistachio is my go-to gelato flavour. If, like me, you are a pistachio fan, this pudding is a useful one to have up your sleeve. It's less of a recipe and more of an assembly of ingredients, the key being pistachio paste. You will find this at well-stocked delis or supermarkets. Look for a vibrant green paste made with real pistachios. Then, all that is required is some double cream and fresh fruit. I love to macerate my berries in a splash of booze. Citrusy Cointreau is especially good with strawberries.
Ingredients
4

tbsp

of Cointreau or amaretto
Method
Step 1
Pit and hull the cherries and strawberries, and cut each berry in half. Toss in a large bowl with the Cointreau (or a tablespoon of sugar). Allow the fruit to macerate for at least an hour in the fridge.
Step 2
Whip the double cream just until soft droopy peaks form using a hand whisk or electric whisk. Add half the pistachio paste and whisk again (I recommend using a hand whisk for this so as not to over-beat the cream). Then whisk in the remaining half. Chill until serving.
Read More From Alexandra Dudley
DISCLAIMER: We endeavour to always credit the correct original source of every image we use. If you think a credit may be incorrect, please contact us at info@sheerluxe.com.