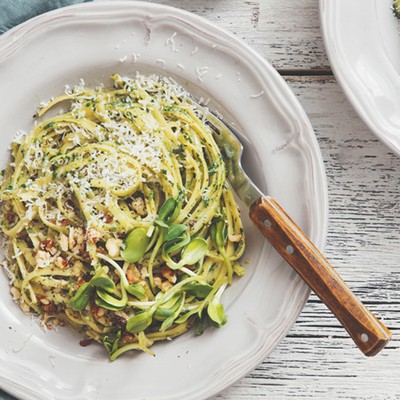 Simple Hacks To Transform Pesto

From beetroot and spinach to cherry tomatoes and charred red peppers, here, food writer Chloe Scott-Moncrieff, shares some recipes on different takes on pesto and what comes next…

Pesto has long been derided as 'middle-class ketchup'. To be fair, there's probably not a fridge across the country that doesn't have a jar stuffed away for emergencies. It's the ultimate no-fuss sauce, but on its path to global fame, pesto has become so ubiquitous it's been bullied into a generic seasoning - cue pesto crisps and basil pesto hummus donuts. Thankfully, we're to cut through the horror of pesto effluvium and put it back on the pedestal it rightly deserves.
To start with, we need to understand that its etymology derives from the Italian verb pestare, meaning to pound or to crush. Traditionally, it would be made in a pestle and mortar. One could argue that from there, you've got the flexibility to what you wish with it. Well, sort of. The pesto alla Genovese is not to be messed with in my opinion, but excluding that sacred recipe, I reckon it's okay to be creative. Try these flavour-packed spins for a fresh take.
Nutrient-rich spinach pesto
Fundamentally, a decent pesto hinges on complementary textures and a few simple ingredients. For a kid-friendly way to cram in the nutrients, spinach is your friend. Chop 200g spinach, wilt and whiz with your pine nuts, plenty of basil and just a little garlic (a quarter or half a clove will do). You could also add goat's cheese for extra flavour. Make this and it'll negate any guilt you feel about stuffing yourself with pasta.
Pink pesto and smoked feta
The secret to success here is the addition of aromatic dill which cuts through beetroot's sweet earthiness. More of a northern European combo than a traditional Southern recipe, it's nevertheless said the Italian food writer Pellegrino Artusi admired it. In his book, Science in the Kitchen and Art of Eating Well, he wrote: "Mixed with beet, dill graces the palate." To enjoy the flavour yourself, wash and cook the beetroot and then peel and blend it. Add chopped dill with walnuts, olive oil, half a garlic, salt and pepper. Then pound in some smoked feta. If you added yoghurt it would become borani, an Iranian dip, which is also sublime.
Pesto alla Siciliana
Another way to avoid getting into a green pesto rut is to try this Sicilian-style pesto. There's no definitive recipe but generally in Sicily, you heap in masses of sweet cherry tomatoes with almonds. The herb element is either mint or basil. While some include parmesan or ricotta, olive oil and half a crushed garlic clove is must. A top tip is to toast the almonds under the grill before adding them. You can also gently chargrill the tomatoes. Blitz the olive oil, garlic and almonds, then the tomatoes and herbs. Stir, taste and season accordingly. If you exclude the cheese, this is great for lactose-intolerant eaters.
Smoky red pesto
This tastes delicious served with fusilli pasta. Char some red peppers on the gas stove for about five minutes and then roast them to finish. Cool and remove the skins. Blend in with tomatoes, olive oil, a pinch of chilli if you wish, and parmesan or ricotta. Season and taste accordingly. 
The most perfect pesto alla Genovese (the real deal, don't meddle)
At its most elementary, this pesto is two large handfuls of sweet Basil, parmesan, olive oil, half a garlic and some pine nuts. Pick off the herb leaves from their stalks. Finely chop the basil leaves and garlic. If you've a pestle and mortar, pound the garlic and basil, then add the pine nuts. As it becomes a paste, drizzle in the olive oil and then add the finely grated Parmesan. Taste. Season with salt and taste again to check you're happy. Traditionally, in Genoa, they serve it with trofie, little twisted pasta and slivered boiled potatoes with green beans; my children can't get enough of this one.
Extras to try
Pesto is best kept simple but anchovies, sun dried tomatoes and other herb alternatives can certainly be used. Also, bear in mind that as pine nuts can be fairly expensive, you can chuck in walnuts, or other more thrifty nuts instead. 
How to use pesto: Your dos and don'ts
DO: Dress potatoes in pesto and sprinkle in other herbs if you're looking for a riff - tarragon and coriander are my favourites. Always make sure you taste and season afterwards.
DO: Top a fillet of fish or chicken with pesto and bake. You could grate a little lemon zest over for a zesty oomph.
DO: Use in a tomato salad.
DO: Put a teaspoon in soup.
DON'T: Go too off-tangent. Despite it being decried as versatile, pesto does not work on fish and chips.
DON'T: Get too overzealous about mash ups. Pesto with spag bol, sausages or pizza is just chaotic.
And finally, a cheat's tip:
Freeze pesto in ice cube holders if you don't want to put it in a jar and store in a fridge. 
DISCLAIMER: We endeavour to always credit the correct original source of every image we use. If you think a credit may be incorrect, please contact us at info@sheerluxe.com.