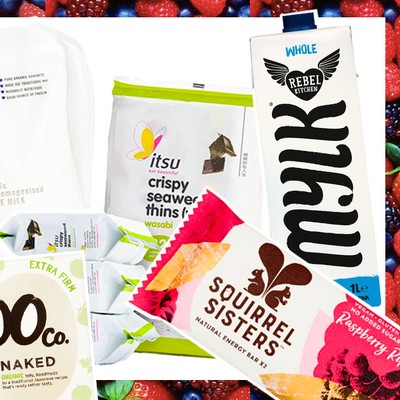 What's In My Ocado Order – Lizzie Loves Healthy

A lot of us are a bit stuck in a rut when it comes to our weekly food shops, but what if you could have a nosy at someone else's online shop for some fresh inspiration? We've taken a peek at Lizzie King – food writer, author, cook and founder of award-winning blog and website Lizzie Loves Healthy, Ocado shop. From snacks and work lunches to speedy suppers, here's what she orders time and again.

FRIDGE STAPLES
Litres of milk ­– We have some dairy folk in the household and some non-dairy, so I end up ordering a lot of different types of milk.
Daylesford Organic Whole Milk – It's now sold in compostable floppy cartons, which eases my plastic guilt.
 
Oat milk – Always Rude Health, as they don't add lots of gums and other stabilisers.
 
Rebel Kitchen Mylk – It's my favourite for frothing into drinks.
 
Raspberries and blueberries – I always put these in yoghurt or on pancakes. They're just so handy.
 
Waitrose Duchy Organic Houmous – I love houmous, and this brand is maybe my favourite – I think it's usually better than homemade. We get through tubs of this after school, early evening munchies and on long car journeys.
 
Waitrose Duchy Organic Whole Chicken – This keeps giving and giving. I roast it, then pop the leftover meat in wraps and then make a stock for soups and risotto for the week ahead.
 
The Tofoo Co Naked Organic Extra Firm Tofu – This is an amazing tofu that comes in lots of varieties from Smoked to Oriental. It's a great fridge staple to have to add in to a stir fry, soup or salad at the last minute.
 
Cheddar – An all-purpose cheese to go on toast, pasta, everything.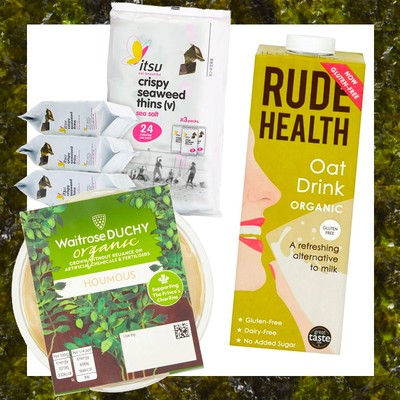 I love houmous – we get through tubs of this after school, early evening munchies and on long car journeys.

FRUIT & VEG
I get a veg box delivered from Riverford each week, so just get a few extras which we always motor through, like broccoli, onions, potatoes and carrots.
Green leaves – I love watercress, rocket and endive to add some bitterness to a salad or a plate of cheese.
A ton of lemons – As a cook I get through mountains. I like slices in hot water in the morning, on fish parcels to bake, in salad dressings, in my newfound love for my homemade cleaning kit, and in my husband's killer martinis at the end of the day.

CUPBOARD ESSENTIALS
Buckwheat flour – Rude Health do the best, and we use it a lot for pancakes, banana bread and crumbles. It's naturally gluten free for me and not overpowering in flavour, which some can be.
 
Clarence Court Burford Brown eggs – For easy Sunday supper, in cakes and pancakes which we make weekly.
 
Pip & Nut Coconut and Almond Butter – This may be the most commonly bought thing in my bag. It makes everyone very happy and feeds that hunger hole. I buy the 1l bucket of it.
 
Rebel Kitchen Mylk is my favourite for frothing into drinks.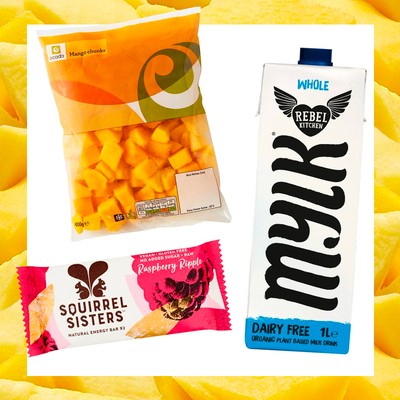 FOR THE SNACK CUPBOARD
Apples and bananas – Eaten with nut butter for a nutritious snack.
 
Squirrel Sisters natural bars – I don't buy many packets of snacks, but this company makes nice little date and nut bars that the children adore.
 
Itsu Wasabi Seaweed Thins – My son and I get through a lot of these. They make a great pre-dinner snack as they're not so filling.

DRINKS
Big Tom Spiced Tomato Juice – Makes a great Bloody Mary base. My son loves it virgin as a more fun drink at the weekend. 
 
Black + Blum Charcoal Filter – I've stopped buying plastic water bottles completely. I buy these charcoal sticks to filter tap water instead. It also saves money.
 
Rioja or white chardonnay – There's usually some lovely wine half price, which goes in my basket at the last minute.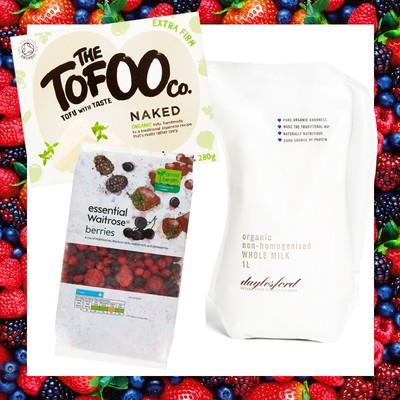 Tofu is a great fridge staple to have to add in to a stir fry, soup or salad at the last minute.

MUST-HAVES FOR THE FREEZER
Frozen mixed berries – This always goes in my order, mainly for smoothies.
 
Frozen mango – Makes an amazing instant sorbet.
 
Itsu Vegetable Fusion Gyoza – I've just discovered these. They're a godsend as my daughter has just decided to become vegetarian, so this avoids the double-cooking nightmare.
 
Usually something unexpected will pop up – This week it was a Higgidy pie, which I'll try out for a fast supper.
 
Visit LizzieLovesHealthy.com
 
DISCLAIMER: We endeavour to always credit the correct original source of every image we use. If you think a credit may be incorrect, please contact us at info@sheerluxe.com.