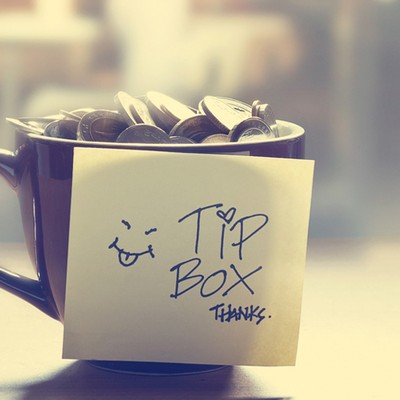 A Guide To Modern Tipping Etiquette

Whether it's chucking an extra pound onto your Deliveroo total or adding as much as 20% to a restaurant bill, it can be hard to know whether you're at risk of causing major offence by not following standard tipping rules. Here, we break down the different scenarios where it might be worth adding on a little bit extra…

FOOD & DRINK 
For The Bartender…
In the UK, it isn't common to tip a barman – whether you're in the pub or a trendy bar in the City. If it's your local, and you know the people serving you, it might be a nice gesture to offer them to keep the change if paying in cash. But with so many bar bills settled with a simple tap of a credit card, tipping rarely feels that necessary. In the US, however, this is very different – something perhaps worth bearing in mind for your next Stateside trip. Generally, it's best to follow the $1 extra per drink rule, although it's common to add as much as 20% to the final bill at flashier joints. 
For The Waiter…
It's usually best to add 10% or round up to the nearest whole number once the bill arrives, but for more impressive nights out – think Michelin-starred meals – it might be worth adding more if you think it's deserved. Anything up to 25% is considered customary. If the night's been disappointing, however, be sure to check the bill to see if service has been automatically included. The usual tariff tends to be around 12.5%, but most places will remove the discretionary charge if there's a complaint. Just beware: larger parties of six or more might encounter a non-negotiable service charge. Finally, be careful when paying by card in restaurant chains. Adding a gratuity this way means it rarely makes it to the individual's pocket, and goes to the parent company instead. If you want to give something to someone specific, it's always best to leave cash. 
For The Barista…
The ritual of a daily coffee is something many of us enjoy as part of our morning commute. But it can be tricky to know when good service at your local Pret or Costa deserves a tip. It's already common practice across the pond (Starbucks added a tipping feature to its US app over five years ago) but the rules aren't as clear in the UK. Experts agree that tipping the person behind the counter won't improve or sour the experience either way, but if it's somewhere local and the faces are familiar, it might be a nice gesture to pop a bit of change in a tip jar now and again. 
HEALTH & BEAUTY
For The Hairdresser…
If you're a new customer at the salon, and happy with the result, it's polite to leave an additional 10% (think around £5 on a standard £50 cut and blow dry). But if you've developed a good relationship with your stylist, they might expect you to add a little more – even as much as 25%. If you find you're never loyal to one particular salon, then leaving a tip probably won't be an issue. But building trust with a hairdresser can be crucial in getting the desired result, so adding a decent tip might help develop the bond.
For The Manicurist…
With the popularity of nail art, shellac and gel manicures rising rapidly, it's more common to visit the local nail salon a couple of times a month, or even once a week. As a result, it's becoming more expected for regular manicurists to receive a tip for a job well done. Albeit not as common as in the US, rewarding service at the salon can be a good indication you're happy with the result and intend on making a return visit. If you do intend to go back, it might be worth building up a good rapport by adding 10% to your final bill or popping some spare change into a jar on the counter. 
For The Spa Therapist…
On dedicated spa days or weekends, it's usual to find an automatic tip included in your final bill - usually in the region of 10%-20%. But if the experience hasn't met your expectations, you're free to ask them to remove it. For regular treatments, it's usual not to find a tip automatically included, so if you feel the experience is worth something extra, aim for something in the region of 10% of the cost of the treatment. 
TRAVEL & ON THE GO
For The Hotel Staff… 
At expensive hotels, it is customary to tip the porters helping you carry your bags to your room. A good rule of thumb is to calculate an extra £1 or £2 per bag, although the expectation might be higher at a five-star hotel in central London. Experts agree it isn't necessary to tip room service waiters or housekeepers, but it wouldn't be inappropriate either, especially if you think it's deserving. Leaving some change on the nightstand will indicate to housekeeping staff you appreciate their efforts – especially if young children or babies have caused more than the usual mess. 
For The Taxi Driver…
In a world dominated by Uber and other on-demand taxi apps, the etiquette for tipping taxi drivers feels much more confusing. For the tech-savvy out there, it isn't usually expected to tip your Uber driver – leaving a decent review is probably all the goodwill that's necessary. However, in a black cab – especially if you're still paying with cash – it's good manners to at least round up the fare to the nearest whole number. If paying by card, the same rule can apply, or add an extra 10% if you're still in doubt. 
For The Delivery Man…
Whether it's your Ocado driver or the Deliveroo drop-off, it can be difficult to know when an extra bit of cash is warranted. With takeaway apps, it's usual for the delivery fee to suffice, but if delivery staff from the supermarket have been extra helpful – carrying items in or even offering to unpack – it might be worth having some spare change handy. Depending on the size of your delivery, a good rule of thumb is £1 per bag. But don't fret – general advice says it's rarely expected and unlikely to make a difference to the overall service.
DISCLAIMER: We endeavour to always credit the correct original source of every image we use. If you think a credit may be incorrect, please contact us at info@sheerluxe.com.