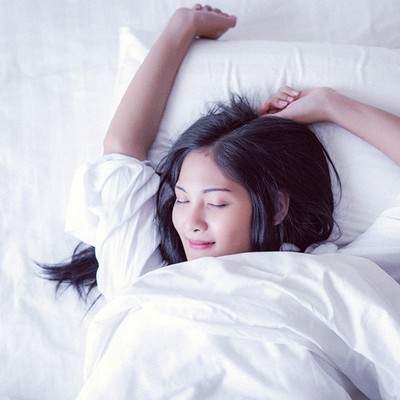 10 Sleep Tips If You Suffer From Anxiety

Whether it's non-stop internal chatter or irrational thinking in the early hours, anxiety is one of the primary causes of sleep disturbance. We asked three psychological experts for their top tips for a peaceful night's sleep. From pillow hacks to the benefits of journalling and yoga nidra, here's what they had to say…

TAKE THE PRESSURE OFF
"You can make all the right, healthy decisions and still good sleep can be inaccessible. No one can make themselves sleep, so switch the focus from sleeping to resting, which is in our control. Sleep, relaxation and calm breathing all stimulate the parasympathetic nervous system. Learn the skill of relaxation because this can be deeply restorative even when sleep is hard to come by. Let your mantra be, 'Just rest, sleep will come'. Making the commitment to regular soothing practices will help you build the skill of relaxation – just go gently if this is something you find challenging. Keep experimenting with different practices until you find something of personal resonance." – Suzy Reading, chartered psychologist  

TURN DOWN THE LIGHTS
"Our bodies are governed by circadian rhythms, which tell us when to sleep and when to wake, taking cues from our natural environment, such as temperature and sunlight. These rhythms are affected by a lack of natural daylight, and any movement away from your body's natural rhythms will be a cause of stress for your system. Get into the habit of lowering the lights as the evening draws in. Switch strong overhead lighting for softer lamps; better still, use candles to create a cosy and calming atmosphere." – Danielle North, author of Sleep Meditations 

BE CONSCIOUS
"Be mindful of your levels of stimulation throughout your whole day. Often we think it's the hour before bed that needs to be calming but, in times of anxiety, we need micro moments of calm dotted through our day to promote the chance of good sleep at night. Our visual and auditory diet makes a huge difference to how we feel, so make mindful choices about what you listen to, watch and read. Give yourself permission to skip the news in times of squeeze." – Suzy  

DISCONNECT THE TECH
"Electromagnetic frequencies (EMFs) are emitted by technology including microwaves, televisions, wireless devices, smartphones, Apple watches and computers. All of this adds up to a background 'electro smog' that passes through the body. Electromagnetic radiation penetrates not just our organs and cells but our bones, interfering with the body's natural, biological processes, including sleep. To combat EMFs, set a time each evening for an electronic sundown. Turn off appliances and devices, unplugging them if possible. Remove any electrical devices from your bedroom; avoid wearing any digital devices on your body when you sleep, and turn your phone off fully rather than switching it to airplane mode. You could also buy an alarm clock so you can keep your smartphone in a different room overnight." – Danielle  

DON'T FORGET TO BREATHE
"I often hear from clients that things like breathing can seem small but make a real difference. When we breathe deeply, allowing the belly to expand on the in-breath and go in again on the out-breath, it calms the nervous system. It takes us from fight-or-flight mode to 'rest and digest'. Taking some breaths as you lie in bed before sleep can help settle the nervous system. Also consider 'brain-dumping' your worries into a notebook before bed. Write down anything that's bothering you, to-dos for the following day and any repetitive thoughts. Once they're written down, we can more easily let them go and sleep more easily." – Chloe Brotheridge, hypnotherapist, coach & author 

DO SOMETHING
"If you start to feel agitated about being awake or other worries loom large, don't lie there and stew. Get up and do something soothing. Have a library of resources or a toolkit of relaxing activities you can turn to: guided relaxation, breathing exercises, yoga nidra, music, or lying down with your legs up the wall. This is not the time for screens, work or anything stimulating; this is a time for activities that soothe you. Try the Clementine app for a variety of guided meditations; for mums, the Nourish app has a wealth of resources." – Suzy  

CREATE A RITUAL
"Our relationship with sleep has an impact on how ready we feel for bed. If sleep itself is a trigger for worry, bring your mind back to what lies within your control. You can't make yourself sleep but you can soften your body and anchor your mind on something constructive. Create some pre-bedtime rituals that you look forward to and see how these prime your mind and body for rest. Try some gentle stretches or self-massage techniques (magnesium oil spray can work a treat due to its anti-inflammatory properties). Use scent, journalling or mindful colouring, and see how these disentangle your mind and body from the busyness of your day." – Suzy  

GET PROACTIVE
"Writing out some toolkits can help put you back in the driver's seat. Think along the lines of 'What to do when I'm feeling anxious during the day', 'What to do when I can't get to sleep' and 'What to do when I can't get back to sleep'. Having these ideas written down helps you put your finger on something helpful when you need it most, and circumvents a whole heap of further worry, self-flagellation and indecision. Keep adding to your toolkits for fresh inspiration and try a variety of things – because different things will work in different moments. You'll find lots of different tips and tools to try in my IGTV feed at @SuzyReading." – Suzy 

TRY A REMEDY
"Sometimes, stress and anxiety require instant relief. Origins Peace of Mind is a wonderful painkiller-free headache remedy. It provides on-the-spot relief when applied directly to your forehead, temples and neck. Bach's Rescue Remedy can also be used in a crisis. Try a few drops of one of these emergency essences under your tongue or in some water. Lastly, lavender oil can be rubbed directly onto your palms and inhaled for instant inner calm. A few drops can also be added to your pillow at night or diffused in an oil burner before you go to sleep." – Danielle  

TRY A NEW PILLOW POSITION
"To give yourself a more supported sensation when you sleep, consider these pillow positions. Side sleepers should try putting a pillow under their head as usual, as well as a pillow between the knees; back sleepers, use a lower pillow than normal under your head and place a pillow under your knees to take the pressure off. Stomach sleepers should consider using a flat pillow for your head, placing another pillow under the pelvis or abdomen." – Danielle 
 
Self-Care for Tough Times by Suzy Reading is available for pre-order now. For more information, visit SuzyReading.co.uk. In addition to her book, courses and consultations, Chloe is the co-creator of The Anxiety Solution app, which features sleep stories, sounds and bedtime reflections to help you drift off without worry. Sleep Meditations by Danielle North will be published by Aster on 6th August, priced £10.
 
*Features published by SheerLuxe are not intended to treat, diagnose, cure or prevent any disease. Always seek the advice of your GP or another qualified healthcare provider for any questions you have regarding a medical condition, and before undertaking any diet, exercise or other health-related programmes.
DISCLAIMER: We endeavour to always credit the correct original source of every image we use. If you think a credit may be incorrect, please contact us at info@sheerluxe.com.