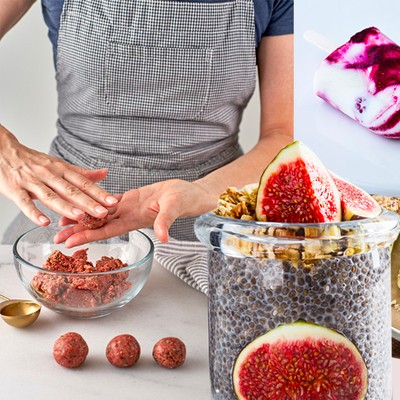 13 Of The Best Snacks Under 150 Calories

We all know there's more to nutrition than calories, but a lockdown-induced tendency to graze makes keeping track of the numbers more relevant. With that in mind, we asked four nutritionists for their favourite high-energy, go-to snacks. Rich in protein, fibre and healthy fats, here's what the experts rely on come 4pm…

Lily Soutter, nutritionist
Cacao and chia energy balls = 58 calories per ball
Mix together 90g of porridge oats, 75g of almond butter, 2 tbsp of chia seeds, 3 tbsp of honey and 2 tbsp of cocoa powder. Roll into 30 small balls and roll in 30g of desiccated coconut. Keep in the fridge and aim for one ball per portion – the combination of healthy fats and slow release carbohydrates from the oats will fill you up and quash sugar cravings.
Chocolate chia pot = 128 calories
When you fancy something sweet, mix together 60g of chia seeds with 15g of cocoa powder,  2 tbsp of maple syrup, 400ml of almond milk and 1/2 a tsp of vanilla extract. Leave to thicken and serve topped with a handful of raspberries for an antioxidant hit. Per serving, this chia pot serves up an impressive 5g of fibre, which will help keep you full.
2 tablespoons of Mexican bean dip = 144 calories
Make a big portion of this on a Sunday evening and keep it in the fridge for when you fancy a savoury snack. Sauté an onion and two cloves of garlic for around 4 minutes, before adding to a food processor with some chilli flakes, a tin of mixed beans, a few tsp of chipotle sauce and the juice of 1 lemon. Each serving of this dip contains a huge 7g of fibre.
Visit LilySoutterNutrition.com
Laura Wingrove, nutritionist at Hello Fresh
Vanilla honey roasted rhubarb = 90 calories per portion
This is a great way to make the most of seasonal rhubarb, which is packed with vitamin C and fibre. Start by chopping 4 stems of rhubarb into 2.5cm pieces and split a vanilla pod down the centre and remove the seeds. In a small bowl, mix 5 tbsp of honey with the vanilla seeds and then place the rhubarb onto a baking tray, drizzle with the vanilla honey, toss to coat and roast in the oven for about 20 minutes. This recipe makes four portions – either eat as is or serve with low-fat, natural yoghurt. 
20g paprika popcorn = 95 calories
Popcorn is a great low-calorie snack and paprika adds flavour without added calories. Make the popcorn by slowly heating 2 tbsp of olive oil and 1 cup of corn kernels in a large saucepan on a medium-high heat. Make sure you put a lid on the pot to stop the popcorn escaping. While still warm, toss with paprika, salt and pepper and a little more olive oil, if you like. 
Beetroot slices = 185 calories
Beetroot is a great source of vitamin C and goat's cheese provides a source of calcium and iron, making this a nutrition-packed snack. Start by peeling one beetroot into 5mm slices and bake in the oven at 190°C for 20 minutes. Then, spoon a small amount of goat's cheese on top, aiming for around 50g in total. Sprinkle some fresh chopped dill and ground black pepper on top. To lower the calories, use a little less goats cheese – it packs a salty flavour punch, so you won't feel hard done by.
Honey-baked pears with coconut and hazelnut = 150 calories
Lay 1 pear on a baking tray and bake at 180°C for 20 minutes. Meanwhile, mix together 1/2 a tbsp of honey with 2 tbsp of water on a medium heat until it thickens slightly. Pour this over the pears and bake for a further 5 minutes – sprinkle with a handful of walnuts and hazelnuts if you like, but remember this will add on a few additional calories.
Visit HelloFresh.co.uk
Jennifer Irvine, founder of The Pure Package and Balance Box
A blueberry oat muffin = 86 calories
Mix together 3 eggs and 300ml of semi-skimmed milk and place 200g of oat bran and 1 tsp of baking powder in a mixing bowl, stirring well to combine. Stir in the egg and milk, and then add 100g of blueberry fruit-only jam (try St Dalfour or Super Jam). Add 200g of blueberries to the mixing bowl and stir well – the resulting batter will be looser than a usual muffin mix. Spoon the batter into paper cases, filling each one to the top and then bake in the oven for 18-20 minutes. This recipe makes 12 muffins and is great to experiment with. Try adding a handful of nuts, seeds, a grated apple, or any type of dried fruit.
An apple and walnut cookie = 110 calories
Place 75g of spelt flour, 75g of oats, 1/2 a tsp of baking powder and 1/2 a tsp of cinnamon in a mixing bowl; stir well to combine. Add one grated apple and 50g of chopped walnuts and stir again. In a separate bowl, mix 75g of maple syrup, 60ml of sunflower oil and the zest of half an orange, stirring well. Add the flour and apple mixture to the wet ingredients and stir until just combined. Place heaped spoons of the batter onto baking trays lined with baking paper, and cook for 10-12 minutes at 190°C.
Creamy berry popsicles = 103 calories
Frozen yoghurt popsicles are a fantastic alternative to ready-made ice-cream bars and are low in fat and high in calcium. In a food processor, blitz 100g of raspberries or blackberries with 3 tbsp of agave syrup, until you have a fairly smooth puree. Add 350g of low-fat natural yoghurt to the mashed berries, stirring gently to create a swirl effect. Stir in a further 50g of berries, being careful to keep them whole; then spoon the mixture into four ice-lolly moulds. Place in the freezer and leave for at least 2 hours, or until frozen solid. 
Visit BalanceBox.com
 

Holly Zoccolan, nutritional health coach
One banana bar = 120 calories
These bars are a brilliant on-the-go snack, are refined sugar free, vegan and made using only three ingredients. Firstly, preheat your oven to 200°C , then mash 5 ripe bananas. Add 350g of fine oats, 1 tsp of cinnamon and 2 tsp of water and mix together. Line a baking tray with baking paper and press your mixture firmly into the tray so it's even and flat all over. Pop in the oven and bake for 20-25 minutes. Remove from the oven and allow to cool for 10 minutes before slicing the mixture into 16 even-sized bars – you can make these larger bars, but this will increase the calories.
One pecan energy ball = 158 calories
These are a brilliant snack when you're working from home and fancy something sweet. Place 1 cup of medjool dates, 1.5 cups of pecans, 1 tsp of cinnamon, 1/2 a tsp of vanilla and a pinch of sea salt into a food processor. Keep blending until the mixture is combined together – if you feel it's too dry, add a couple of tbsp of water. Then roll the mixture into balls, aiming for around one inch per ball; the mixture should make 12 balls. Pop in the freezer for 20 minutes before serving.
Two tablespoons of hummus = 79 calories
This hummus recipe couldn't be easier and is so nutritious – serve it with cucumber sticks, celery stalks or carrot batons. Place 1.5 cups of cooked chickpeas, 4 tbsp of tahini, 1 garlic clove, 2 tbsp of water, the juice of 1 lemon, 1/2 a tsp of cumin and a pinch of sea salt in a blender. If you want it smoother and a little thinner in consistency, add another tbsp of water.
Visit TheHealthZoc.com
DISCLAIMER: We endeavour to always credit the correct original source of every image we use. If you think a credit may be incorrect, please contact us at info@sheerluxe.com.