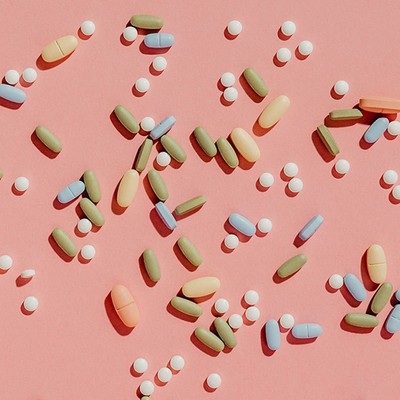 5 Vitamins That Could Make A Difference

Vitamins are big business right now, but the choice is vast. While everyone's needs vary, experts agree certain ones can support a healthy lifestyle as well as boost the quality of our skin and hair from the inside out. If you're keen to get on board, we've teamed up with brand Myvitamins to discover the ones which can benefit us all…

CREATED IN PARTNERSHIP WITH MYVITAMINS
WAKEY WAKEY CAPSULES, £9.99 (were £11.99)
Best For: Reducing Feelings Of Tiredness & Boosting Brain Health
These capsules are loaded with a blend of zinc, magnesium and iron to aid better sleep and boost energy levels. With the addition of vitamin B and folic acid, the tablets work to help beat feelings of lethargy and feelings of tiredness and fatigue by fuelling the body with essential nutrients, in turn, supporting your natural energy production. You'll need to take them continually (one a day), but you'll start to see positive changes after just a few weeks, such as better concentration and feeling more awake and alert.
Available here 
OMEGA 3, 6, 9 SOFT GELS, £10.49 
Best For: Overall Wellbeing & Heart Health
If you only have the budget for one set of vitamins, make it these do-it-all, antioxidant-rich soft gels , that support your overall health and wellbeing. Designed to be taken twice a day, the good fatty acids help support heart health and regulate blood pressure. These easy-to-swallow tablets also support healthy skin, thanks to the combination of Omegas and vitamin E.
Available here
BEAUTY COLLAGEN STICK PACKS, £19.99
Best For: Nourished Hair, Skin & Nails 
There's no one size-fits-all approach for healthy hair and a glowing complexion, but these Collagen Stick Packs contain 8000mg of Collagen Peptides, Biotin (a B vitamin), and Vitamin C, which are known for supporting the condition of your hair, skin and nails. These are also favoured ingredients of industry experts for good reason. The stick packs they come in are convenient and delicious, too – each stick pack is made using real fruit juice. Perfect for anyone on-the-go looking for a delicious daily dose of beauty.
Available here
CLA SOFTGELS, £14.49
Best For: Boosting Concentration & Cognitive Health 
With consistent 5-star reviews, these soft gels contain the optimum level conjugated linoleic acid, a popular weight loss supplement. Most commonly used by active men and women, CLA has been shown in many studies to improve metabolic health and lower the risk of many diseases. For best results, make sure you only take two twice a day and always with a main meal.
Available here
COCONUT & COLLAGEN CAPSULES, £13.99 (were £15.99)
Best For: Healthy, Happy Skin
From our mid-twenties, natural collagen levels begin to deplete. That's why collagen supplements are a popular skincare buy. Unlike some beauty supplements, Coconut & Collagen contains a blend of hydrolysed collagen and Vitamin C in a simple capsule, which makes it more easily absorbed into the body. These capsules promote beauty from within, as also use protein to support the structure of the hair and skin, while boosting collagen levels, promoting beauty from within.
Available here
DISCLAIMER: We endeavour to always credit the correct original source of every image we use. If you think a credit may be incorrect, please contact us at info@sheerluxe.com.