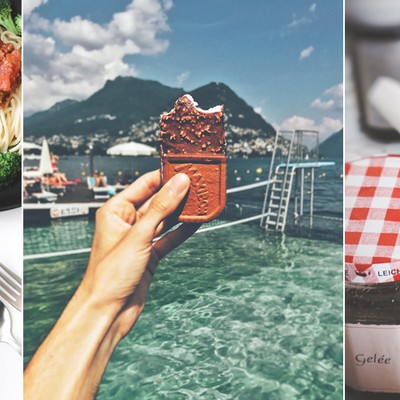 8 Tips For Being Gluten-Free On Holiday

Whether you struggle to digest gluten or suffer from coeliac disease, the prospect of eating out on holiday can be daunting and stressful (especially when family and friends tuck into pizzas, pasta and seemingly bottomless bread baskets). We spoke to Ciara Yeates, GP at London Doctors Clinic, for her advice – from what to avoid in hotels to the genius hacks to pack in your suitcase…

1. Are there any countries that are particularly coeliac-friendly?
First and foremost, there's no reason why being coeliac should stop you travelling or enjoying local foods. You may be surprised to hear that Italy, the land of pizza and pasta, is surprisingly coeliac-friendly – the change owes much to a national coeliac screening programme introduced in Italy around 2005 (it has since been phased out due to cost). The Italian Coeliac Society strongly advocates the rights of sufferers – visit their website to get an updated list of pizzerias, trattorias, gelaterias and B&Bs in any region that are certified gluten-free.
When gluten-free dishes aren't on the menu, you can still enjoy classic Italian dishes with polenta or Arborio rice. And if you're travelling further afield, lots of countries naturally use gluten-free ingredients – rice noodles and coconut milk in Thailand; or pulses, corn-based tortillas and rice in Latin America.

2. Is it worth doing research before your holiday to find coeliac-friendly spots?
Absolutely – even if just for peace of mind. If you're staying in the UK there's a great app from Coeliac UK which has lots of helpful tips, as well as a list of venues that comply with their regulations. You can also look out for the accredited gluten-free symbol, which verifies a product has no gluten.
If you're travelling abroad, there are fact sheets for each country on Coeliac UK so this would be a great place to start; there are also leaflets on how to explain your condition in the local language. It would be useful to have these printed off or have them on your phone if you have any difficulties.
It's also worth bearing in mind street food may be a simpler option – you can see how your food is being prepared and cross-contamination risks are often lower as the vendors tend to focus on a smaller selection of dishes.  

3. What kinds of dishes should you be looking out for on a menu if you're coeliac?
Gluten is a protein present in wheat, barley, rye and, for some people, oats. However, even if what you order doesn't contain gluten, the ingredients in your food have likely still been in contact with other products containing gluten in a restaurant kitchen. Moreover, gluten is often added to things you may not expect – think stock cubes, croutons or oil that has also been used to fry foods with gluten (for example a pan used to fry onion rings may also be used for chips).

4. What are some good breakfast options if you're in a hotel?
If you're eating from a buffet, it's crucial to avoid cross-contamination, for example with serving spoons, which are used for gluten-containing foods. Fresh fruit, eggs and yoghurt are all good, healthy choices, but if you do go for a fried breakfast, remember that sausages and black pudding can often have gluten added to them so always check this with the chef.
Alternatively, you could pack your own gluten-free bread – just be wary of cross-contamination if using a shared toaster or breadboard. Many coeliacs find self-catering accommodation a less stressful way of travelling – you can easily pack a few tried-and-tested food items that you can eat at meal-times.

5. What about snacks?
It's absolutely worth packing some of your favourite gluten-free snacks, such as oatcakes and other cereal bars, and you can always buy fresh fruit when you've arrived.
It's also worth doing a bit of research on the supermarkets near your destination – the majority of European supermarkets now have a significant gluten-free section, so work out in advance what the labelling looks like.

6. Anything else you should pack?
It may sound silly, but it can be useful to bring your own condiments with you to avoid cross-contamination. The small one-use sachets of jams, butter and things like mayonnaise are always handy.
If you have space in your suitcase, it could also be worth taking some gluten-free staples which can be used to fall back on, such as pasta, vacuum-packed bread rolls and baguettes, bread mix, cereal and other snacks – they can always be brought back home if you don't eat them.

7. If you do have a flare-up, is there anything you can do to ease your symptoms?
The most important thing to do is to stop eating gluten, otherwise just try to rest and stay hydrated.
If you're in pain, you can try taking paracetamol or buscopan. And if your condition isn't improving, your pain is worsening, you have a fever or blood in your stools then you should see a GP locally.

8. What's your number one tip for following a gluten-free diet on holiday?
Take the time to research your destination and check what the local cuisine is like – this may sound obvious, but it can make all the difference to your holiday and enjoyment. Remember, there are other coeliac travellers who will have posted information on useful supermarkets and local stores – just Google your destination with 'coeliac' to see what you can find.
Also take the time to go on Coeliac UK and download their country fact sheet to your mobile phone so you know how to explain your dietary requirements. And remember, if you're particularly concerned you can make a trip to your local GP to find out more about what you should avoid and any precautions you can take before jetting off.
DISCLAIMER: We endeavour to always credit the correct original source of every image we use. If you think a credit may be incorrect, please contact us at info@sheerluxe.com.