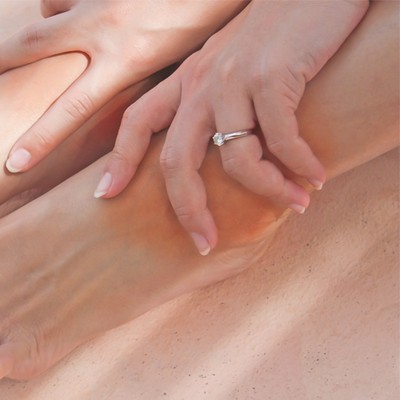 The Best Cures For When You're Swollen In The Heat

With hot weather and long-haul holiday flights abound, it's no wonder so many of us suffer from water retention in summer. Thankfully, there are a whole host of tricks to beat bloating and puffiness fast – so whether you're getting swollen ankles on the plane, or puffy legs after a day in the office, these are the supplements, beauty products, tools and expert tips to try…

Stay Hydrated
It may seem counterintuitive to drink more water when you're already retaining it, but often in the heat water retention is actually a symptom of the initial stages of dehydration – this is because, as your body loses fluid via sweat, it tries to make up for the loss by conserving any remaining; reabsorbing it into your tissues. Therefore, staying hydrated is key.
Along with your two litres a day, ensure you drink extra fluid in summer before working out or being outside in the sun for long periods. And if you are feeling dehydrated, drinking an electrolyte drink is a fast way to get your body back on track – replenishing both the fluid and electrolytes lost through sweat, helping you hydrate quicker. We love Nuun Active's handy tablets: sweetened with stevia, and with only ten calories per serving, they're a healthy alternative to sugary sports drinks.
 
Eat Bloat-Busting Foods
As nutritionist and Founder of GP Nutrition, Gabriela Peacock, explains, eating seasonally in summer is one of the best ways to avoid fluid retention. "Summer sees the arrival of fresh watermelon, cucumber and lettuce, which are all great for hydration," she says. "Moreover, research has shown that fruit and vegetables contain have far more goodness when picked at the peak of their ripeness."
To further reduce water retention, she also advices cut out hidden sources of salt and sugar within processed foods, instead focusing on fruit, vegetables and plenty of lean protein. And for a natural electrolyte boost, include potassium-rich foods (bananas; avocados; sweet potatoes; beetroots) and magnesium-rich foods (nuts, whole grains, dark chocolate; leafy, green vegetables. And SL's Health & Beauty Editor's top tip? Try adding lemon and cucumber to water, as they contain enzymes that release excess sodium.
Take A Supplement
It's estimated around 75% of adults in the UK don't get enough magnesium, making it one of the most common nutritional deficiencies in Britain, second only to vitamin D – so it could well worth be taking a supplement for an extra boost if you're experiencing frequent water retention.
Or for a herbal way to beat the bloat, team SL are big fans of Caudalie's Draining Organic Herbal Teas – a warming blend of red vine, blackcurrant, blueberry, sweet orange peel and cinnamon, simply steep in just-boiled water for five minutes (we like to leave it for ten for an extra boost) and you'll feel less puffy in hours. Don't just take our word for it – it's been proven to reduce up to 3.8 cm from women's thigh measurements in Caudalie's tests.
Improve Your Circulation
"Poor circulation contributes to fluid retention and swelling," explains Dr Patterson, Founder of Woodford Medical. Along with regular exercise to get your blood pumping, he also recommends daily body brushing – which stimulates both lymph and blood circulation – and performing feet and leg exercises while sitting down, especially on long flights.
When it comes to choosing your tools, we love Mio Skincare's Body Brush, which boasts both natural bristles and harder massage nodules – brush in long, sweeping strokes in the direction of your heart to boost blood flow and flush away toxins. Or try the innovative Bodylift by Sarah Chapman – a unique massager featuring 12 rolling heads and 72 massaging nodules: essentially, it does the hard work for you, leaving your body looking more streamlined with minimal effort.
Put Your Feet Up
If it's your legs, feet and ankles that feel puffy, one of the easiest ways to reduce the fluid build-up is to raise them so they're level with your heart – the NHS advise doing this three to four times a day. It's well worth investing in a specialist leg raiser pillow or leg rest stool if swelling is a real problem for you, or if it's more sporadic a stack of pillows or cushions will also do the job.
Our tried and tested advice: after a long day in the office (and hot tube journey home) applying an invigorating leg gel before you put your feet up feels like pure bliss. We seriously rate Legology's much raved-about Daily Air-Lite Lift For Legs – packed with draining botanicals, firming lemon peel extract and circulation-boosting caffeine, it makes legs feel lighter in minutes.
WHEN TO SEE A DOCTOR:
While the NHS says it's normal to have some swelling in your legs at the end of the day, particularly if you've been sitting or standing for long periods, fluid retention – known medically as oedema – is often a symptom of an underlying health condition. So if it's a long-term problem for you, and not just the result of warmer weather or flying, it's worth going to your GP to check it's not anything more serious – especially if you're experiencing pain or discomfort as a result of the swelling.
They may check your blood pressure, along with testing for heart, kidney, liver and circulatory problems. Medication, such as corticosteroids, medicine for high blood pressure and the contraceptive pill can also cause or worsen oedema.
For more information, visit NHS.UK
DISCLAIMER: We endeavour to always credit the correct original source of every image we use. If you think a credit may be incorrect, please contact us at info@sheerluxe.com.