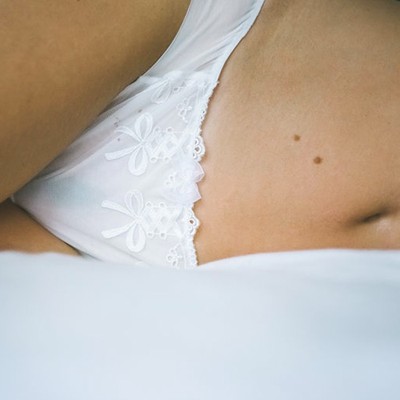 Have You Heard Of 'Winter Vagina'?

We're more than familiar with the effect of winter on our skin and hair – we're talking dry patches, chapped lips and split ends – but the concept of 'winter vagina' is a new (and slightly troubling) one. Coined by a former NHS midwife, but disputed by most medical experts, here's what you need to know about the headline-grabbing phenomenon…

Winter vagina was first brought to the public's attention by Mary Burke, a former NHS midwife and senior clinical nurse at the London Bridge Plastic Surgery & Aesthetic Clinic. Speaking to The Sun earlier this month she issued a warning to women, citing that the drop in temperature this season could lead them to experience vaginal dryness.
"Dry autumn and winter air depletes moisture from our bodies, leaving our skin dehydrated and cracked, and our sinuses parched," she said. "When we spend a lot of time in air-conditioned rooms, or with the heating on, we're living in air which carries very little moisture. And while it's an issue few will want to discuss openly, our vaginas can enter 'drought mode' during this time, too."
 
However, the majority of other experts disagree. Gynaecologist and vaginal health expert Dr Jen Gunter has publicly rubbished ideas that weather changes can affect women's reproductive health (along with writing this hilarious blog post on the topic): "Vaginas function quite well in all seasons," she said, adding that vaginal dryness has nothing to do with the temperature outside, but rather that it's caused by low oestrogen levels, some medications and thrush. "The vagina maintains a steady temperature because it is inside your body and human body temperature only rises with the outside temperature when someone is suffering from heat stroke."
"Your summer vagina is the same as your winter, spring and fall vagina."
Despite it only being five mere months since Teen Vogue was publicly blasted for encouraging its young readers to 'Get your best summer vagina ever', it seems some media outlets are still unaware they're spreading incorrect information – something Dr Gunter said she finds "painful," when writing about the summer vagina scandal back in May.
"This is the kind of damaging information that leads women to think their normal discharge is excessive. This is the kind of information I undo every day in the clinic," she said. "Your summer vagina is the same as your winter, spring and fall vagina."
Men aren't exempt from all this either – with #SummerPenis and #WinterPenis both trending on Twitter and Reddit this year – but the difference is, these terms came from men sharing their own stories, rather than being given unfounded and unsolicited medical advice. While doctors stress that the penis doesn't grow during summer heatwaves, nor shrinks during the winter, it can appear to vary in size as your body tried to regulate its temperature – which is what the men in question appear to be discussing.
So, as Annabelle Knight, sex and relationship expert for Lovehoney confirms, while winter vagina may be a myth, winter penis is very much a real phenomenon. "The blood vessels in the penis shut down because of the cold temperature," she explains. "The body is programmed to preserve heat and energy. So in the cold, it funnels its resources into maintaining blood flow to the middle of your body, where your vital organs are. But in order to do that, your body has to reduce blood flow to your appendages – your fingers, toes, and your penis. The testicles also retract and rise closer to the rest of the body so they can also stay warm."
Knight says that, due to this, men can expect their penises "to shrivel by up to 50% in length and 20% to 30% in girth when the weather gets chilly" and they may even take longer to orgasm. "'The cold desensitises the penis," she explains. "It makes it slightly less responsive to stimulation."
So there you have it, ladies. No need to wrap up your vaginas this winter (although if you are experiencing non-weather-related vaginal dryness or finding sex painful, read our expert guide on what to do about it).
DISCLAIMER: We endeavour to always credit the correct original source of every image we use. If you think a credit may be incorrect, please contact us at info@sheerluxe.com.