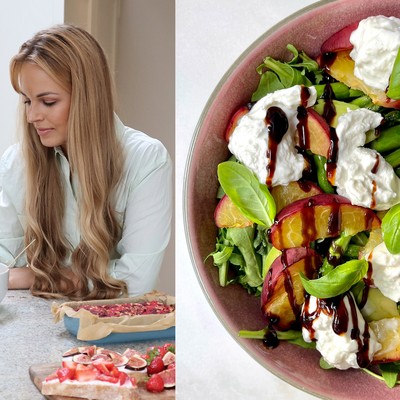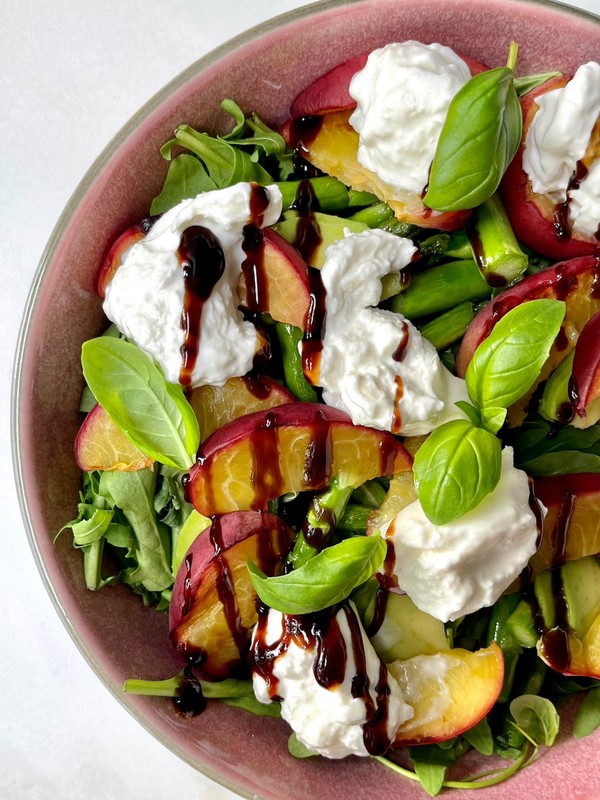 How A PT & Nutritionist Eats To Stay In Shape

As a nutritionist and personal trainer, Gabi Zaromskyte understands the importance of eating well. From protein-rich breakfasts to gut-supporting snacks, here's how she eats to maintain energy and boost performance.

By Tor West
I start the day with coffee. Coffee can be controversial but it's rich in antioxidants. Just one cup per day has been linked with a lower risk of health issues like diabetes and cognitive conditions like depression. Besides the health benefits, I enjoy drinking something warm as part of my morning routine. I take mine black, and often have a second cup after lunch. In the winter months, I crave comfort – think oat milk matcha lattes and soya milk cappuccinos.
Monitoring my blood sugar has been game changing. Since wearing a continuous glucose monitor, I've learned that my body thrives when I push my breakfast back a few hours. Before wearing the monitor, I was experiencing energy slumps soon after eating breakfast, no matter how balanced my meals were. I experimented with having my first meal around 11am and quickly saw my blood sugar was more stable. Ensuring my first meal is rich in protein, fibre and healthy fats gives my energy a further boost. My current breakfast of choice is a small pot of Greek yoghurt with flaxseeds, chia seeds and hemp seeds, a splash of kefir, berries and a generous drizzle of honey.
Fasted workouts aren't right for everyone. Despite recent research suggesting working out on an empty stomach can wreak havoc with our hormones, we're all different. After years of studying nutrition and personal experience, I still find I feel best when I exercise on an empty stomach. However, I ensure a morning session never lasts longer than an hour, and if I do exercise in the morning, it's either yoga, Pilates or a gentle run. I refuel immediately when I get home. I love porridge made with buckwheat (this also works well with savoury flavours – great for blood sugar balance) or a protein-rich spinach omelette. When I have more time on the weekend, savoury pancakes are my go-to – I add fresh dill, grated parmesan and a pinch of salt to the batter and top it with poached eggs and sautéed mushrooms. 
Strength training is the exception. Carbs are one of your body's best fuel sources due to the efficient way they use oxygen. I therefore schedule a strength session in the early evening, after I've had dinner. This way, I'm fuelled from the day's nutrition and my glycogen stores are replenished to power me through a tougher workout. If I'm heading to the gym in the evening, I'll make sure my dinner is slightly higher in carbs alongside a source of protein – like soba noodles with seared tuna or a plant-powered protein bowl with pearl barley, edamame beans, tofu and cucumber.
It's a myth that you need to eat protein within an hour of training. If you eat sufficient protein throughout the day, you don't need to worry about the so-called 'protein window'. What is important, however, is making sure you're eating enough leucine, an amino acid that plays a central role in repairing and rebuilding lean muscle. Eggs, chickpeas, lentils, salmon, beef, cottage cheese and pumpkins are all rich in leucine.
Lunch is often a sandwich on brown bread. During the week, it needs to be quick and simple. One of my favourite speedy and filling lunches is a dupe of Joe & The Juice's Tunacado sandwich. I mix a can of tuna with spring onion, fresh dill, a small gherkin, a teaspoon of wholegrain mustard, a small amount of red onion, a heaped tablespoon of Greek yoghurt and lemon juice and black pepper. I spread the bread (always seeded and wholegrain) with basil pesto, avocado and tomato before adding the tuna. I also love a rainbow chicken pitta. I mix a chopped chicken breast with ground paprika and homemade tzatziki before adding to a wholegrain pitta, stuffed with radishes and black olives. Bitter foods like radishes support the liver, aid detoxification and aid fat absorption. A quick post-lunch walk is a good way to regulate blood sugar – this is a non-negotiable habit for me. Just ten to 15 minutes of light walking after eating can prevent glucose spikes and aid digestion.
Keeping my gut nourished is a priority. You'll always find Greek yoghurt and kefir, as well as some form of fermented veg like kimchi, pickled onions or gherkins, in my fridge. I'm from Lithuania, where kefir and sauerkraut are staples. I'm glad they've finally become more widely recognised for their health benefits – it's not all marketing hype. Fermented foods are fantastic for the gut microbiome, which we know impacts our entire physical and mental health.
I'm partial to a protein-rich snack. I'm a fruit fiend – nothing beats the taste of seasonal berries in the summer or a small bowl of cherries. But it's always a good idea to pair fruit with a protein source to minimise glucose spikes. All you need is a small handful of nuts to slow the rate at which the sugar from the fruit hits your bloodstream. You'll always find a protein bar in my gym bag, too. RX bars and Misfits are my favourites. However, I try not to rely on them too often, as no matter how clean the ingredients, they still contain sweeteners, which can irritate the gut and cause bloating.
Warm evenings are perfect for salads. I recently made a delicious grilled peach and burrata salad. I also like an Asian-style salad with a base of rice noodles and grated courgette, red cabbage and prawns. I can't get enough of my Asian dressing – crunchy peanut butter, apple cider vinegar, soy sauce and lime juice. When the weather is cooler, I love hearty stews, like a plant-based ratatouille.
Not all convenience food is unhealthy. I stock up on Waitrose's mixed grain and vegetable bags when I can. The chickpea, spinach and quinoa variety works well with grilled fish or meat. I also enjoy Soupologie soups – I add chicken or tofu to increase the protein intake for extended satiety and optimal muscle recovery.
I have a sweet tooth. I've been making homemade mango ice lollies on repeat this summer, blending kefir, coconut milk, a whole fresh mango, lime juice and honey. They're a source of protein and vitamin C, which is essential for collagen production and helps to absorb iron, as well as containing gut-loving live cultures. I also make a tropical smoothie bowl with banana, mango and coconut milk. The trick is to add Greek yoghurt, mixed seeds and protein powder to make it nutritionally complete. I find it particularly satisfying during the week before my cycle starts, when I crave sweeter foods.
Kombucha is a great alcohol alternative. Leading an active lifestyle, I'm conscious of not drinking in the week, but kombucha, with its refreshing bubbles, never feels like a second-rate option.
Being smart about nutrition will lead to better endurance and quicker recovery. Eating well – and that includes getting enough calories – can be the difference between a satisfying workout and one that leaves you lacking in energy. The key to unlocking the body's potential for a great workout and overall wellbeing is a diet focused on whole, real foods. Strive for a diet that's rich in protein, complex carbohydrates, healthy fats, and plenty of fresh fruits and vegetables – you'll soon reap the rewards.
DISCLAIMER: Features published by SheerLuxe are not intended to treat, diagnose, cure or prevent any disease. Always seek the advice of your GP or another qualified healthcare provider for any questions you have regarding a medical condition, and before undertaking any diet, exercise or other health-related programme.
DISCLAIMER: We endeavour to always credit the correct original source of every image we use. If you think a credit may be incorrect, please contact us at info@sheerluxe.com.