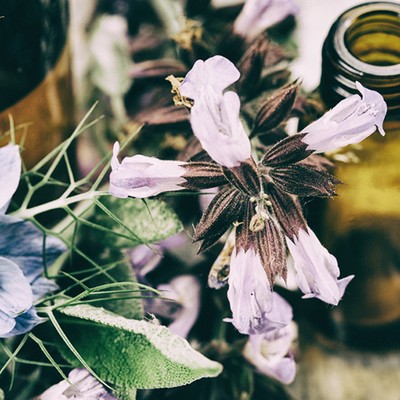 How To Rewire Your Brain With Aromatherapy

It might sound far-fetched, but your sense of smell is a powerful tool when it comes to retraining your brain, controlling your emotions and improving concentration. Still sceptical? We sat down with neuroscientist Tara Swart to understand how aromatherapy can boost mental wellbeing. Here's what she said…

Smell Affects The Brain
Scent triggers an emotional response both at a psychological and physiological level – think how you associate the coconut-y smell of sun cream with lazy summer days and the aroma of cinnamon and nutmeg with Christmas. "This all comes down to your limbic system, one of the deepest parts of your brain," explains Dr Tara Swart. "When you smell something, this is detected by your olfactory nerve, which connects the nose to the limbic system. The limbic system manages memory, navigation and intuition and induces emotional states, such as calmness, motivation and sleepiness. This is exactly how aromatherapy works."
Your Brain Is Malleable 
"Science has proven the brain is flexible, and this is called neuroplasticity. Science has also shown aromatherapy plays a key role in altering brain waves, reducing the perception of stress, decreasing levels of cortisol (the stress hormone) and triggering positive emotional responses," Tara says. Moreover, following daily rituals using specific essential oils can rewire your brain. "Rituals are important and recent discoveries about neuroplasticity show we can change our neural pathways through, for instance, using a mindful sensory ritual that includes aromatherapy to start your day," she says. For example, if you took a regular bath containing the same oils, your brain would soon associate those smells with relaxation and positive emotions, she explains.
The Right Blends Are Key
The smell of freshly cut grass may induce happy memories of spring days, but research shows it's aromatherapy which has the power to change the brain's structure. "When it comes to specific essential oils, studies show vetiver can work wonders to relax and sedate; chamomile promotes deep sleep and decreases stress levels; while sandalwood is a strong tool for anxiety. When it comes to boosting mental focus, clarity and memory, look to citrus-based oils, such as grapefruit. Rosemary is also well-studied for its effects on memory, while lavender is nature's strongest neuro-modulator, providing calm when we are agitated and focus when we need it," says Tara. Her top tip for buying the best essentials oils? "You get what you pay for – look for 100% essential oils made in small batches or professional, high-quality blends."
Your Own Ritual Will Help
"If you are going through a period of increased stress, try to establish a morning and night-time ritual with additional boosters throughout the day. It's worth noting different formulations deliver different strengths of essential oils – bath and shower oils can be applied directly to the skin and inhaled, while sprays and mists are best for inducing sleep. Rollerballs are also a portable way to incorporate a little mindfulness into a hectic day, allowing you to tap into refreshed energy when needed," Tara says. "And while essential oil-based candles and diffusers might smell nice, they're nowhere near as potent and don't have the same effect on the olfactory nerve."
 
Wake up your brain and boost your emotional state with these essential oils…
 
De Mamiel Rise Oil, £37
Dot this potent blend on pulse points after a sleepless night – the combination of zesty lemon peel, uplifting wild mint, refreshing rosemary, milk thistle and jojoba has been designed to revive the senses, even when you're running on empty.
Available at DeMamiel.com
Aromatherapy Associates Inner Strength Bath and Shower Oil, £49
With anxiety-soothing clary sage, grounding sandalwood and balancing geranium, just a couple of drops of this oil in your bath will reset frazzled nerves.
Available at SpaceNK.com
ilapothecary Beat The Blues Pulse Point Roller, £27
An alchemical blend of soothing tuberose, balancing geranium, and healing petitgrain proven to steady the mind, ease frustration and promote rest.
Available at FeelUnique.com
Do Terra Mood Management Kit, £128
From the woody, calming aroma of frankincense and blue chamomile to the uplifting combination of lavender, tangerine and osmanthus, these top-quality oils from an industry-favourite brand are a great place to start.
Available at DoTerra.com
Therapie Roques O'Neil Inner Light Sleep Drops, £48
Feeling anxious and overwhelmed? Decant a few drops of this oil onto a warm flannel, place over the face and inhale. With jasmine to encourage a restful state, spikenard to relieve worry and orange blossom to ease insomnia, it works wonders to induce sleep.
Available at Selfridges.com
Coéo Essential Oils Blend Pack, £25
Cover the bases for better wellbeing with this trio of oils, all of which are responsibly sourced and vegan-friendly. The reviving aromas of cardamom and neroli are our go-to for flagging energy levels.
Available at CoeoEssentials.co.uk
DISCLAIMER: We endeavour to always credit the correct original source of every image we use. If you think a credit may be incorrect, please contact us at info@sheerluxe.com.