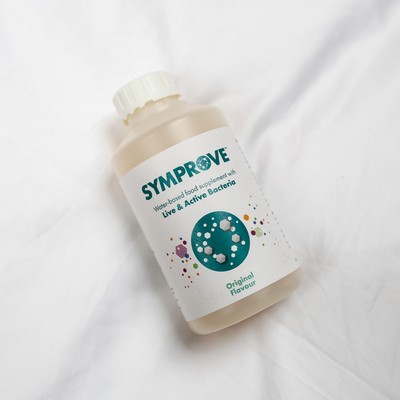 The Industry-Approved Supplement To Support Your Microbiome

Gut health remains top of the wellness agenda, with everything from kombucha to kimchi believed to be the answer to a better microbiome. But when it comes to supplements, not all are created equal. Meet Symprove, the water-based formula designed to deliver live bacteria straight to your gut. It might not be the cheapest, but it truly is the industry gold standard lauded by nutritionists, journalists and loyal customers, alike. Here's why…

CREATED IN PARTNERSHIP WITH SYMPROVE 
What makes it different? 
Unlike other products on the supplement shelves, Symprove comes in liquid, rather than capsule, form, making it a true game-changer. When we eat something, or take a capsule, this triggers digestion, which breaks down the food and bacteria contained within. Symprove, on the other hand, delivers its bacteria via a water-based formula, meaning the stomach doesn't break it down and bacteria reaches the gut intact, where it thrives and multiplies, in turn helping support a healthy microbiome.
What's in it? 
Symprove is based around a fermented barley grain, which contains four unique strains of live and active bacteria. Each serving contains around 10 billion live colony forming units (in layman's terms, that's a serious dose of gut-supporting goodness). Despite containing barley, any gluten is removed during the production process, making Symprove suitable for those who suffer from gluten allergies and intolerances. In fact, each and every sample is checked to ensure Symprove remains under the 20 parts per million limits for a gluten-free product. Symprove is also dairy-free, FODMAP-friendly, and suitable for vegans and vegetarians. 
Does it really work?
A clinical trial at University College London found Symprove was able to survive the harsh environment of the stomach and the transit to the gut, where it can multiply and support the gut microbiome. If that wasn't enough, each batch of the unique liquid formula is tested three times by an independent laboratory, so rest assured you're getting a top-quality product that really does what it says.
How should you take it? 
Simply fill the small cup (70ml) that comes with your bottle of Symprove and take every morning on an empty stomach, ideally before your tea or coffee. Wait for at least ten minutes before eating or drinking. Once open, your bottle should ideally be kept in the fridge to guarantee maximum potency. If you forget to take Symprove first thing and have already eaten, allow two hours after eating and then take your daily dose. 
Studies show Symprove is able to survive the harsh environment of the stomach, where it can multiply and support the gut microbiome.
What does it taste like?
Symprove is available in two flavours – original, which has a malty, grain-like taste; and mango and passion fruit, which has a fruity sweetness and a less acidic flavour. Both contain the same number of bacteria per serving. 
How quickly can you see results?
Each bottle of Symprove will last you around a week, and it's recommended to try a 12-week programme for the best results, as this is how long it takes to initially re-set the gut bacteria balance. Some users, however, see results far sooner than the 12-week mark.
Who's it for?
If you're interested in supporting your gut health with a five-star product that's backed by science and clinical trials, Symprove is well worth a try. After all, your microbiome is a huge ecosystem made up of trillions of organisms such as bacteria, yeasts and fungi that live in your digestive tract, collectively weighing up to 2kg, heavier than the average human brain. The microbiome is the subject of on-going research, but studies do show it's involved in countless bodily functions, helping to train our immune system, produce vitamins and minerals, defend against pathogens, support detoxification, and aid the breakdown of complex carbs. However, modern lifestyles mean we can't always treat our gut with as much TLC as we should, which is where live bacteria supplements come in. 
How can you get started?
If you decide to commit to the recommended 12-week programme, you'll also get four weeks free, setting you back £158 (the cost of eight weeks). Once your three months is up, you can purchase a four-week maintenance pack for £79, and there's also the clever option to set up a subscription, which is just £52 a month, taking the hassle out of re-ordering. Plus, SheerLuxe readers can get 15% off a 12-week programme by entering SHEERLUXE15 at checkout; new UK customers only, expires 30th November.
DISCLAIMER: We endeavour to always credit the correct original source of every image we use. If you think a credit may be incorrect, please contact us at info@sheerluxe.com.