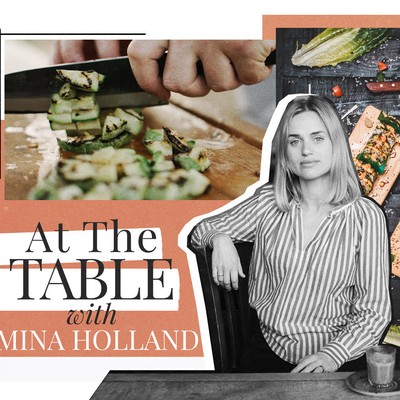 Mina Holland: Food For Thought

When it comes to food, writer Mina Holland knows what she's talking about. Here, in the first of her new monthly food column, she celebrates the simple pleasures of being in the kitchen – starting with her utensil drawer.

Food writing groans with clichés. I should know. As a food writer and editor, I have not only stumbled over one too many 'mouth-watering's, 'cooked to perfection's and 'tasty's in my time, but probably wrote a fair few of them, too, before I knew better. But what irks me more than anything in recipes is the ubiquitous – and often inappropriate – promise of simplicity. For every 'flavourful' and 'oozing', I could find you a dozen 'simple's or 'simply's in recipes that actually aren't. 
 
So this is a new monthly column dedicated to simplicity. Actual simplicity, the kind that saves you time, space, money and calories without resorting to a takeaway; the kind that inspires you to cook at home, and to keep on doing so once you've started. Empowering and accessible ideas for what to cook and where to eat, wherever you are and whatever your budget. Your kitchen kit feels like a sensible place to start.
 
In a world of spiralisers, spaghetti measurers and virtually every device ever reviewed by journalist Rhik Samadder, it's easy to be blindsided by the unnecessary. I find it helpful to remember Marilyn Monroe's nightwear when I'm in the kitchen: she wore just a few drops of Chanel No.5 and nothing else to bed. Whatever your choice of kitchen attire (call me a prude, but I prefer the addition of an apron, especially when frying), a cook can learn from this minimalist approach: own fewer, own better. There isn't much a mandolin can do that a sharp knife and a steady hand can't, and rather than reaching for the garlic press every time a meal calls for crushed cloves of garlic, I have a large pestle and mortar that's easier to wash-up and doubles as an egg repository in its spare time. 
 
So what does a kitchen really need to make a good meal? In mine, there are two chopping boards – one plastic (for meat and fish), one wooden (for everything else); two lidded casserole dishes, one flat and shallow for bakes and sautés, the other deep enough for stews and pasta; a springform cake tin and a couple of roasting trays, a box, a Microplane grater and a catalogue of wooden spoons who wear their histories in turmeric hues and burn marks. And although I have a cupboard brimming with lovingly collected ceramic vessels, I always find myself using the same ones on rotation. As the late American food writer Laurie Colwin put it in her essay, 'The Low Tech Person's Batterie de Cuisine' (the holy grail for anyone wanting to give their kitchen the Marie Kondo treatment), "…keep in mind that pots and pans are like sweaters: you may have lots of them, but you find yourself using two or three over and over again." 
 
And then there are my knives. Aside from the bread knife, a carving set, and a folding Opinel number reserved for eating apples and cheese on the hoof (classic), I have two knives in regular use: a paring knife moulded to the shape of my hand and a new Japanese vegetable knife with a mottled rectangular blade – a welcome arrival as tougher-skinned autumn veg has started to enter my kitchen. So far it has hacked into several squashes, from a Cornish butternut to a Scillonian marrow on a recent trip to the south-west, roasted with ginger, garlic, chunks of lemon, chilli and olive oil, then served with whipped natural yoghurt and crumbled feta. It's chopped countless onions, to become, on one occasion, a sweet-scented allium bed for chicken, cream, white wine and vinegar in Samin Nosrat's poulet au vinaigre recipe. And it has prepped a cauliflower for dinner on the night of writing, for Yotam Ottolenghi's cauliflower cake, his way of making sense of cauliflower cheese (a British institution about which he's clearly dubious). 
 
None of the above have required more than the kitchen apparatus listed above – all I can fit in a small flat with an even smaller kitchen. Simple, right? 
 
Mina Holland is a journalist, editor and author specialising in food, drink and lifestyle. She is deputy editor of the Guardian's Saturday 'Feast' supplement, regularly contributes to various sections of the Guardian, and has written for, among others, The Evening Standard, Men's Health, Noble Rot, Saveur, Soho House's 'House Notes', Stylist and SUITCASE magazines. She is the author of two books, The Edible Atlas (Canongate 2014) and Mamma (Orion 2017) and lives in London. Find her on Instagram @minaholland.    
 
DISCLAIMER: We endeavour to always credit the correct original source of every image we use. If you think a credit may be incorrect, please contact us at info@sheerluxe.com.