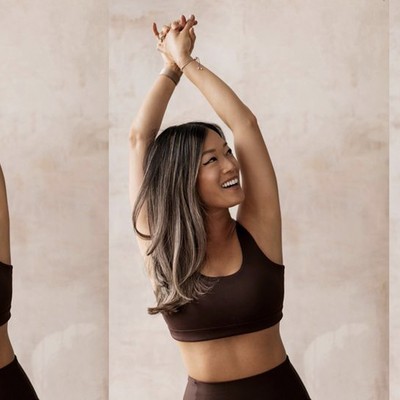 My Health Rules: Sarah Highfield

Stress-relieving massages, yoga nidra and plant-based multivitamins are all priorities for yoga teacher Sarah Highfield. Having worked at the likes of Bodyism and Form Studios, Sarah now teaches her own unique style of yoga. Passionate about restoring the body back to peak mobility and health, she also hosts retreats across the world. Here's how she keeps her own health on track…

By Tor West
All products on this page have been selected by our editorial team, however we may make commission on some products.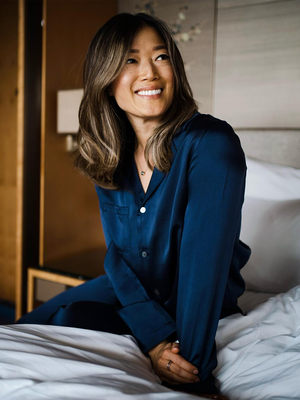 Yoga is a great way to balance out daily stresses. I first became interested in yoga when I was 21 during my gap year in Fiji. Prior to that, I'd been to a couple of one-off yoga classes, but it took a while to fully resonate with me. I spent most of my 20s doing yoga on and off, and by my early 30s I was hooked. Whether it's a ten-minute stretch in the morning or a longer session at the weekend, practising yoga makes me feel grounded. It's the most powerful method I've come across for calming my mind – essential if you live in a busy, frantic city.
Sun salutations are a morning ritual for me. If you've been to any sort of yoga class, chances are you'll have done some sun salutations before – they often happen at the beginning of a class but can be done as a standalone practice. In ancient tradition, sun salutations were used during morning prayer and worship rituals. Over time, they've evolved to become a key part of conditioning the body and calming the mind, helping you disconnect from any stress and enter a meditative state. A 15-minute round of sun salutations in the morning always gets my day off on the right foot.
During the week, breakfast is something quick and easy. Brown toast and nut butter, porridge or fruit are all staples in my house. If it's a particularly busy morning, I'll pick up a coffee and pastry from a local café – pastries, fruit tarts and choux buns are my guilty pleasure. At the weekend, when I have more time, I love taking the time to cook a bigger breakfast – an omelette is one of my favourites. If I'm going out, I love Soutine in St John's Wood, where I order the buttermilk pancakes with blueberry compote.
Alcohol is all about moderation. I don't drink regularly, but when I do, I'm partial to a glass of rosé – preferably Minuty, Miraval or something from the south of France. French fries are the ultimate treat – if I'm eating out, I'll often order a salad just so I can have a side of fries. 
Supplements can help fill any nutritional gaps. I've been taking Form's Multivitamin for a while now – it's a great all-rounder that contains everything from brain-boosting choline to a vitamin source of D3. I take it every day after lunch.
We're spoilt for choice when it comes to London restaurants. I am a big foodie and really missed eating out during the pandemic, so now enjoy having lunch or dinner out on the weekend so much more. I love mixing it up – I recently tried Bar des Prés in Mayfair, an incredible French-Japanese restaurant where I had one of the best meals I've had in a while, and I also rate Bala Baya for Israeli food. If I don't fancy eating out, I'll order something from Deliveroo – if you're based near St John's Wood and like sushi, Maguro is a must. 
You can't beat a one-pan recipe. When I'm cooking for friends, I like to try and keep things light and healthy, but still delicious. My failsafe formula is lots of sharing plates followed by a one-pot meal – Jamie Oliver is my go-to. 
My diet is best described as balanced. I don't avoid anything and am lucky not to have any intolerances or allergies. My favourite supermarket is M&S, but I try to go to my local greengrocer and butcher as well. If there's an organic option, I'll buy that, but I'm not put off by non-organic food. I'm a big snacker – I bulk buy Wonderful pistachio nuts and Peter's Yard crackers.
It's important to listen to your body. When it comes to exercise, I like to mix it up – it's not all about yoga. I try to exercise in the gym every second or third day, which averages out around two or three workouts per week, with each session lasting 30-45 minutes. I'm a strong advocate for having rest days between workouts and am conscious of never punishing my body. If I don't feel like working out, I don't. As I've gotten older, I'm much gentler on my body. For example, I don't run as fast as I used to on the treadmill so I can stay injury-free, and instead of a gruelling Body Pump class, I'll do more reps using lighter weights. Some days I'll run on the treadmill, albeit at a leisurely pace, or I'll use the cross trainer. On other days, I'll do a HIIT or yoga class. Regardless of what I do, I'm always conscious of my energy levels and choose a workout accordingly. 
Yin yoga can aid recovery. In yin yoga, poses are held for up to ten minutes, making it the perfect post-exercise session. It's designed to alleviate stiffness and restore a healthy range of motion, enabling you to feel less achy or sore. At the moment, my workouts aren't intense enough to warrant a specific recovery plan but when I am feeling sore or tight, an hour of yin yoga works a charm.
A daily walk is a lockdown habit that's stuck with me. During the first lockdown, walking was the only form of exercise for many of us, and with Regent's Park right on my doorstep, I spent lots of time there in the mornings and on weekends. Now that life is slowly returning to normal, I'm in the park much less, but I try and go as often as I can – the power of fresh air and being in nature can't be underestimated. 
There are clear links between yoga and sleep. If you struggle with your sleep or find it tricky to switch off in the evening, try yoga nidra. It aids sleep by activating your autonomic nervous system, which regulates your heartbeat, breathing, digestion and blood flow. People who can't sleep well, even if they feel physically, mentally and emotionally tired, are often kept awake because their minds are overactive, and their body feels restless. Yoga nidra works to gradually release all these small barriers and tensions. 
A massage can also help relieve tension. I have a deep tissue massage once a month – my shoulders get very tight from yoga, and I find a massage is the perfect way to remedy this. I go to a Japanese wellness centre in Marylebone called Chi Yu, and always leave feeling relaxed and refreshed.
A consistent skincare routine is another important part of wellness. I love Ananné skincare as it's natural, gentle and results driven. The formulations are powerful but simple and unfussy. I also use a body cream by Bharti Vyas, which leaves my skin feeling so soft – it would probably be my desert island beauty product. And when it comes to the thing I buy time and again, it has to be Elizabeth Arden Eight Hour Cream.
For more information or to book a class with Sarah, visit Yogagise.com. A 60-minute, private one-to-one costs £100. You can also follow her on Instagram @Yogagise.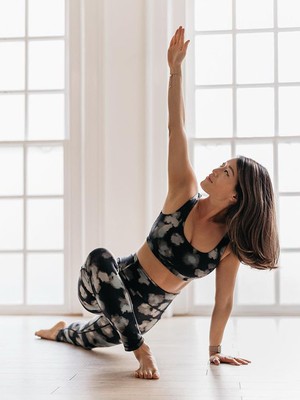 ---
Shop Sarah's Product Edit...
Follow Sarah @SarahHighfield and visit Yogagise.com
DISCLAIMER: Features published by SheerLuxe are not intended to treat, diagnose, cure or prevent any disease. Always seek the advice of your GP or another qualified healthcare provider for any questions you have regarding a medical condition, and before undertaking any diet, exercise or other health-related programme.
DISCLAIMER: We endeavour to always credit the correct original source of every image we use. If you think a credit may be incorrect, please contact us at info@sheerluxe.com.