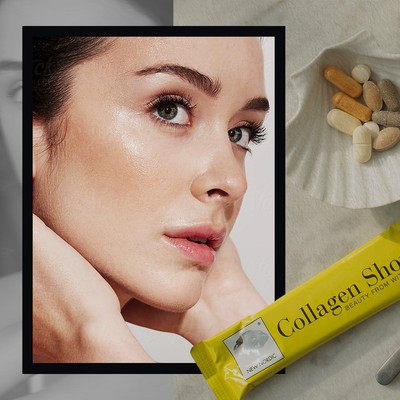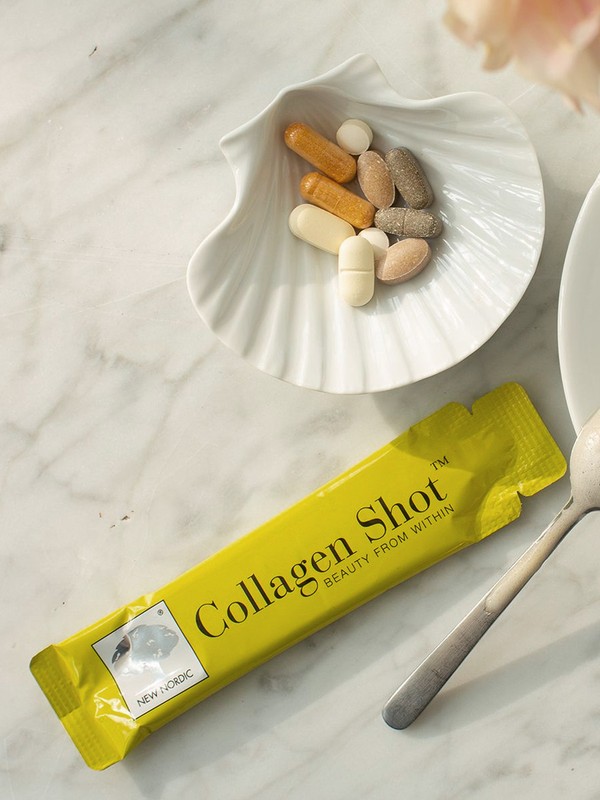 The New Way To Take Collagen For Plump, Glowing Skin

Drinks, powders, capsules, gummies – the collagen market is booming, but not all products are created equal. Proven to support collagen production for smooth, supple and more radiant skin, New Nordic's Collagen Shots is one to try. Here's why it stands out from the crowd…

CREATED IN PARTNERSHIP WITH NEW NORDIC
What Is Collagen Again?
Collagen is found naturally in the body and plays a crucial role in skin's elasticity and firmness. But countless studies have shown that from our mid-20s, levels slowly decline by around 1.5% every year, leading to a loss in plumpness, radiance, elasticity and firmness. Reports show that by the time you reach 45, collagen levels have fallen by as much as 30%. Offering a science-backed solution to declining collagen levels, New Nordic's Collagen Shots provide an impressive dose of collagen, skin-boosting nutrients and antioxidants per dose for plump, dewy-looking skin.
What Makes These Shots Different?
As far as supplements go, our bodies cannot absorb collagen in its whole form. But when it's hydrolysed, it's easier to digest and more quickly absorbed by the body, meaning more of it can get to work where it's needed. This type of collagen is also rich in certain amino acids which are essential for building new collagen. As well as 5,000mg of hydrolysed collagen, each serving contains cherry coffee extract, which is brimming with antioxidants to tackle free radicals, reduce skin damage and supercharge glow, as well as healing vitamin C and biotin, which plays a vital role in healthy skin. In a nutshell, Collagen Shots will kickstart collagen production, improve skin elasticity and counteract the appearance of fine lines and wrinkles.
How Do You Take Them?
Forget messy powders or endless capsules – the beauty of Collagen Shots is its easy-to-take liquid formula. Pre-mixed and with a natural berry flavour, take it straight from the sachet or add to a glass of water. The pocket-sized sachets can easily be stashed in your handbag or desk drawer to make getting your daily dose easier than ever. 
Collagen Shots provide an impressive dose of COLLAGEN and SKIN-BOOSTING NUTRIENTS per dose for PLUMP, DEWY-LOOKING SKIN.

Does It Really Work?
New Nordic has been leading the way in the health world for the last 30 years, and all its products are backed by trials. Research shows collagen works best if taken in a dose of 5,000mg per day, which is the amount found in Collagen Shots. Separate trials found there was a significant increase in skin elasticity after taking hydrolysed collagen, which was more pronounced in women over the age of 40 and with long-lasting effects. Take Collagen Shots for a month for the best results.
Who's It For?
Whether you're looking for a boost of hydration or feel your skin is dull and lacklustre, it could be worth trying Collagen Shots. Remember, various lifestyle factors – such as diet, sun exposure, sleep, stress levels and hormones – also play a part in how quickly your collagen breaks down, so if you're burning the candle at both ends, or not eating as well as you should, add Collagen Shots into your routine to give your body and skin a helping hand. 
Shop The Product...
Want in? Visit NewNordic.co.uk for more information.
DISCLAIMER: Features published by SheerLuxe are not intended to treat, diagnose, cure or prevent any disease. Always seek the advice of your GP or another qualified healthcare provider for any questions you have regarding a medical condition, and before undertaking any diet, exercise or other health-related programme.
DISCLAIMER: We endeavour to always credit the correct original source of every image we use. If you think a credit may be incorrect, please contact us at info@sheerluxe.com.