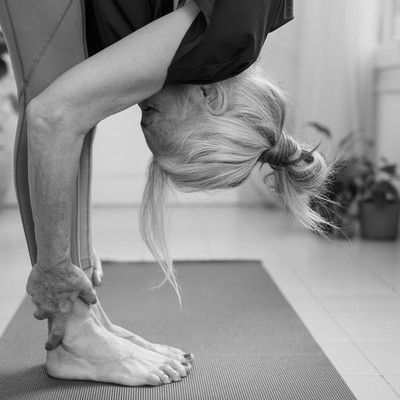 The Best Online Yoga Classes To Try

Whether it's an energy-boosting vinyasa or de-stressing yin, a restorative yoga practice may be just what the doctor ordered. Promising to calm a cluttered mind, release tension, aid sleep and banish sluggishness, here are seven online yoga classes worth tuning into…

Images: STOCKSY/BONNIN STUDIO
BEST FOR WELLBEING: Brenda Ward
A yoga teacher for nearly two decades, Brenda Ward runs daily virtual classes as well as in-person sessions from her home in Lancashire. Her classes – which incorporate simple and dynamic movements with energising breathwork and uplifting readings – are designed for mature women, regardless of ability and experience. Brenda also themes each of her classes, covering topics that are relevant to women in their fifties and beyond – recent themes include yoga for better bone health and improved sleep post-menopause. As well as a physical workout, Brenda will also equip you with simple tools for managing specific challenges, such as looking after elderly parents and relatives.
 
THE DETAILS: Membership is available on a pay-as-you-go (£7 per class) or monthly basis. Monthly membership, which costs £40, also gives you access to both live and recorded classes for one calendar month. 
 
Visit BrendaYoga.co.uk
BEST FOR ON-DEMAND CONTENT: Movement For Modern Life
Renowned online wellness platform Movement For Modern Life recently launched a Menopause for Modern Life Course – the perfect challenge for cold winter days. Expect a balancing combination of yoga, breathwork, meditation and discussion, covering all aspects of menopause, from physical to mental and emotional wellbeing. The course includes over 30 movement-based classes for all experience levels, as well as exclusive access to talks and interviews. If you'd rather just dip your toe in, you can sign up to Movement for Modern Life's online platform, giving you access to over 1,400 yoga, meditation, movement and wellbeing classes to do in your own time. 
 
THE DETAILS: The Menopause for Modern Life Course costs £49 and enables you to access the course content anytime. Membership to its wider online platform costs from £10.99 per month, following a free 14-day trial. 
 
Visit MovementForModernLife.com
BEST FOR INTERMEDIATE YOGIS: Meadowlark 
On a mission to bust the myth that yoga is just for flexible twenty-somethings, Meadowlark offers gentle yet effective yoga classes for all ages. One of the only studios that actively encourages mature students to join its teacher training, try a calming yoga nidra session at the end of a busy day or a vinyasa flow if you're looking for a quick energy boost. Naomi Schogler's Gentle Vinyasa classes are a great place to start – she offers plenty of adjustments to ensure the practice is dynamic yet soothing. The Meadowlark team will also be running menopause and gentle vinyasa workshops in early 2022.
 
THE DETAILS: If you're based in Edinburgh, Meadowlark is running small group classes over the Christmas period. If not, tune in online – classes run throughout the week and unlimited monthly membership will cost you £40 for livestream classes, or £9 per class if you don't want to commit.
 
Visit MeadowLarkYoga.com
BEST FOR VARIETY: Triyoga
A mainstay on London's yoga scene since 2000, Triyoga has amassed a loyal fanbase. Teachers have a minimum of five years' experience and are trained in many different styles of practice, from yoga for back pain to relaxing yin yoga and meditation. Keep an eye out for classes with Anji Gopal, a yoga teacher and registered osteopath who specialises in using yoga as an evidence-informed way to improve health in women over 40. Her classes include Yoga for BackCare, a specialist class that focuses on strengthening the body; Well Woman Yoga, which offers physical and emotional support for mature women; and Yoga Gently, a more general class that's focused on building strength in the pelvic floor, core and spine. 
 
THE DETAILS: Individual online classes are priced at £9 each, but cheaper if you buy a bundle of credits.
 
Visit Triyoga.co.uk 
BEST FOR WORLD-CLASS EXPERTS: Kaylo Life 
If you're already into yoga and are looking to connect with an online community, Kaylo is the platform to try. Bringing together world-leading yoga teachers and wellness experts, Kaylo's weekly schedule of classes, workshops and masterclasses means there's something for everyone, whether you have 30 minutes or a little longer. Wind down from the weekend with a Sunday 5pm meditation or raise your heart rate and increase flexibility with Friday afternoon's Shake Off The Week class. Also keep an eye out for one-off yoga classes, such as sessions focusing on back pain, menopause and fibromyalgia. 
 
THE DETAILS: Classes are £10 each, but Kaylo is launching a subscription service soon. Kaylo will also be running retreats next year, hosted at Cowdray Estate on the edge of the Sussex Downs – you can sign up via their website to be kept up to date.
 
Visit KayloLife.com
BEST FOR COMMUNITY: Ponzu
Yoga is a speciality for Ponzu, the online platform which champions real time, face-to-face classes. Standing apart from other pre-recorded classes, Ponzu aims to connect friends and individuals with professionals in their field, whether you're looking to reduce anxiety and boost mindfulness with yin yoga or increase flexibility and fitness with a higher energy vinyasa session. Suzan's yoga classes come highly recommended – she personalises each session for personal needs and goals, and focuses on alignment and breathwork. Her slow and low-impact yin yoga class, in which poses are held for three to five minutes for a deep stretch and stress release, is perfect for beginners.
 
THE DETAILS: Membership starts from £10 per month, which includes credits to 'spend' against sessions with Ponzu trainers. You can upgrade your membership at any point to suit your goals and budget, and there's also the option to roll-over excess credits into the following month. 
 
Visit Ponzu.Fit
BEST FOR EASING MENOPAUSE SYMPTOMS: Harley Street At Home
A first-of-its-kind platform, Harley Street At Home brings specialist menopause doctors, lifestyle coaches and yoga teachers direct to your home to help you build your own wellbeing toolkit. Its yoga offering is headed up by Libby Stevenson, who is passionate about supporting and informing women at every stage of life. Her classes, which take place throughout the week, are designed to ease both the mental and physical symptoms of this stage of life and provide a safe place for women to share experiences and normalise their feelings. 
 
THE DETAILS: A menopause care membership – which includes yoga, meditation and mindfulness classes as well as open clinics with specialists and other exclusive content – costs £19 per month.
 
Visit HarleyStAtHome.com
 
DISCLAIMER: Features published by SheerLuxe are not intended to treat, diagnose, cure or prevent any disease. Always seek the advice of your GP or another qualified healthcare provider for any questions you have regarding a medical condition, and before undertaking any diet, exercise or other health-related programme.
DISCLAIMER: We endeavour to always credit the correct original source of every image we use. If you think a credit may be incorrect, please contact us at info@sheerluxe.com.