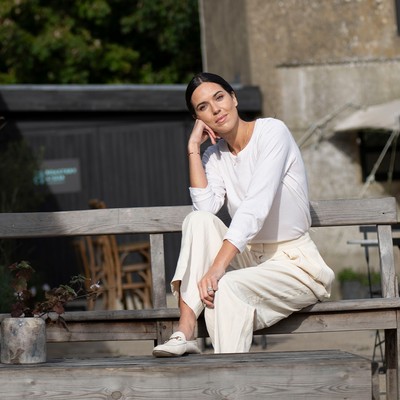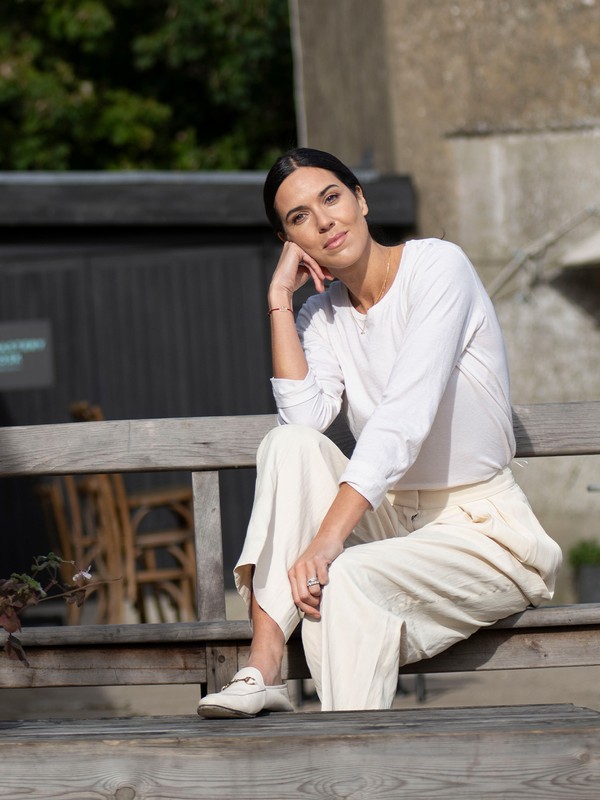 A Craniosacral Therapist Shares Her Self-Care Essentials

Imogen Little has been practising craniosacral therapy – a gentle, hands-on technique that resets the nervous system and enhances the body's self-healing abilities – for the last five years. Believing it can alleviate tension and pain, and strengthen the connection between body and mind, Imogen's holistic approach to wellbeing is one we can all get on board with. From supplements to evening rituals, here are her self-care essentials…

By Tor West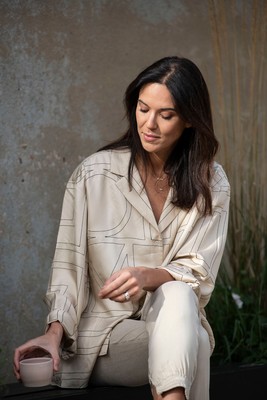 My morning routine is simple. I don't follow set rules, but the one thing I never do is look at my phone first thing – doing so can send your stress levels into a spin for the rest of the day. Instead, I stretch, take a few deep breaths, and splash some ice-cold water on my face, which is great for vagal tone. When cold water hits your face and nose, it sends a message to the vagus nerve, one of the main nerves in the nervous system that plays a key role in your stress response, to rest. This can slow down your heart rate and breathing, leading to an overall feeling of calm.
I always start the day with a bowl of porridge. It's my secret to remaining energised until lunchtime. Since having my daughter, it's become a morning ritual. I'm currently adding blueberries, goji berries and flaxseed with a drizzle of manuka honey, which is great for the immune system. At the weekend, it's always eggs – they're a great source of protein, and are great for brain function and energy levels, which we all need in the colder months. I've been trying a few coffee alternatives recently – I'm loving MUD/WTR, an organic blend of turmeric, cinnamon, ginger and cacao with functional mushrooms. It tastes like chai, which I love. 
I take PROBIOTICS DAILY. Gut health is paramount to OVERALL HEALTH AND HAPPINESS.

Morning light exposure helps reset your circadian rhythm. Come rain or shine I step outside for fresh air and morning light. We have the most beautiful view of the countryside at the back of our house and some of the most amazing sunrises. Morning light exposure plays a crucial role in regulating our sleep wake cycle and maintaining a balanced circadian rhythm. I've recently started using a Lumie Task – a light therapy lamp – which is a great way to beat the winter blues. It looks like a desk lamp but has all the healing benefits of daylight.
Self-care is especially important in the autumn and winter. The change in seasons can affect those who suffer with seasonal affective disorder (SAD), which can lead to symptoms similar to those associated with depression, including fatigue, anxiety and low mood. It's important to create healthy habits to set yourself up for the colder and more arduous winter months as it's the time when mental health suffers the most. I'm very much a sunshine person and always feel apprehensive about the change in seasons but find that focusing on the present makes me feel grounded. I also try to stick to a regular routine – I don't sleep in, I get myself to the gym, walk the dog and get out in nature as much as I can. It's also about shifting your perspective – there's so much to be grateful for at this time of year, like the falling leaves, festivities, open fires and family time.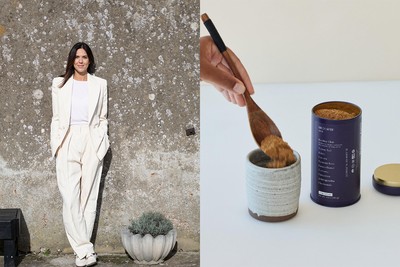 I'm currently taking supplements that give my nervous system some TLC. I always feel like I need additional support at this time of the year. Omega-3 is great for brain health and reduces symptoms of depression and anxiety – I often suggest it to clients struggling with stress. I also take probiotics and do frequent charcoal cleanses to flush the gut of any harmful bacteria. Gut health is paramount to overall health and happiness. A recent discovery is Bare Biology's vitamin D + K2 spray, which is so easy to take, and I sporadically take ashwagandha when I'm feeling overwhelmed. It supports the body's resilience to physical and mental stress by reducing cortisol levels. Naturya's spirulina powder is also a must – it's loaded with vitamins, iron and manganese. I add it to my morning smoothie.
Dairy is the one thing I try to avoid. I'm fascinated by alternative therapy and went to see a kinesiologist around ten years ago who told me I am intolerant to dairy. My husband and daughter are also both intolerant, so we are generally a dairy-free household – except for cheese at Christmas. We drink mainly oat and almond milk. 
My fridge is full of seasonal produce. As well as plenty of green vegetables, you'll also always find seasonal fruit and vegetables. Right now, I can't get enough of root vegetables, especially beetroot, which is delicious raw, cooked or roasted, and pumpkin. Salmon steaks, coconut water and Mojo kombucha are also staples. One thing you'll never find in my fridge is soft drinks – I have an adversity to processed sugar, I think it's the cause of so many health issues. 
Our diet can be enough to maintain a strong immune system. Hearty soups and stews are on repeat in my kitchen right now. I'm currently into Alexandra Dudley's ribolitta – it's so comforting.
Swimming is my favourite form of exercise. I'm very fortunate to live in Ibiza for half of the year, and when I'm there, I love swimming in the sea. Sadly, the climate doesn't permit for that during the colder months here in the UK, although I'm sure Wim Hof would disagree. Instead, I see a personal trainer three times a week. The wonderful Rosie at Your Body Guru puts me through my paces and makes sure I'm working each muscle group throughout the week. I need the motivation of a PT if I'm leaving the house on a cold, dark morning. I work out to feel strong – there's so much power in being strong in both body and mind.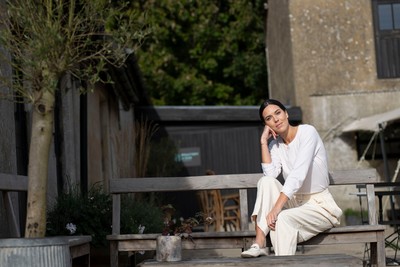 Stress management is central to our wellbeing. As a craniosacral and stress therapist, I understand that treating both body and mind as one is the key to overall health – they are inextricably linked. Spending time in nature is underrated – it's so healing and one of the most potent forms of mindfulness there is – and breathwork is great for a quick reset. When I feel stressed, I actively lengthen my exhale, which controls the body's ability to relax. A large part of stress management comes down to what you enjoy. I'm always highlighting to clients the importance of doing things that make them feel like themselves. By engaging in activities you love, you create space to be more present, which in turn makes you happier and more resilient to stress.
Tight fascia can cause physical and mental tension. A large part of craniosacral therapy involves working with the fascia, the connective tissue that supports every organ, blood vessel, bone, nerve fibre and muscle. When we are stressed or experience trauma, it tightens up around the muscles, creating pain and limiting mobility. I often visit an osteopath when I have muscle pain and rate dry needling, too. Foam rolling is also amazing, especially if you experience a lot of tension in your back. 
I work out to FEEL STRONG – there's so much power in being strong in both BODY AND MIND.

I always look forward to my bedtime routine. My sleep has changed since becoming a mum. Even though my daughter (who is now six) has slept through the night from very early on, I am now a much lighter sleeper. Taking a bath, minimising bright lights, drinking chamomile tea and avoiding tech for at least an hour before bed make a difference. I also find writing a gratitude list in the evening an effective way to keep negative thoughts at bay. Getting quality sleep will also nourish your immune system. I'm in bed most nights by 9.30pm. Sleep is hugely restorative – it resets energy and hormone levels. 
Lighting a candle provides instant calm. In my clinic, we always use candles to enhance the wind-down process – they're a simple way to soothe the nervous system. I rate Eym's candles – they're organic and infused with calming scents like lavender and chamomile, perfect for all-round nervous system support.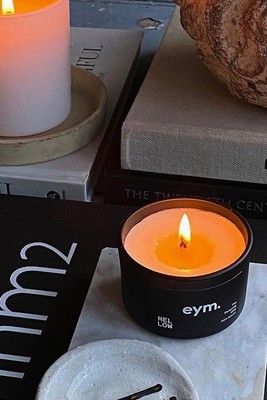 DISCLAIMER: Features published by SheerLuxe are not intended to treat, diagnose, cure or prevent any disease. Always seek the advice of your GP or another qualified healthcare provider for any questions you have regarding a medical condition, and before undertaking any diet, exercise or other health-related programme.
DISCLAIMER: We endeavour to always credit the correct original source of every image we use. If you think a credit may be incorrect, please contact us at info@sheerluxe.com.