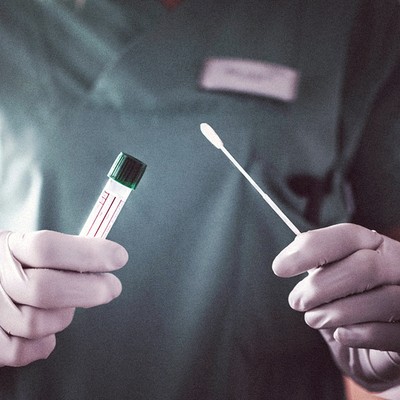 What To Know About Covid-19 Testing

Scientists agree a vaccine is what's going to pull us out of the coronavirus pandemic, but health experts say it will be at least several months until one becomes available. Until then, knowing who has and has had Covid-19 could be the key to reopening the economy. While testing is only currently available for key workers, private tests are on offer. From how they work to the perils of cheaper tests, here's what you need to know…

Firstly, who will the NHS currently test?
At the time of writing, hospital patients, NHS and care staff, emergency services, care home residents and now all essential workers and their families should be able to get tested. The list of key workers includes teachers, police officers and transport workers. Testing helps people know whether they are safe to be at work and can also help the health service plan for extra demand, including in intensive care units. Although testing could inform decisions around social distancing and lockdowns, it is not currently available for the general public.

What kinds of private tests are available?
If you don't meet the criteria for testing on the NHS, you can pay for a private coronavirus test. As Dr Lucy Hooper, co-founder of Coyne Medical, explains, "There are two types of tests available. Firstly, the swab test detects active infection via a nasal and throat swab, while a pin-prick blood test can confirm past infection by detecting antibodies in the blood. Swab tests can be done in your own home before they are sent back to a laboratory, while antibody tests are done face to face in a clinic." Private testing is run independently from the government, and these tests don't limit NHS access to tests.

How do you know which test to get?
"It all comes down to timing," explains Lucy. "If you notice symptoms of coronavirus – fever, cough, sore throat and loss of sense of smell – we would recommend performing a swab test within seven days. If you have had the virus for four or five weeks, it's probably pointless to take the swab test at this point, as it's unlikely to come back positive. For people with prolonged symptoms, or who have recently been unwell, the antibody test can be useful. It's important to note the antibody test should not be used until at least 14 to 21 days after symptoms start – it should not be used to diagnose an early illness. However, it may be useful in demonstrating whether someone has had Covid-19. At our clinic, and many others, the antibody test is only offered as part of a consultation with a doctor to decide if it will be helpful for the patient, and that they understand the pros and cons. Timing is everything when it comes to the two tests."

How long do the results take?
Unlike a pregnancy test, these 'at home' swab tests need to be sent to a laboratory to be analysed, meaning it can take a couple of days to get results. The antibody test, however, gives a result within minutes. Some private surgeries are offering a courier service to drop off and collect swab tests, while other online services are sending kits through the post.

How accurate are the tests? 
Lucy says the current swab tests are estimated to be 95-99% accurate. "If a swab result comes back positive, it is very likely to be accurate. However, if the swab test is negative and you have highly suspicious symptoms then it could be a 'false negative', i.e. the swab can miss the virus in some cases. This could be up to 30% of the time, according to some studies. If you suspect Covid-19 and your swab test comes back negative, you and your household should continue to follow the guidance on isolation. When it comes to the antibody test, these are over 95% accurate. A positive antibody result implies past infection with Covid-19; a negative result means that, at the time of testing, no or undetectable levels of coronavirus antibodies were present. This could be because the immune system hadn't developed antibodies by the time of testing, or that very mild or no infection with Covid-19 has taken place. However, we don't yet have enough studies of testing large groups to know how accurate the antibody tests are if people had only mild or no symptoms." Lucy stresses that, due to the newness of such technology, you should only consider either of the tests following a discussion with a doctor.

Are there any downsides to these tests?
The cost of private testing – the average private swab test costs around £200 and an antibody test around £100 – makes it inaccessible to many. Lucy also says a positive antibody test (confirming past exposure to the virus) doesn't necessarily mean someone is immune to future infections. "Since the virus has only been around since December, it's impossible to know how long immunity lasts – there's just no way of knowing. Based on knowledge of other viruses, you can say you're probably not likely to have it again in the near future, but we just aren't sure. Covid-19 may well be like flu, where a vaccine is needed on a yearly basis."

Is there anyone who should consider getting a test?
"The NHS has prioritised testing of the sickest patients and essential workers, but hopefully as cases drop they will be able to offer more widespread testing to trace infections. In the meantime, if you are in one of the vulnerable groups, including those who are pregnant or have a lung condition, you should consider a test if you develop symptoms," says Lucy.

Are cheaper tests too good to be true?
If your Instagram is inundated with affordable at-home testing kits, steer clear. Lucy advises: "You get what you pay for when it comes to at-home tests – a £25 kit certainly won't do the job and is most likely to be unlicensed. The Medicines and Healthcare Products Regulatory Agency (MHRA) licenses medical devices for at-home use, such as pregnancy tests, but at present there are no antibody tests that have been approved for home use. For example, the antibody tests require a very precise amount of blood and use of a further solution – something which is impossible to do safely and accurately at home."
 
 
For more information on Coyne Medical or to book a video consultation prior to buying a test, visit CoyneMedical.com. Swab tests are also available via Prescription Doctor.
DISCLAIMER: We endeavour to always credit the correct original source of every image we use. If you think a credit may be incorrect, please contact us at info@sheerluxe.com.