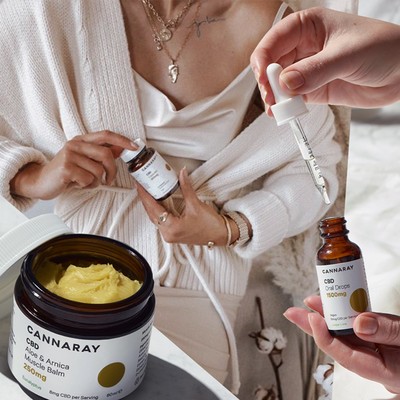 Why CBD Could Be The Mental Boost You Need

According to the World Health Organisation (WHO), one in 13 people live with an anxiety disorder, and in the UK, women are twice as likely to suffer as men. In light of Mental Health Awareness Week, we sat down with the team at Cannaray, one of the UK's leading CBD brands, to learn more about how CBD is proving to be a veritable alternative to traditional treatment.

CREATED IN PARTNERSHIP WITH CANNARAY
Cannabidiol – more commonly known as CBD – has a number of health benefits. As well as treating pain, epilepsy, insomnia and acne, recent studies have also found CBD oil is helpful for easing symptoms of anxiety. Cannaray, the CBD brand that's backed by a team of doctors and scientists, is on a mission to help people live healthier, happier and more balanced lives. Unlike rival brands, Cannaray goes above and beyond industry standards (all products are triple lab tested and free from sulphates, GMOs, dairy, artificial colours or dyes), so rest assured these products do what they say.
"CBD is a great natural supplement, which has proven effects on lowering anxiety and stress levels," explains Dr Balu, founder of the Emotional Wellness Clinic and scientific advisor to Cannaray. "It's being increasingly used and recommended to help calm symptoms of anxiety."
Wondering how exactly CBD works in the context of mental health? It all comes down to your endocannabinoid system, says Dr Balu. "Our brain has so many receptors, and CBD works with them. Put simply, the human body has at least two known cannabinoid receptors: CB1, which is largely present in the brain, and CB2, which is in the peripheral nervous system. Phytocannabinoids, like CBD, can bind to these receptors and send messages, which may have a therapeutic, anxiety-calming effect." Dr Balu also explains that because enzymes in the body can't easily metabolise these phytocannabinoids, it's believed molecules such as CBD could have a longer-lasting effect.
 
Whether you suffer with your mental health or are looking for a mood boost, Cannaray's CBD products won't disappoint. These are the ones to try…
CBD Oral Drops, from £30
Available in a range of strengths, spanning from 300mg to 1500mg, these top-quality drops have a clean juniper lime taste. The dropper is cleverly marked with measurements, making it easy to work out how much to take. Bonus points for the addition of coconut oil, which is rich in nourishing omega 3 fatty acids for an added wellbeing boost.  
Shop CBD Oral Drops
CBD Skin Cream, £33
Specially formulated to help fight inflammation and deeply moisturise the skin, this hero cream is packed with CBD as well as aloe, arnica, eucalyptus and rosemary to bring relief to hands, body and muscles. Massage into tense shoulders or smooth over dry patches – the ultimate in self-care. 
Shop CBD Skin Cream
CBD Capsules, £35
A foolproof way to incorporate CBD into your routine, these vegan capsules are formulated with intelligent technology to boost absorption, meaning you're getting more bang for your buck. If you're a CBD beginner, start by taking one capsule daily before slowly building up. 
Shop CBD Capsules
CBD Muscle Balm, £40
There's a lot to be said for the knot-releasing, stress-reducing power of a massage, and while you may not be able to get to a spa right now, there's nothing stopping you from massaging achy muscles at home. With 250mg of gold standard CBD packed into every bottle, this hard-hitter is ideal for sore backs and workout-weary legs.  
Shop CBD Muscle Balm
SheerLuxe readers can get 25% off all Cannaray products for the duration of Mental Health Awareness Week (18-24 May); enter SHEERLUXE25 at checkout.
Visit Cannaray.co.uk
*Features published by SheerLuxe are not intended to treat, diagnose, cure or prevent any disease. Always seek the advice of your GP or another qualified healthcare provider for any questions you have regarding a medical condition, and before undertaking any diet, exercise or other health-related programmes.
DISCLAIMER: We endeavour to always credit the correct original source of every image we use. If you think a credit may be incorrect, please contact us at info@sheerluxe.com.